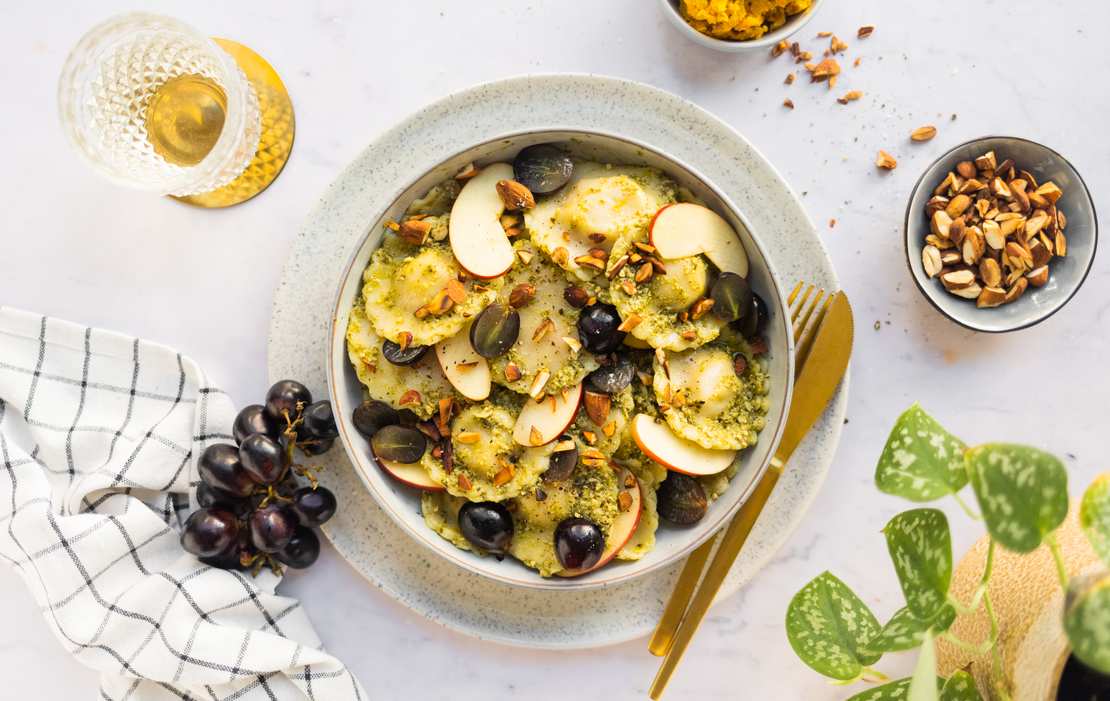 Vegan Pumpkin-Ravioli Salad with Grapes and Apple
Ravioli are the all-rounder among the pasta shapes. Just like tortellini, you can fill them with whatever you like. We could definitely eat them every day because we love them so much.
They are a bit more elaborating in preparation than spaghetti or tagliatelle, but in the end, it's pretty nice to see your homemade tortellini on your plate that you rolled out and filled yourself. We already have a recipe for pumpkin ravioli in sage butter on the blog, but today we're having a ravioli salad with pesto, grapes, and apples. All of you who don't like fruit in your main dish should still give this recipe a try. We promise you that all concerns will be thrown overboard with this recipe.
A little tip before we start: if you have a pasta machine at home, make use of it! Of course you can also use a rolling pin, but it's a bit more challenging to get a thin and even dough with it. But don't worry, this doesn't mean that your ravioli will only taste good when you use a pasta machine. They may just have a slightly thicker dough and therefore take a few more minutes to cook! Nevertheless they will be delicious.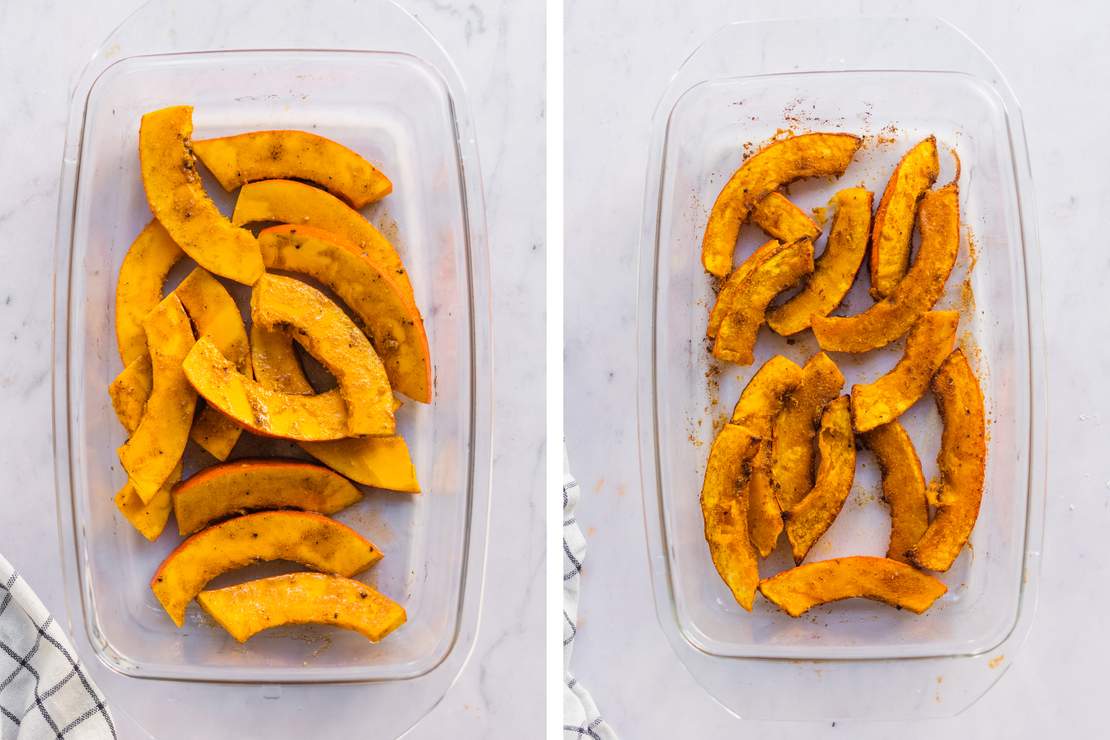 Vegan Pumpkin-Ravioli-Salad with Red Grapes & Apple
Ingredients
For the pasta dough:
100 g (0.75 cup) flour
100 g (3.5 oz) semolina
0.5 tsp salt
100 ml (0.5 cup) cold water
For the filling:
200 g (7 oz) hokkaido pumpkin
3 tbsp olive oil
1 pinch of nutmeg
0.5 tsp cinnamon
0.5 tsp garlic powder
0.5 tsp onion powder
2 tsp lemon juice
60 g (2 oz) ground almonds
chili flakes
salt
pepper
Also:
200 g (7 oz) grapes
1 apple
100 g (3.5 oz) vegan green pesto
50 g (1.75 oz) chopped almonds
Instructions
For the ravioli dough, mix flour, semolina, and salt in a bowl. Gradually add cold water and slowly knead until you have a smooth dough. Form it into a ball and let it rest for at least an hour, wrapped in foil or covered.

In the meantime, preheat the oven to 200°C/392°F (circulating air). For the filling, cut the pumpkin into wedges and transfer it to a baking sheet. Mix olive oil, nutmeg, cinnamon, garlic powder, onion powder, salt, and pepper in a bowl and pour the mixture over the pumpkin wedges. Bake for approx. 30 minutes, or until soft. Then remove from the oven and let the pumpkin cool down.

While the pumpkin is in the oven or cooling, wash and halve the grapes. Wash and thinly slice the apple. Toast the chopped almonds in a fat-free frying pan until golden brown. Set all three ingredients aside.

Add the cooled pumpkin to a bowl and mash thoroughly. Add ground almonds and mix well. Season the filling with salt, pepper, lemon juice, and chili flakes to taste. If the filling gets too dry, just add some more water.

Roll out the pasta dough thinly on a floured surface and cut out small circles. If you have a pasta machine, you can use it instead, of course. Place about 1 tsp of the filling in the center of each dough circle. Place another dough circle on top and press the sides together. If they don't stick together, moisten the edges of the pasta dough with a little water.

Bring a pot of salted water to a boil, then reduce the temperature until there are no more bubbles. Now add the ravioli in batches to the water and cook them for approx. 6-8 minutes. Once they float on the surface, they are done. Before draining, reserve some of the cooking water.

Add the ravioli and vegan green pesto to a large bowl and toss to coat. Add as much of the pasta cooking water as needed until a creamy sauce forms. Serve the ravioli mixed with halved grapes, apple slices, and toasted almonds.
More Vegan Pumpkin Recipes