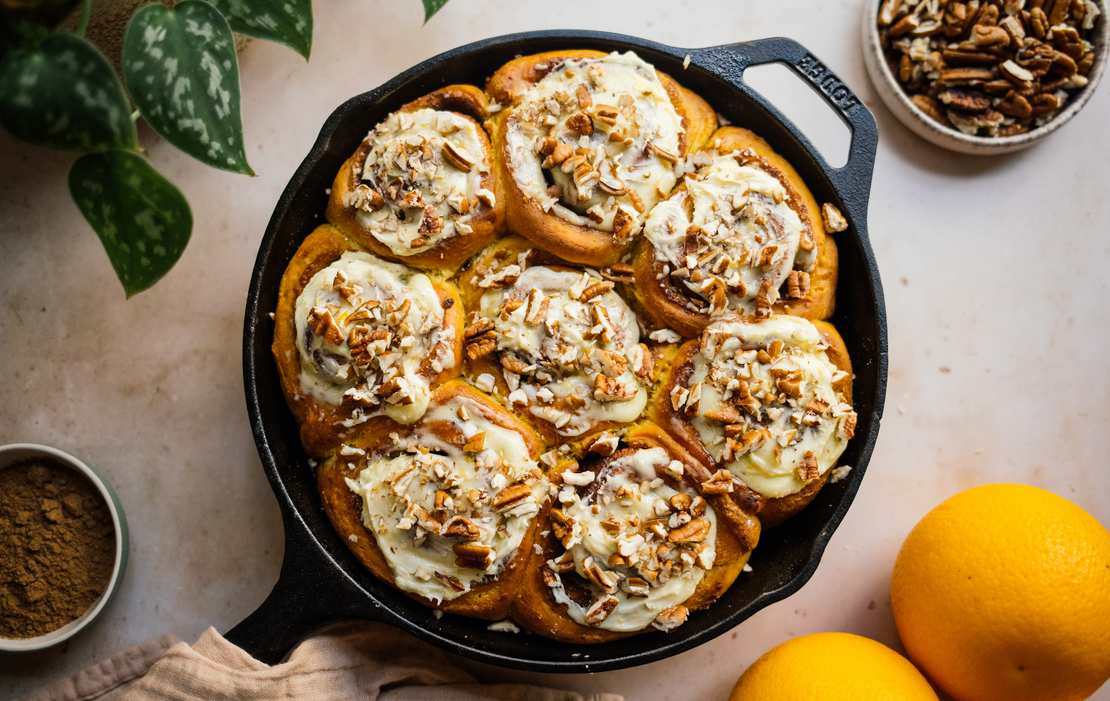 Vegan Pumpkin Spice Buns with Orange Buttercream and Pecans
Whether it's gnocchi or pancakes, lasagna or brownies – nothing is safe from pumpkin when fall is arriving! So today, we also turn our beloved cinnamon buns orange, shall we?
For this, you first have to puree a Hokkaido pumpkin. Although you can eat its skin, I would rather recommend pureeing it peeled to make sure that there are no chunks in your dough. The cooled pumpkin puree is added to a classic yeast dough that needs enough time to rise. You can do this at room temperature or (if you're in a hurry) in the oven with only the lights on. Just always keep an eye on the yeast dough in this case as it can also quickly over-proof and then becomes too airy. This kind of sounds cool for pumpkin buns, but you will notice that the dough will lack structure this way. The very best way to let it rise is to give it plenty of time and let the dough rise overnight in the fridge. This way, you can also prepare the dough ahread and bake the buns the next day.
For the filling we use soft vegan butter, sugar, pumpkin spice, a pinch of salt, and pecans but there's plenty of room for adjustments, of course. You can omit the nuts or swap them out for other kind (ground nuts work well, too). If you prefer to switch to the classic sugar and cinnamon mix, you're welcome to do so. But I would like to recommend the tip to use vegan butter at room temperature. When you use melted butter, the filling often runs out the sides when you roll up the dough. The unbaked buns often become so soft and unstable that they lose their shape and it gets difficult to transfer them to the baking dish. It's just usually a big mess, and it doesn't have to be, right? Therefore, spread vegan butter at room temperature on the dough. Another tip: don't cut the dough with a knife (that often just presses everything together), but use kitchen twine, wrap it around the dough, and then pull it together. This way, you will get perfectly shaped pumpkin buns, I promise!
After the pumpkin buns have rested and risen once more, they can go into the oven. Afterwards, you can serve them warm or cooled down – they taste fantastic either way. If you spread the vegan buttercream on the buns while they're still warm, it will still taste great, but will melt right away. If you don't feel like buttercream frosting anyway, you can also prepare a classic frosting or use melted chocolate.
You'll notice that vegan butter is abundant in this recipe – we use quite a lot of it. We used the vegan butter from Violife and you probably already know their vegan cheese alternatives (we love their EPIC MATURE "cheese" with cheddar flavor, for example). Their vegan butter alternative called "VIOBLOCK" is a new addition. It's based on vegetable oils and fats from coconut, sunflower, and canola but also contains a few vitamins (D2, B1, B2, B6, B12, and folic acid), which is always great for a vegan diet. You can use this vegan butter alternative where you would also use butter – so spread it on bread, but also use it for cooking and baking.
For all those who want to try the recipe, including the vegan butter, we have a coupon, with which you save 1 euro on the vegan butter when you buy it.
Vegan Pumpkin Spice Buns with Orange Buttercream and Pecans
10-12 pumpkin buns
60 minutes (+ 150 minutes resting time + 25 minutes baking time)
Ingredients
For the dough:
300 g (10.5 oz) Hokkaido pumpkin (for 200 g / 7 oz pumpkin puree)
100 ml (0.5 cup) warm water
150 ml (0.66 cup) warm plant-based milk
42 g (1.5 oz) fresh yeast
3 tbsp cane sugar
600 g (4.75 cups) flour
1 tsp salt
50 g (0.5 stick) vegan butter (e.g. Vioblock from Violife)
For the filling:
100 g (0.5 cup) raw cane sugar
3 tbsp pumpkin spice
1 pinch of salt
125 g (1 stick) vegan butter at room temperature (e.g. Vioblock from Violife)
50 g (2 oz) pecans
For the orange buttercream:
100 g (0.5 cup) vegan butter at room temperature (e.g. Vioblock from Violife)
150 g (1.25 cups) confectioner's sugar
0.25 tsp vanilla extract
0.5 orange (zest)
1 tbsp orange juice
1 pinch of salt
Also:
Instructions
Pumpkin puree:
Peel, deseed, and chop the Hokkaido pumpkin. Either cook it in a pot with some water or steam it in a colander over simmering water until the pumpkin is softened. Blend the pumpkin until smooth, weigh out 200 g (7 oz) and let the puree cool down.
Dough:
Add warm water and plant-based milk to a large bowl. Crumble fresh yeast with your hands and stir it into the liquid mix along with a some small part of the brown sugar. Let the mixture sit for approx. 10 minutes until you see tiny bubbles forming on the surface.

In the meantime, melt vegan butter and let it cool down until it's lukewarm. Add the melted vegan butter and pumpkin puree to the yeast mixture and whisk to combine. Mix flour with salt and the remaining brown sugar, and gradually add the flour mixture to the yeast mixture. Stir to combine, then knead the dough for approx. 5-10 minutes until smooth. You can do this either by hand or with a stand mixer. Add more flour if needed in case the dough is too sticky.

Form the dough into a ball and transfer it to a greased bowl. Cover with a clean kitchen towel and let the dough rise in a warm place for approx. 1-2 hours, or until i has doubled in volume. If you want to prepare the dough ahead, you can also let it rise overnight in the fridge.
Filling and baking:
For the filling, mix raw cane sugar, pumpkin spice, and a pinch of salt in a bowl. Chop pecans.

Once the dough has risen, flour your work surface and roll out the dough into a large rectangle about 1 cm/0.4 inches thick and about 30x50cm/12x20 inches wide.

Spread a layer of soft vegan butter on the dough and sprinkle it with the sugar mixture and chopped pecans, but leave some free space of about 1-2 cm/0.4-0.8 inches on all sides. Now roll up the dough tightly from the longer side.

Divide the dough into 10-12 equal-sized pieces. You can do this either with a knife or with kitchen twine, which you push under the dough and then pull the ends of the twine over the dough in the opposite direction.

Transfer the pumpkin buns to a greased baking dish and let them rise again for approx. 30 minutes.

In the meantime, preheat the oven to 180°C/355°F (circulating air). Bake the pumpkin buns for approx. 20-25 minutes, or until golden brown. Then remove from the oven and let them cool down.
Orange buttercream:
While the pumpkin buns are baking and cooling down, prepare the orange buttercream. Beat soft vegan butter with confectioner's sugar until the mixture is creamy. Add vanilla extract, orange zest, orange juice, and salt, and whisk to combinem, until you get a fluffy, spreadable buttercream. Add more confectioner's sugar if desired to make the buttercream firmer and sweeter.
Serve:
Toast pecans in a fat-free fying pan, then chop them.
Spread the vegan orange buttercream over the cooled pumpkin buns and sprinkle with chopped pecans.
More Vegan Brunch Recipes