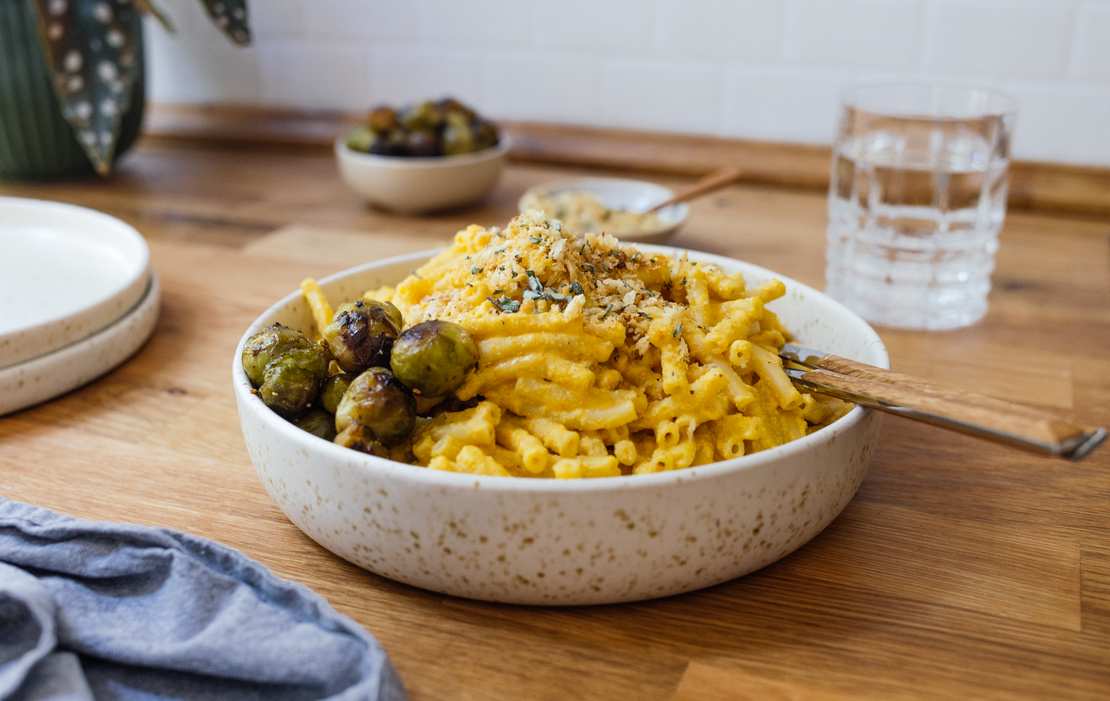 Vegan Pumpkin Mac'n'Cheese with Baked Brussels Sprouts
After we've already shown you a vegan version of the classic Mac'n'Cheese, we are having an autumnal version with pumpkin today. Especially when it gets colder outside and we long for a warm, cozy meal, we are happy to serve our pasta, potatoes, and the like with seasonal vegetables that we have been looking forward to all summer.
Since we prepare Brussels sprouts far too rarely, they're making their way onto the plate today, along with classic macaroni pasta and a creamy pumpkin sauce. Of course, if you don't like Brussels sprouts, you can leave them out or replace them with other vegetables such as broccoli, for example. But take it from me: there are just a few things more delicious than crispy Brussels sprouts from the oven – even Julia, who isn't a fan of Brussels sprouts, loves eating them this way.
For a crunchy topping, we toasted panko breadcrumbs in a pan with garlic and sage. This can easily be done while the macaroni is simmering. In our opinion, it's the crunchy icing on the cake. If you don't use up all of the topping, you can store it in a jar with a lid and use it for other salads and pasta dishes.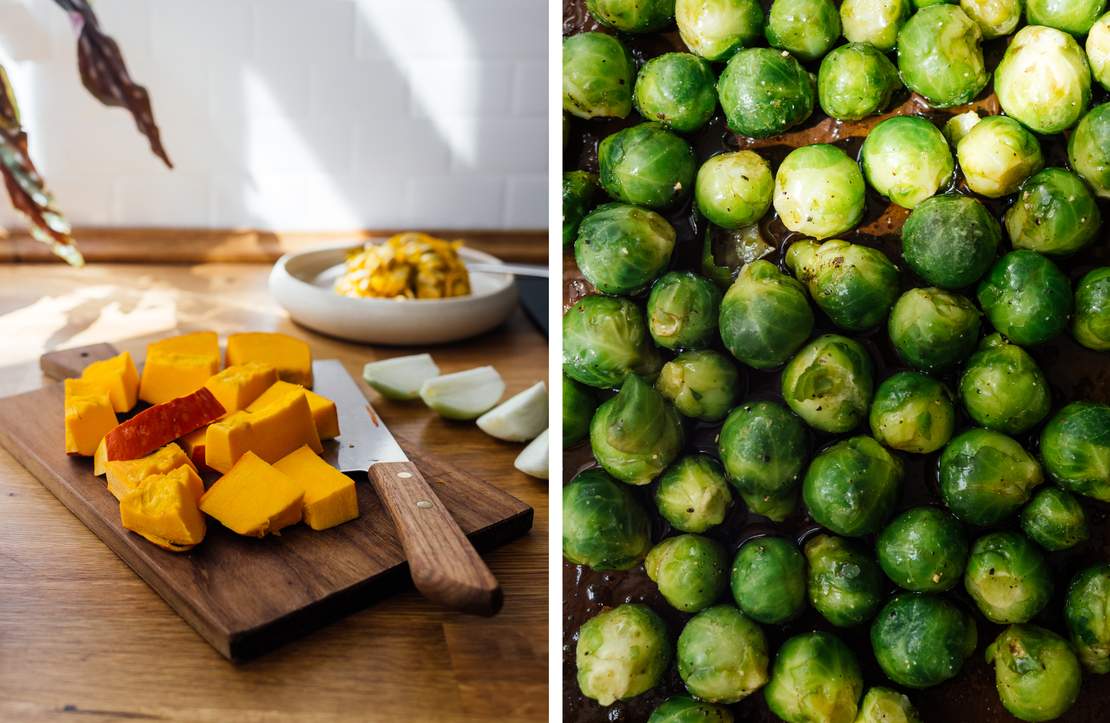 Vegan Pumpkin Mac'n'Cheese with Baked Brussels Sprouts
4 servings
45 minutes (+30 minutes soaking time)
Ingredients
For the Brussels sprouts:
500 g (17.66 oz) Brussels sprouts
4 tbsp olive oil
4 tbsp balsamic vinegar
2 tbsp agave syrup
salt
pepper
For the pumpkin mac'n'cheese:
500 g (17.66 oz) macaroni
150 g (5.33 oz) cashews (soaked in water for at least 30 minutes)
1 onion
250 g (9 oz) hokkaido pumpkin
200 ml (0.75 cup) cooking water from the pasta
60 ml (0.25 cup) plant-based cream
3 tbsp nutritional yeast
1 tbsp light miso paste
1 tbsp lemon juice
nutmeg
cayenne pepper
sweet paprika powder
salt
pepper
For the breadcrumb topping:
2 cloves of garlic
5 g fresh sage
2 tbsp olive oil
50 g (1.75 oz) panko breadcrumbs (or regular breadcrumbs)
salt
pepper
Instructions
Preheat the oven to 200°C/390°F (convection heat). If you haven't already done so, soak the cashews in a bowl with warm water for at least 30 minutes.

Clean the Brussels sprouts and, if necessary, trim the stalks. Mix with olive oil, balsamic vinegar, agave syrup, salt, and pepper and spread on a baking sheet or in a baking dish. Bake the Brussels sprouts at 200°C/390°F for about 15 minutes, until lightly browned.

Bring a pot of water to a boil. For the sauce, peel and halve the onion. Halve and deseed the pumpkin, and cut it into larger chunks.Cook pumpkin and onion for about 10-15 minutes until soft. Then drain the water.

Just before the onion and pumpkin are done, bring a large pot of salted water to a boil and cook the pasta according to package directions. Before draining, save 200 ml (about 0.75 cup) of the pasta water.

For the breadcrumb topping, finely chop garlic and sage. Heat olive oil in a pan and toast panko breadcrumbs for about 4-5 minutes until golden brown. Add the finely chopped garlic and sage and sauté for about 2 more minutes. Season the crispy topping with salt and pepper to taste and set aside.

Drain the soaked cashews. Blend cooked pumpkin and onion with the cashews, about 200 ml (0.75 cup) of the pasta's cooking water, and plant-based cream to get a creamy sauce. Season to taste with nutritional yeast, miso paste, lemon juice, nutmeg, cayenne pepper, paprika powder, salt, and pepper to taste. Add more pasta water or vegan cream if it's still not creamy enough.

Toss the cooked pasta in pumpkin sauce and sprinkle with panko sage topping. Serve with baked Brussels sprouts.
Tip: The dish is gluten-free if you use gluten-free pasta and molasses-based nutritional yeast. Without miso paste and with soy-free cream (e.g. oat cream), the dish is also soy-free.
More Vegan Pumpkin Recipes