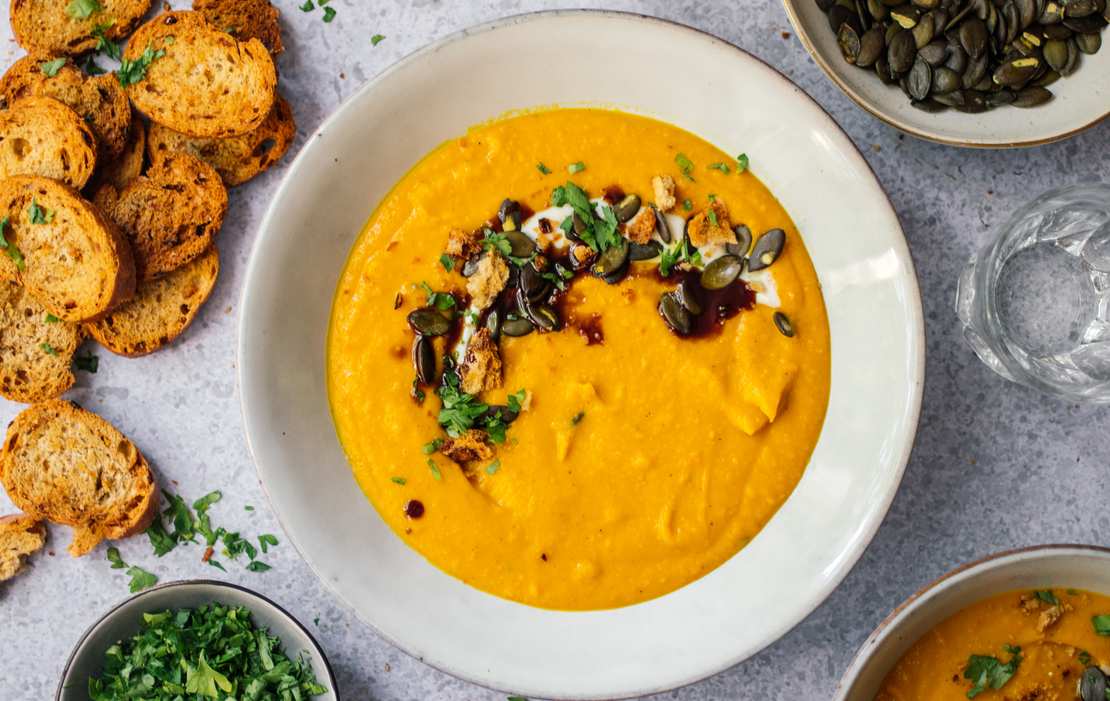 Vegan Pumpkin Soup with Turmeric
Here's an absolute classic for autumn that probably anyone will check off the "to cook list" at least once when it gets colder outside. After all, pumpkins are everywhere right now and a soup is always quick and easy to prepare and warms up perfectly. In this recipe, our pumpkin is accompanied by his healthy friends parsnip, ginger, and turmeric. Some spicy chili flakes and the sour lime join the party as well to add more flavor.
As always: season (and prepare) the soup to your own liking. If you prefer creamier soups, add more coconut milk and less vegetable broth. If you like the spicy flavor, drizzle some chili oil over the soup for serving. Other vegetables such as carrots or turnips, but also apples or orange juice go very well with the soup.
For the crispy bread chips you can basically use any bread that you find in your kitchen – wholewheat bread, onion baguette, or crispy pumpernickel bites will taste great with this soup (also are also a lovely snack while the soup is still simmering). And if this still isn't enough, just scrub some raw garlic clove on the crispy bread after baking – d-e-l-i-c-i-o-u-s!
Vegan Pumpkin Soup with Turmeric
Ingredients
For the pumpkin soup:
1 kg (2.25 lbs) hokkaido pumpkin
300 g (10.5 oz) parsnips
2 garlic cloves
1 onion
15 g (0.5 oz) ginger
2 tbsp coconut oil
1 tsp chili flakes
400 ml (1.66 cup) vegetable broth
400 ml (1.66 cup) coconut milk
2 tbsp ground turmeric
0.5 lime (zest and juice)
salt
pepper
For the crispy bread chips:
1 baguette
2 tbsp olive oil
1 tbsp dried herbs (e.g. basil, oregano)
For serving:
pumpkin seed oil
toasted pumpkin seeds
parsley
Instructions
Halve, deseed, and chop pumpkin. Peel and roughly chop parsnips, garlic, onion, and ginger.

Heat coconut oil in a large pot. Fry onion, ginger, garlic, and chili flakes, until the onion is translucent. Add pumpkin and parsnips and fry for approx. 10 minutes to develop roasting flavors.

In the meantime, preheat oven to 180°C/355°F. For the crispy bread chips, thinly slice baguette and transfer to a baking sheet. Drizzle with olive oil and sprinkle dried herbs on top. Bake for approx. 5-7 minutes, or until the bread chips are crispy.

Add vegetable broth and coconut milk to the pot. Cover with a lid and let simmer for approx. 15 minutes. Afterwards, blend the soup until smooth. If it turns out to be too thick for your taste, add some water.

Add lime zest and juice, and turmeric to the soup, and stir to combine. Season soup with salt and pepper to taste. For serving, sprinkle with pumpkin seeds and chopped parsley, drizzle with coconut milk and pumpkin seed oil, and don't forget the crispy bread chips.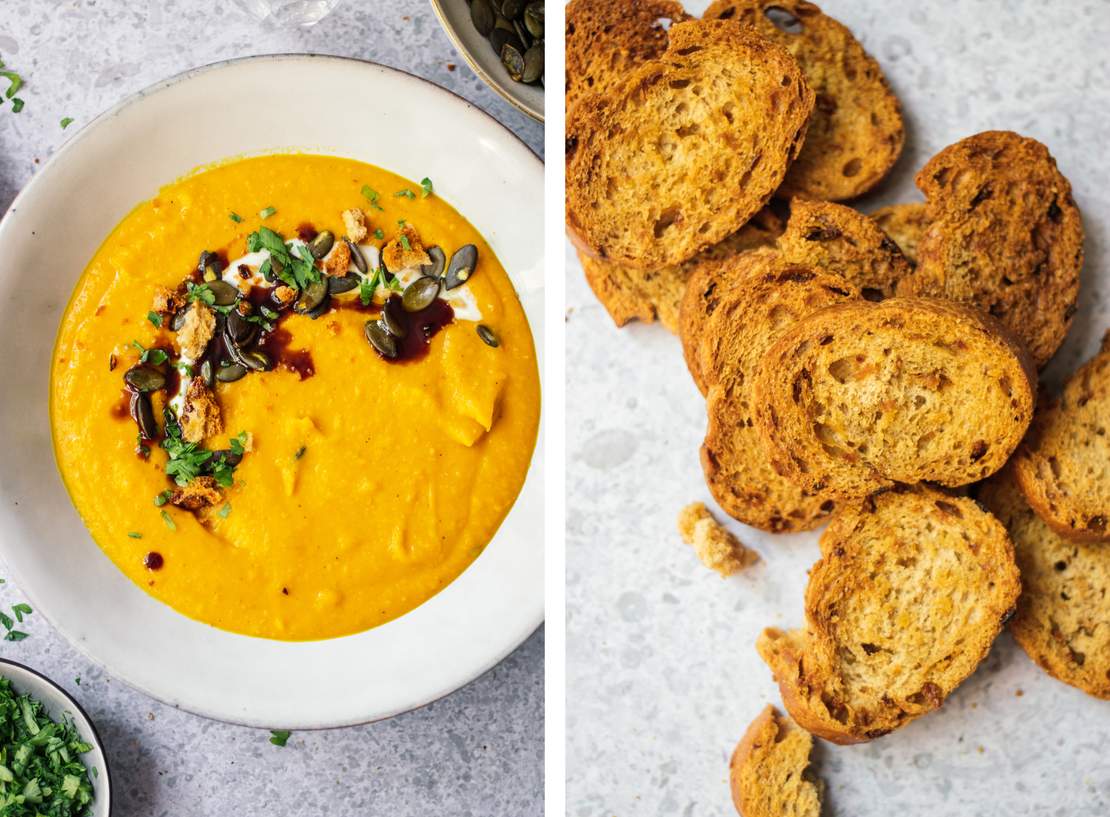 More Vegan Pumpkin Recipes