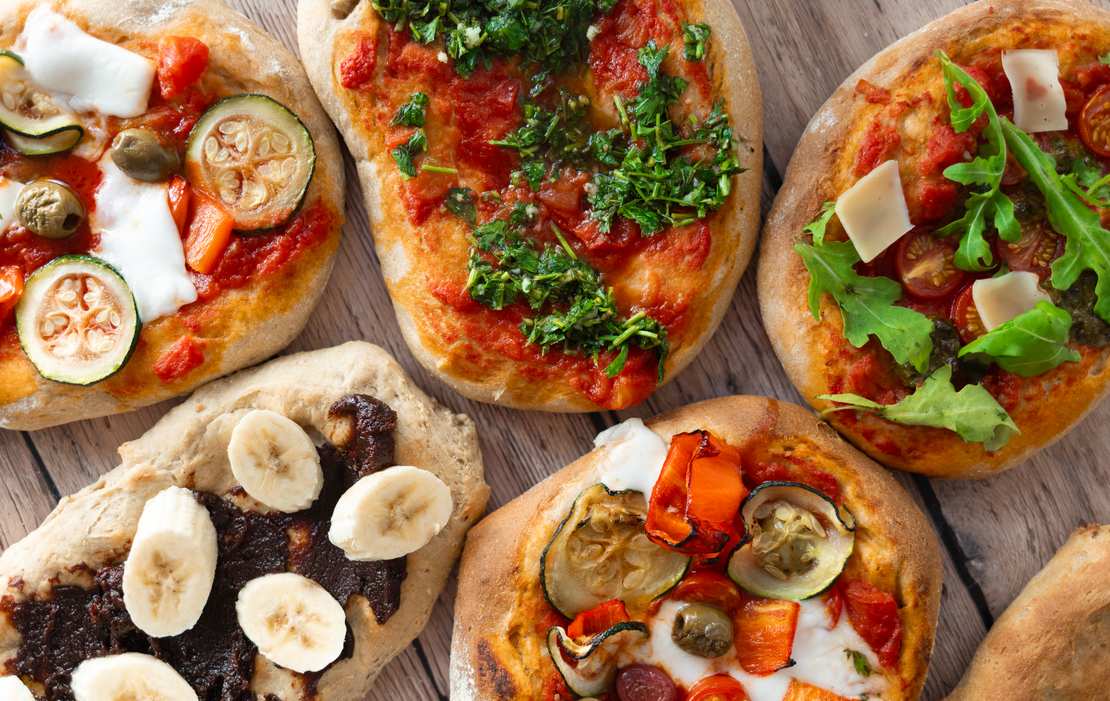 Stop, stay here! Yes, I am talking to you. You'll probably want to go straight to the recipe, but to bake the perfect pinsa, you should definitely read this intro!
When we were talking about the new recipes for the blog in the office a few weeks ago, I said sure, I can take the recipe for vegan pinsa! Had I known then that a pinsa is not simply an oval pizza, I might have thought better of it. But countless dough experiments and a nearly starved sourdough later, here we are. It all started with some momentous research, during which I discovered that "Project Pinsa" would probably be more complicated than I thought. Not only does it consist of three different flours and must rise for three (!) days, but it is also made with sourdough. And then there's also the matter of autolysis.
What exactly makes the Pinsa the Pinsa?
Contrary to what you might expect, the Pinsa does not have a centuries-old tradition. In fact, it was developed around the turn of the millennium by an Italian businessman. Later, a reference to ancient Rome was made to sell the Pinsa (source). Pffzz! Nonetheless, we are fans.
The dough is made with different types of flour. I used wheat flour, soy flour and rice flour. This makes the dough even crispier. Instead of simply using type 405 as I usually do with wheat flour, I really did some research and learned that the types (i.e., the degree of grinding) in Italy are quite different than here in Germany. Pizza is made there classically with Typo 00. Here, this flour is usually called pizza flour. You can find it in well-stocked supermarkets and delicatessens. You can get soy flour and rice flour in organic supermarkets.
The matter with the sourdough
Next it was time to find the right leavening agent. I'm not exactly known for my superior baking skills and patience at the office. So I wasn't as excited to work with sourdough for the first time. But then I also had to realize that not all sourdough is the same. But then I also had to realize that not all sourdough is the same. There are, what it feels like, a thousand different types of it. I decided to go the Italian way and got myself Lievito Madre sourdough powder (you can find it online) and a wheat sourdough called Paula (thanks to Katja + Hannes). You can either make your own fresh sourdough, buy it in a bakery or maybe one of your friends has a "Corona sourdough" at home from which you can get a scion.
How to make the Pinsa dough
But now back to the dough making: For this I first mixed the flours and added the water. I let the whole thing stand for half an hour. This is called autolysis. It ensures that starch and protein in the flour swell and a so-called adhesive structure is formed, whereby the dough becomes particularly elastic. Here you can find more information about it.
Then salt, sourdough and a very small amount of yeast are added. The whole thing is kneaded for a long time (best with a food processor). The dough should be very moist and elastic. When kneading, it is best not to add flour, even if your fingers itch.
How long should the Pinsa dough rise?
Now, you have to hold out while the dough rises. The longer, the better. After only 24-72 hours, your dough will be ready for cutting - the dough volume should have about doubled. After that, you'll have to be patient again while the dough rises for an hour. You should not skip this step otherwise the pinsa will not rise properly in the oven. Now you can finally roll out your dough and cover it (in our recipe you will find several ideas for this). Then place the pinsa in the preheated oven at 250 °C / 375 °F (convection oven). If you have a pizza stone, you should definitely use it. And your delicious, crispy Pinsa is ready. Easy, isn't it?
Can you make a pinsa without sourdough?
Do you really have to make it so difficult? Being a chronic slacker, I of course had to try out using a quick yeast dough. For this, I took the composition of the flours and kept the autolysis. I just added a little sugar and instead of the sourdough 20 g yeast. Instead of 24-72 hours, I let the dough rise only three hours as a whole and then another hour in portioned form.
... drum roll …
In the race for the best dough, the yeast dough has really lost miserably. The clear favorite in the office has been the Pinsa with fresh sourdough. Then came the Lievito Madre sourdough and then the yeast dough. The sourdough gives the pinsa a totally delicious flavor, especially when aged for a long time. In addition, the pinsa have become much more airy and fluffy.
Let's be honest: is all that work worth it?
I have to admit: waiting 72 hours for my food made me extremely skeptical at first. It just wasn't clear to me what the long resting period was supposed to do. However, after my numerous experiments, I'm convinced it's worth it! Texture and taste really change significantly. Nonetheless, even with 24 hours of resting time, the pinsa turns out super delicious! I also highly recommend you use a fresh wheat sourdough. Even though I was anything but convinced at first, I'm a fan now. Even on vacation, my sourdough is now allowed to go with me.
Finally, I should probably mention that this recipe is my version of a pinsa, so I experimented around with quantities and ratios until I got a result that we totally enjoyed here in the office. So I make no claim to authenticity or anything like that. For research, especially on the use of sourdough, the site "Brotbackliebe" helped me a lot.
Vegan Pinsa
4 pinsas
1 hour (+ 20 minutes baking time + 24–72 hours resting time)
Ingredients
For the dough:
500 g (4 cups) wheat flour (type 00 / pizza flour)
150 g (1 cup) rice flour
50 g (1.8 oz) soy flour
350 ml (1.5 cups) water (lukewarm)
3 g (0.1 oz) fresh yeast
25 g (1 oz) Lievito Madre or 120 g (5.3 oz) fresh wheat sourdough (see intro)
1 tsp salt
30 ml (0.1 cup) olive oil
For the Pinsa sauce:
400 g (1 lb) canned chunky tomatoes
50 ml (0.2 cup) olive oil
1 large clove of garlic
0.5 tsp salt
For the Topping:
Pinsa Basil:
Pinsa sauce
fresh cherry tomatoes
vegan basil pesto
arugula
vegan parmesan
Pinsa Gremolata:
Pinsa with baked vegetables:
Pinsa sauce
Eggplant (sliced and baked)
zucchini (sliced and baked)
pitted black olives
vegan feta cheese
Sweet Pinsa (idea from the community):
vegan chocolate cream
banana
Instructions
Roughly mix wheat flour, rice flour, soy flour and water in a bowl, cover with a clean kitchen towel and set aside for about 30 minutes for autolysis.

Add yeast, Lievito Madre or fresh wheat sourdough (see intro), salt and olive oil and knead everything with a food processor until it forms a sticky, smooth dough. The dough should be very stretchy and not tear when pulled apart.
Tip: I used a Lievito Madre powder. If you use fresh sourdough, you will need to adjust the amount accordingly. The amount of powder to use may vary from manufacturer to manufacturer. Pay attention to the sourdough-to-flour ratio specified by the manufacturer.
Let the dough rise for 2–3 hours, covered with a clean kitchen towel. Then let rise in the refrigerator for at least 21 hours (up to 69 hours at best).

Divide the dough into quarters and form into balls. Let rise again for about 1 hour. In the meantime, preheat the oven to 250 °C / 480 °F (convection heat).

In the meantime, for the sauce, mix the canned tomatoes, olive oil, chopped garlic and salt. Prepare the topping of your choice and cut the ingredients for it.

Flatten the dough balls and shape them into oval Pinsas about 1 cm thick. Top the dough with the topping of your choice and bake in a preheated oven at 250 °C / 480 °F (convection heat) for 15–20 minutes, until they are baked through and crispy.