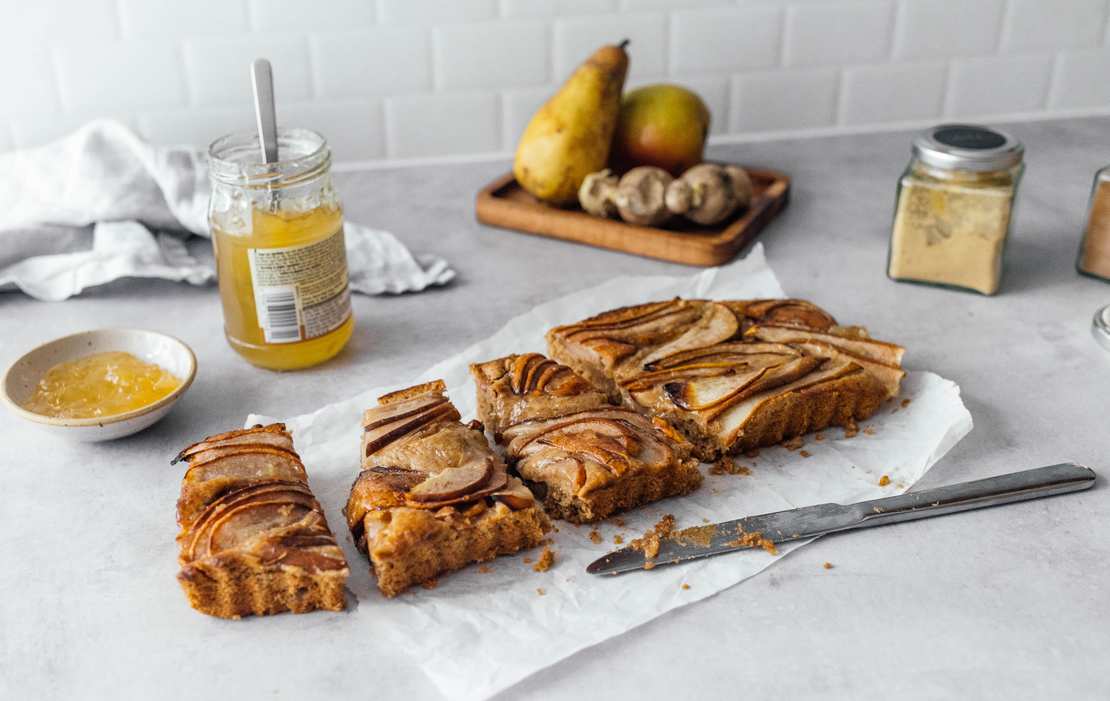 My relationship with pears is rather difficult. I eat them very rarely and, therefore, seldom use them in recipes. But at some point, I realized that it's not the taste that bothers me; I just don't like eating raw pears as a whole. I feel the same way about tomatoes, for example. I love tomatoes on bread, in sauces, as salsa, or in salads, but it would never occur to me to eat a plain tomato. I know it's stupid, and I don't know why I feel that way. But that's just what it is: I prefer to eat some fruits and vegetables warm, some only paired with other foods and some only in one particular dish.
So although I don't like pears as a whole, I love them on or in a cake! Baking makes them wonderfully soft but not too watery like berries. They are very versatile, whether you dice them, slice them, or even add them as a whole to the batter. They are not overly sour or sweet and can be combined with other spices and fruits. My relationship with pears might not be the most extensive; however, when it comes to pears in pies and cakes, I'm a fan!
September to December is not only the peak season for pears but also colds. That's why we're combining pears with ginger today, to hopefully get threw fall and winter without getting sick. The pears' slight sweetness and the ginger's spiciness go together quite wonderfully, which is why we add ginger to the cake in three ways: freshly grated, ground and as a shot. For the latter, we used the ginger shot from Voelkel. They contain freshly juiced ginger from fair trade smallholder cooperatives in Peru. Two Voelkel Shots of 60 ml each already cover the daily requirement of vitamin C. The small shots are great for on the go, while the larger bottles are perfect for flat shares or families. And by the way, the large 0.75 l shot bottles are the only deposit bottles of this type on the German market. Stock up on them right here.
Vegan Pear Ginger Cake
1 cake (35 x 11 cm/ 14 x 4 inches)
30 minutes (+ 30 minutes baking time)
Ingredients
180 g (1.5 cups) whole wheat flour
120 g (0.5 cup) sugar
110 g (0.75 cup) cornstarch
6 g (1 tsp) baking powder
2 tsp ground ginger
1 pinch of ground nutmeg
2 tsp ground cinnamon
160 g (1.5 sticks) vegan butter
150 g (0.66 cup) applesauce
50 ml (0.25 cup) ginger shot (e.g. from Voelkel)
1 tsp freshly grated ginger
2 pears
50 g (1.75 oz) ginger jam
vegan butter for greasing
Instructions
Mix whole wheat flour, sugar, cornstarch, baking powder, ground ginger, nutmeg, and cinnamon in a large bowl.

Add vegan butter, applesauce, and the ginger shot to the bowl and stir until combined. Peel the ginger bulb with a teaspoon and add to the batter with a grater.

Grease a tart pan (35 x 11 x 2.7 cm/ 14 x 4 x 1 inch) with vegan butter and evenly spread the batter in it.

Preheat oven to 190°C/380°F (convection heat). In the meantime, quarter the pears, remove the seeds, and finely slice them. Arrange the pear slices on the cake batter.

Bake the cake at 190°C/380°F for approx. 30 minutes. Let cool for 10 minutes and cover with ginger jam before serving.
More Vegan Cakes & Cookies