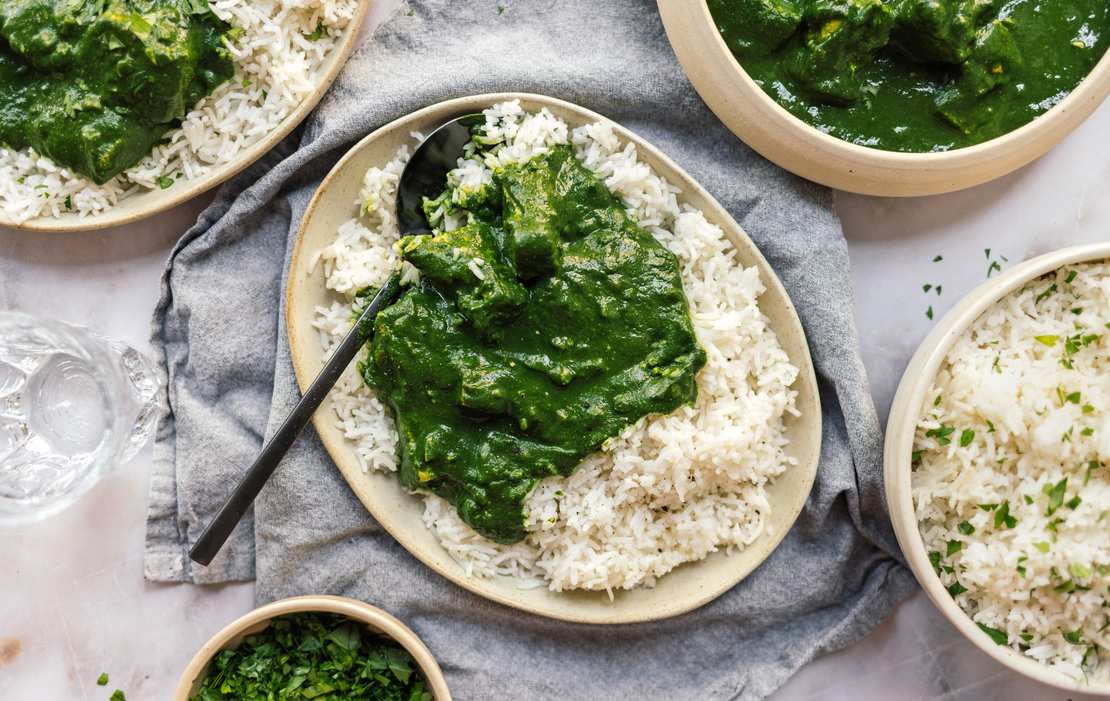 Indian cuisine is one of our favorites, and with dishes like daal, pakoras, chapati, vegetable curries and aloo gobi, it has many traditionally vegan options. But there are additionally a few dishes that are unfortunately not vegan, but we used to love them and tried to veganize them. You can already find a few plant-based recipes for them on our blog – for example biryani, vegan falafel curry with naan, soy korma, malai kofta, vegan butter chicken and tofu tikka masala.
What actually is palak paneer, and how can you veganize it?
Today, we are dealing with palak paneer, a classic dish of North Indian cuisine. Palak means spinach – so far, so good, so vegan. However, paneer is an Indian cheese, which is therefore not plant-based and which (until now) is also not available to buy in a vegan version. So what to do? We won't try mimicking it today, so it's as close to the original as possible. Instead, we're opting to make "palak tofu", which tastes fantastic and is, of course, much easier to make.
The spinach curry
The central element (both in terms of taste and appearance) is the green spinach sauce. For this, fresh spinach is blanched briefly and then pureed until smooth. Be sure to quench the spinach with ice-cold water, as it retains its green color better that way. We used to sauté the spinach in a pan, but this makes it less color intense. Parallely, sauté onion, ginger, garlic and green chilies in oil along with the spices. This step is essential for the taste of your curry because the spices will taste much more intense when you bloom them in fat instead of seasoning your curry with it only at the end. In addition, you add strained tomatoes and coconut milk, among other things. Don't be afraid that the tomatoes could "destroy" the beautiful green. As you can see in the pictures, this will not happen. Instead, the tomatoes add a wonderful acidity to the curry.
What can you substitute paneer with?
Yes, you can make the effort and "imitate" paneer with plant-based milk or nuts. The advantage of paneer is that it's a fresh one, so you don't have to age it. Nevertheless, for our recipe, we were looking for an ingredient that contrasts with the spicy curry and rounds it off. Plain tofu does the job brilliantly, even if it's not "the same. " If you're worried that the tofu won't add enough flavor, we can recommend two things: First, coat it with nutritional yeast and then fry it. Of course, this is anything but traditional, but nutritional yeast provides umami flavor – first on your tofu and then in your curry because the tofu ends up simmering in it. If that's not enough for you, you can also cut the tofu into pieces and boil it for about 10 minutes in salted water. Then, drain well and continue as described in the recipe.
What is the difference between saag paneer and palak paneer?
Both are green, and both traditionally have paneer cheese floating in them – so what's the difference between saag paneer and palak paneer? While palak is spinach, saag generally means leafy vegetables. Therefore, you can add all kinds of fenugreek leaves, collard greens, kale, and more in addition to spinach.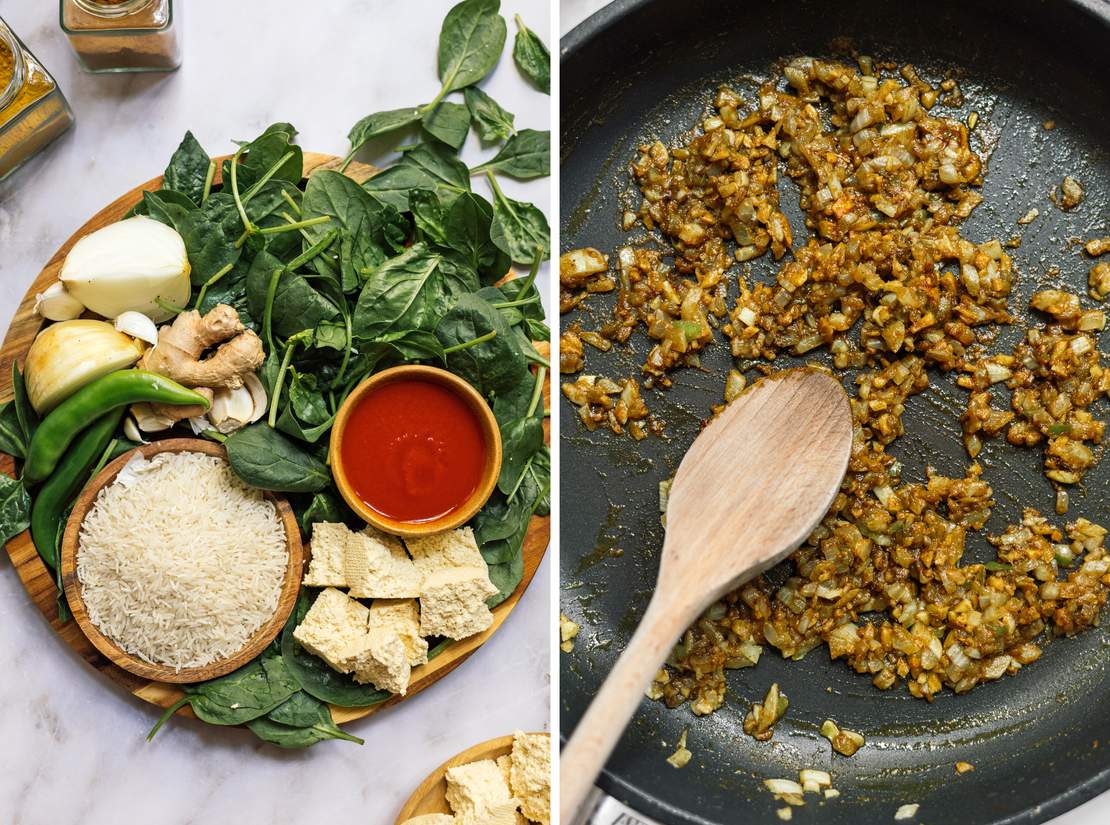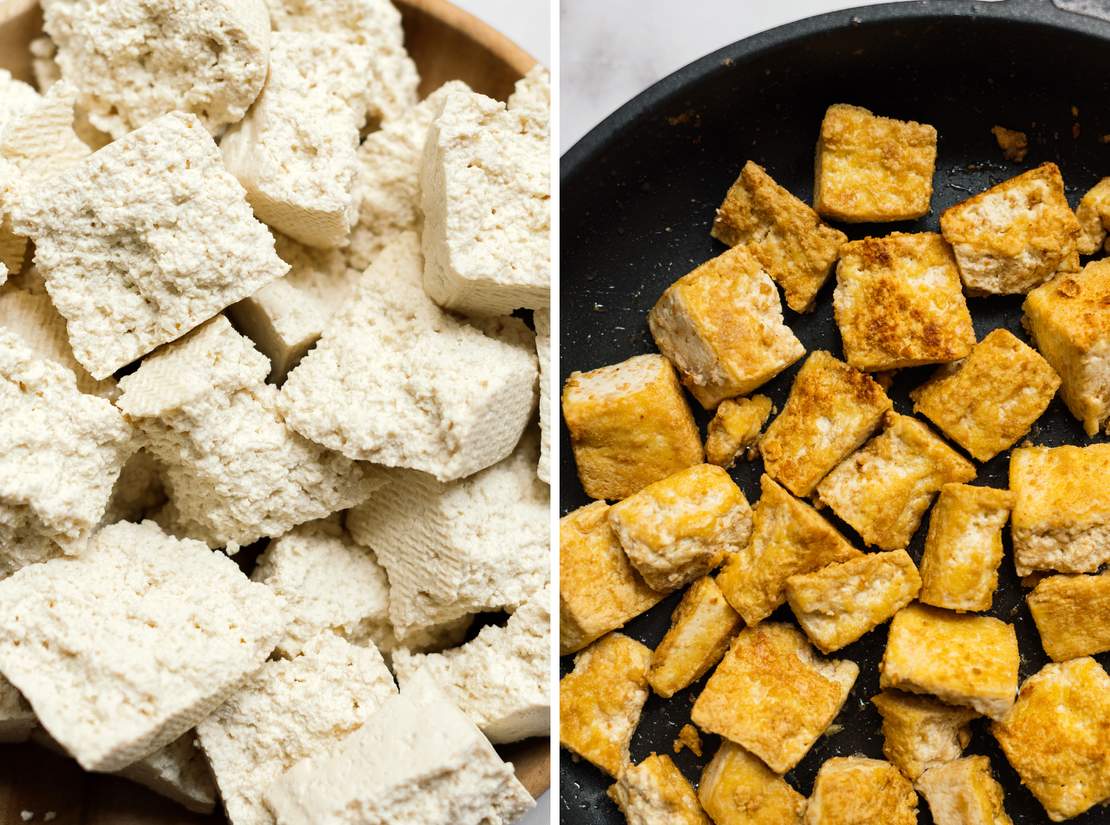 Vegan Palak Paneer
Ingredients
400 g (2.25 cups) basmati rice
600 g (1.33 lbs) tofu
1 onion
25 g (1 oz) ginger
2 garlic cloves
0.5 green chili
500 g (18 oz) fresh baby spinach
2 tbsp nutritional yeast
2 tsp garam masala
1 tsp ground cumin
2 tbsp curry powder
1 tsp sweet paprika
150 ml (0.66 cup) sieved tomatoes
1 tbsp agave syrup
approx. 100 ml (0.5 cup) canned coconut milk
2 tbsp cashew butter (optional)
1 lemon (juice)
coconut oil for frying
salt
Instructions
First, prepare the rice according to package instructions in a pot or with a rice stove. Then keep it warm until serving.

Cut the natural tofu into coarse pieces with a knife or tear it with your hands. Peel and finely dice the onion, ginger and garlic. Wash, deseed and finely chop the green chili as well.

Bring a pot of water to a boil. Wash the baby spinach if necessary and blanch it in batches in the hot water for 1–2 minutes until it wilts. Then, remove from the water and rinse with ice-cold water. Blend the blanched spinach until smooth, and add as much water as necessary.

Toss the tofu with nutritional yeast until it's coated. Melt coconut oil in a large frying pan and fry the tofu until crispy and golden brown. Then, remove from the pan and set aside.

Heat more coconut oil in the pan and fry onion, ginger, garlic, green chili, garam masala, cumin, curry powder, paprika and salt for 3–4 minutes until the onion is translucent.

Add strained tomatoes, agave syrup, coconut milk, optional cashew butter and the blended spinach. Stir well and let the sauce simmer for 5–10 minutes. Season with lemon juice and more spices to taste. Then, add the tofu and mix.
Tip: We like adding cashew butter to this curry as it adds nutty creaminess. However, it is optional and rather a (very) tasty special ingredient for this recipe.
Serve the spinach curry with cooked rice.