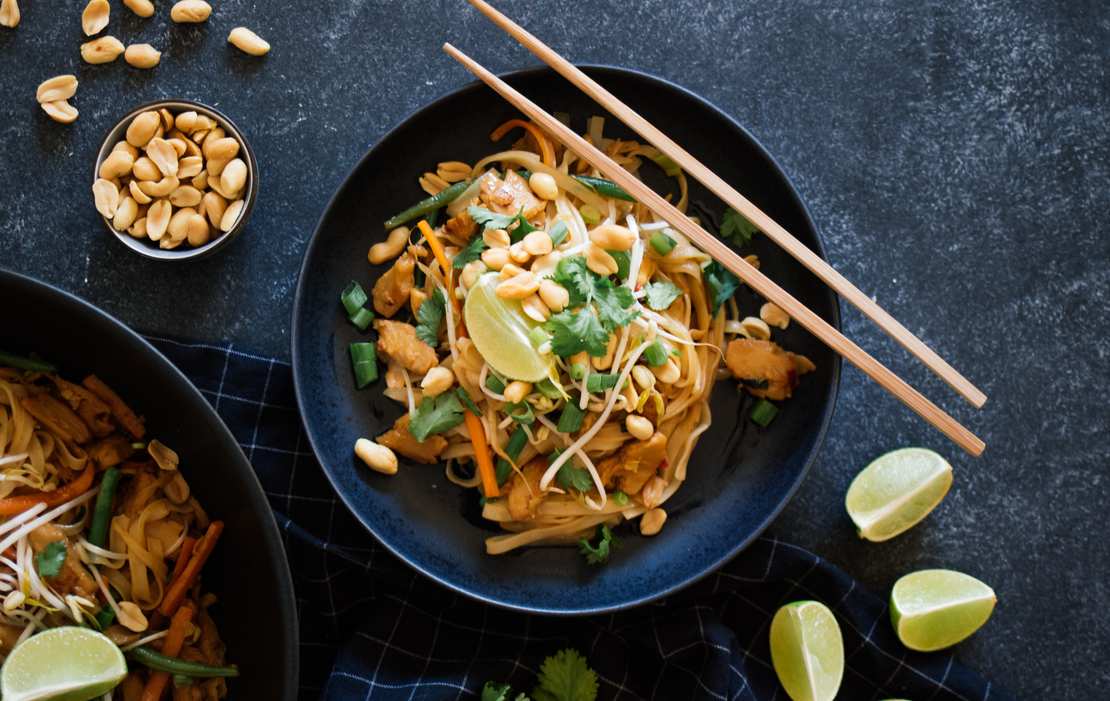 Vegan Pad Thai with "chicken"
Pad Thai is probably the best known and most delicious noodle dish in Thailand. Fortunately, it is also pretty simple to prepare at home in just 20 minutes. Most of the time, you only need to change two ingredients that are not plant-based: fish sauce and meat. Fish sauce is usually a kind of soy sauce, which also contains anchovies or fish stock. So the fish sauce is not vegan at all, but can easily be replaced with regular soy sauce.
Tamarind paste is also often used for the sauce of a Pad Thai. Tamarinds are also called Indian dates. Together with soy sauce, sugar, and garlic, they are turned into a paste or sauce that is used in Asian dishes. Although' it's often vegan, it's quite difficult to find in supermarkets. Even here in Berlin, we are running from supermarket to supermarket and are searching for tamarind paste. So we did not use that paste for our recipe cause it works wonderfully even without the Indian dates.
Finally, there's the missing meat, right? We are very happy that [Like meat] (https://likemeat.de/) supported us with this recipe. For our vegan Pad Thai, we used their vegan "chicken", which is made from organic soybeans. All of their ingredients are from certified organic farming. You can simply fry the vegan "chicken" with a little oil in a pan and it's still juicy and not dry in the end. It's ready to serve in just a few minutes. So delicious!
Vegan Pad Thai with "chicken"
Ingredients
400 g thick rice noodles
2 scallions
1-2 chili peppers
2 garlic cloves
1 thumb-sized piece fresh ginger
2 carrots
100 g princess beans
360 g vegan "chicken" (e.g., from Like Meat)
100 g peanuts
peanut oil
sauce
10 tbsp soy sauce
3 tbsp agave syrup
5 tbsp rice vinegar
2 tbsp sriracha
2 limes
toppings
1 lime
1 scallion
50 g peanuts
10 g fresh cilantro
Instructions
Prepare the rice noodles according to the package instructions.
Wash the scallions and chili and cut into rings, peel and finely dice the ginger and garlic.
Wash the beans and carrots, remove the ends, and cut the carrot into sticks.
Mix all the ingredients for the sauce in a small bowl.
Heat 2 tbsp of peanut oil in a tall pan or wok.
Fry the scallions, garlic, chili, ginger, vegan chicken, carrots and beans for 5-6 minutes.
When the "chicken" has turned brown, add the rice noodles, peanuts, and sauce and mix well.
Fry for 2-3 minutes and then serve with fresh lime juice, cilantro, and chopped peanuts.