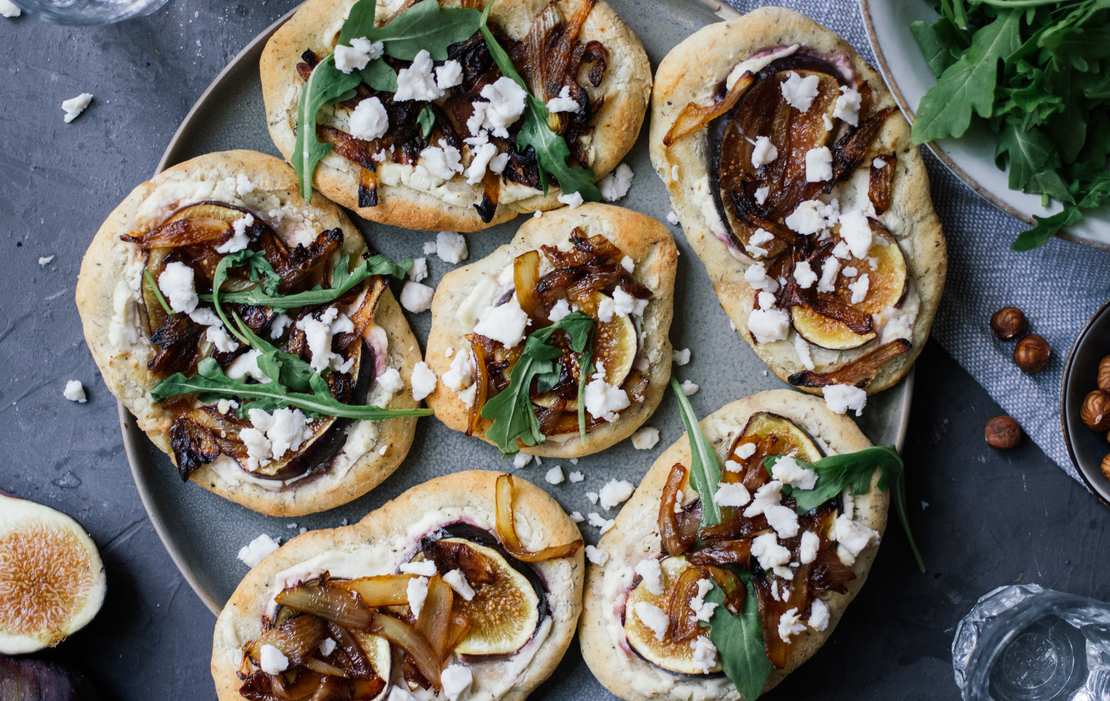 Vegan Flatbread Mini Pizza with Figs and Balsamic Onions
If you're too impatient for a classic pizza, our flatbread pizza is just the right recipe for you, because it's much faster to prepare thanks to yeast.
Flatbreads can be found in almost all kitchens around the world – some with and some without yeast. There is naan, chapati, paratha, or papadam from the Indian cuisine or pita, which is eaten in Greece and Israel. The thin lavash can be found in Turkish, Kurdish and Persian cuisine, among others, and then there's also the Jewish matzo, the Italian focaccia, the Ethiopian injera, the Swedish crispbread and so on. Every kitchen has its own recipe, from super thin to finger-thick.
For our flatbread, you need flour, yeast, salt, water, olive oil, and (optional) some dried rosemary that just adds more flavor to the dough, which fits perfectly to our topping: figs and balsamic onions. Of course, you can also use any other topping to your taste.
Vegan Flatbread Pizza with Figs and Balsamic Onions
6-8 mini pizza
45 min. (+ 30 min. resting time, + 8 min. baking time)
Ingredients
For the dough:
250 g (2 cups) flour
1 tsp active dry yeast
1 tsp salt
1 tbsp dried rosemary
150 ml (0.66 cup) water
1 tbsp water
For the balsamic onions:
4 onions
2 tbsp vegetable oil
3 tbsp dark balsamic vinegar
3 tbsp water
salt
pepper
For the topping:
4 figs
100 g (3.5 oz) vegan cream cheese
100 g (3.5 oz) vegan feta cheese
50 g (2 oz) hazelnuts
50 g (2 oz) arugula
maple syrup for serving
Instructions
Add flour, active dry yeast, dried rosemary, and salt to a bowl and mix. Add water and olive oil and knead until a smooth dough forms. For this, feel free to use a kitchen machine or a hand mixer. The dough will be slightly sticky at this point.

Flour your working surface and knead the dough by hand for approx. 5 more minutes. Incorporate as much flour as needed at that point until the dough isn't sticking anymore. Transfer the dough to a greased bowl, cover with a clean kitchen towel and let rest at a warm sport for approx. 30 minutes or until the dough volume is doubled in size.

In the meantime, peel, halve, and slice onions. Heat vegetable oil in a frying pan, add onions and season with salt. Fry for approx. 10 minutes over low heat. The onions should be translucent, not too browned. Stir regularly to avoid any burning. Add balsamic vinegar and water and keep frying for 10 minutes over low heat. Remove onions from heat and season with salt and pepper.

Preheat oven to 220°C/430°F with a lined baking sheet inside. Flour your working surface and form the dough into a thick roll. Divide into 6-8 equal-sized portions, then form small pizzas out of each portion by hand.

Slice figs. Pierce each pizza dough several times with a fork, then spread with vegan cream cheese. Top with figs and balsamic onions.

Carefully transfer the pizza onto the hot baking sheet and bake at 220°C/430°F for approx. 8 minutes. In the meantime, roast hazelnuts in a fat-free frying pan, then roughly chop.

Remove flatbread pizza from the oven and top with arugula, vegan feta cheese, and roasted hazelnuts. Drizzle with maple syrup.