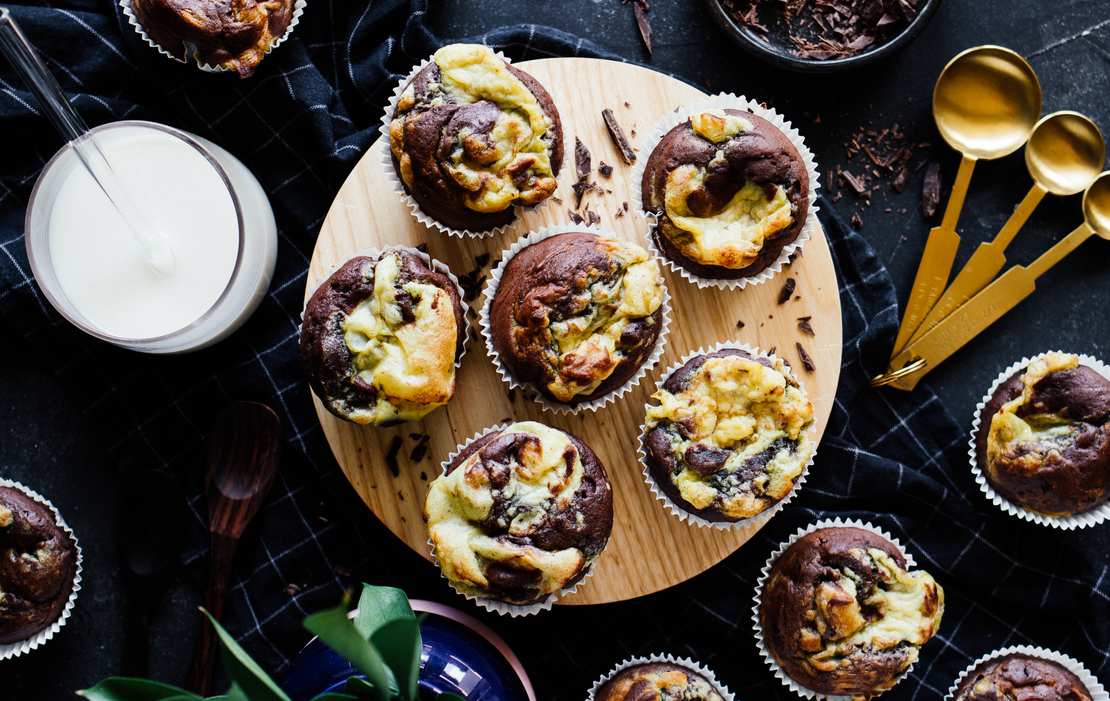 Vegan Double Chocolate Cheesecake Muffins
They are one of the classic baked goods of the American coffee chain "Starbucks": Double Chocolate Cheesecake Muffins! And in the past, I loved them so, so much! The combination is simple but genius: a moist double chocolate muffin with a creamy cheesecake filling – chocolately, yet refreshing, and super moist. There's no doubt that we had to develop a vegan recipe for it – and we already did this a few years ago!
You've been baking this recipe quite a lot and your feedback is important to us. It helps us to improve our recipes and our website constantly. So when some of you told us they had problems with this recipe, we knew that we would have to make some changes (this was in March 2022)! Our new recipe has a super chocolaty dough with a slight coffee flavor and lots of chocolate drops. We have also revised and simplified the recipe for our cheesecake cream. The result is a wonderfully moist double chocolate cheesecake muffin with an extra creamy cheesecake filling. Simply "the best of both worlds"!
Making a vegan and moist chocolate batter is definitely not a problem. We only have to exchange a few simple ingredients and use, for example, vegan butter (you can find it in regular supermarkets, as well as in organic markets - margarine should also work) instead of dairy butter or plant-based milk (such as oat or almond milk) instead of dairy milk. Eggs, which are often used for binding and moisture, are replaced by applesauce, which you can buy in supermarkets or prepare yourself.
For the cheesecake filling, we use vegan crème fraîche, but also silken tofu, which has a significantly higher water content than firm tofu. This means that the cream cheese doesn't get dry and crumbly, but retains its creamy consistency. If you can't find vegan crème fraîche, you can also prepare the filling with silken tofu only.
We used the silken tofu from Taifun for our recipe and got a really great result! Taifun produces tofu under fair and ecological conditions, made from European soy, that is grown in Germany, France, and Austria - without any GM technology. The silken tofu consists of just three ingredients: water, soybeans, and coagulant (magnesium chloride). You can find Taifun tofu in organic markets.
Vegan Double Chocolate Cheesecake Muffins
10 muffins
30 minutes (+15 min. waiting time + 25 min. baking time)
Ingredients
For the cheesecake filling:
200 g (7 oz) silken tofu (e.g. from Taifun)
50 ml (0.25 cup) plant-based milk
60 g (2 oz) vanilla custard powder
3 tbsp sugar
150 g (5.5 oz) vegan crème fraîche
For the double Chocolate Muffins:
180 g (1.5 cup) wheat flour type 405 or spelled flour type 603
125 g (0.66 cup) sugar
4 tbsp unsweetened baking cocoa
0.5 tsp baking soda
8 g (2 tsp) baking powder
6 g (1 tsp) vanilla sugar
1 pinch of salt
100 g (3.5 oz) dark chocolate
100 g (3.5 oz) applesauce
100 g (0,.5 stick) vegan butter
100 ml (0.5 cup) cold, strong coffee
100 ml (0.5 cup) plant-based milk
100 g (3.5 oz) chocolate drops
Also
1 tbsp plant-based butter (for greasing)
Instructions
Preheat oven to 180°C/355°F (convection heat). For the cheesecake filling, combine silken tofu, plant-based milk, pudding powder, and sugar in a pot. Bring to a boil, stirring constantly. Remove the pot from heat and let cool for about 15 minutes. Then mix in the vegan crème fraîche. Let the filling cool down to room temperature, then refrigerate it until later.

In the meantime, roughly chop the dark chocolate and melt it in a double-boiler. Mix the flour, sugar, baking cocoa, baking powder, baking soda, vanilla sugar, and salt. Add the melted chocolate, applesauce, vegan butter, cold coffee, and plant-based milk. Stir until a creamy batter forms. Finally, fold in the chocolate drops.

Grease a muffin tin with vegan butter and fill the little molds up to one-third with chocolate batter. Add 1 tbsp of the vegan cheesecake filling in the center and cover with more chocolate batter. Add another teaspoon of the filling on top of the chocolate batter and fold in gently with a toothpick or fork.

Bake the muffins at 180°C/355°F (convetion heat) for approx. 25 minutes. After cooling, the muffins will keep for about three days in an airtight container.
More Vegan Brunch Recipes