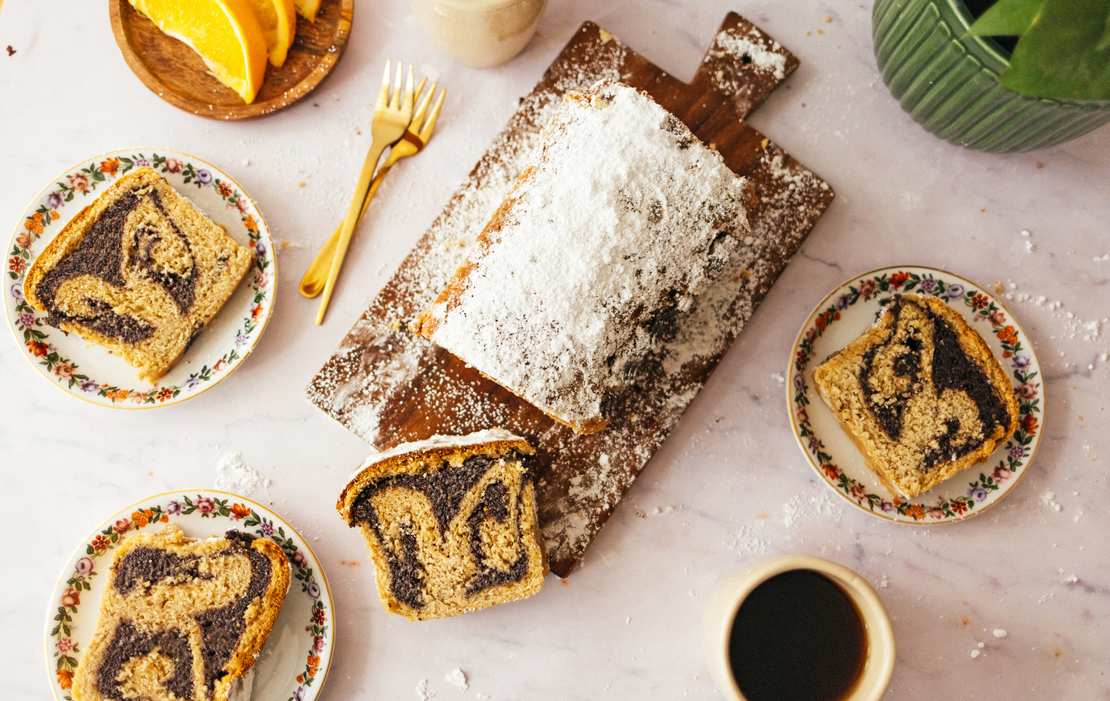 Vegan Curd Stollen with Poppy Seed
If you don't like stollen but have somehow found your way to this recipe, STOP! STAY HERE! I know what you're thinking because I'm one of you. One of you who doesn't like stollen.
And yet (or perhaps because of this) I have taken on the task of developing a stollen recipe that even I like. Basically, it is to bake a "cake" that ticks a few stollen checkboxes but doesn't have the characteristics that I don't like about stollen. I started a supposedly scientific "study" on Instagram and asked the stollen haters among you what you dislike about the Christmas classic. The most common answers are dried fruit such as raisins, candied orange peel and candied lemon peel, and that stollen is often too dry. I understand both – although I even like vegan stollen bites (no idea how that fits together now).
The wide world of stollen types
Your wish is my command. We are pulling in the same direction here, sitting in the same boat. So there will be NO dried fruit, and the stollen should be moist. Check. Check. So I researched alternative stollen ideas: To be honest, almond stollen looks just as dry as I don't like it, while marzipan stollen looks a little more tempting but doesn't 100% win me over either. Curd stollen sounds pretty moist, and poppy seed stollen can only score points because I like poppy seeds and the poppy seed filling runs through the whole stollen. So my decision was made: I would make a vegan curd and poppy seed stollen.
Where can you find stollen spice?
Based on Isa's classic Christmas stollen, I swapped ingredients here and there, adjusted the quantities and went into the test kitchen. The most complicated ingredient was stollen spice, which I couldn't find anywhere in the store. If you bake this recipe in December, you probably won't have this problem. Otherwise, the only option (like me during the test cooking) is to order it online.
As I wanted to avoid dried fruit at all costs, I still needed a few Christmassy ingredients, and I was pleased with a few ground nuts, some marzipan and an orange. The stollen spice did the rest.
The poppy seed filling
The vegan curd in the dough and the poppy seed filling actually make the stollen much juicier – so I was able to tick this checkbox more quickly than I thought. For the poppy seed filling, I made things easier for myself and bought ready-to-bake poppy seed preparation, which is usually vegan and which you should be able to find in almost any supermarket. During my first test, however, I quickly realized that the poppy seed filling itself was too dry for me and flattened the yeast dough. There were also considerable holes in the baked stollen because the poppy seed filling, unlike the dough, didn't rise in the oven. That's why you'll find some baking powder and ground almonds in the final recipe, as well as plant-based milk in the filling. They should ensure that the filling is a little bulkier but also more spreadable.
Baking stollen without a stollen baking mold?
Finally, one last piece of good news to convince the last skeptics: My Instagram survey also revealed that very few people have a baking tin for stollen at home. Understandable. So we're making this stollen in a simple loaf tin – you could even bake it completely without a tin on a baking tray.
Does the stollen need to rest and store?
I've also read up a lot on this because I personally find it a bit annoying that I bake something and then can only eat it weeks later. But lucky me! Stollen with a poppy seed filling and with yeast in the dough is actually eaten straight after baking. For this reason, it doesn't keep for months. And now you really have no argument why you shouldn't at least give this stollen a try.
Vegan Curd Stollen with Poppy Seed
1 loaf pan (approximately 30 cm)
45 minutes (+ 90 minutes resting time + 45 minutes baking time)
Ingredients
For the dough:
50 ml (0.25 cup) plant-based milk (lukewarm)
50 g (0.25 cup) sugar
0.5 cube (21 g / 0.74 oz) fresh yeast
350 g (2.75 cups) wheat flour
50 g (1.75 oz) ground almonds
1.5 tbsp Christmas stollen spice
0.5 orange (zest)
75 g (0.66 stick) plant-based butter (room temperature)
125 g (4.5 oz) plant-based curd
75 g (2.66 oz) marzipan raw paste
50 ml (0.25 cup) orange juice
For the filling:
500 g (1.1 lb) ready-to-bake poppyseed preparation
50 g (1.75 oz) ground almonds
1 tsp baking powder
plant-based milk
For after-baking:
50 g (0.44 stick) vegan butter (melted)
50 g (0.33 cup) powdered sugar
Instructions
In a large bowl (or directly in the bowl of your stand mixer), mix the lukewarm plant-based milk and a tablespoon of the sugar and crumble in the fresh yeast. Mix the mixture loosely and leave to stand for approximately 10 minutes.

In the meantime, mix the flour, ground almonds, the remaining sugar, Christmas stollen spice and orange zest in a bowl and set aside.

Add the soft vegan butter, vegan curd, marzipan raw paste in small pieces and orange juice to the yeast mixture and mix everything briefly until the marzipan is well distributed.

Add the flour mixture to the bowl and knead everything into a smooth dough. Add as much flour as necessary until the dough no longer sticks. Cover the dough and leave to rest in a warm place for approximately 60 minutes.

For the filling, place the poppy seeds in a bowl and mix with the ground nuts and baking powder. Then add enough plant-based milk until the filling is easy to spread (but not runny).

Roll out the yeast dough into a large rectangle – you can use the length of your baking tin as a guide for the size. Spread the poppy seed filling on top and then roll up the dough from the two long sides to the middle. Alternatively, you can also form it into a thick roll from one long side only.

Either carefully place the rolled dough in a greased and floured loaf tin or simply place it without the tin on a lined baking sheet, cover and leave to rise again in a warm place for approximately 30 minutes.

In the meantime, preheat the oven to 175 °C / 347 °F (top and bottom heat). Place the loaf tin on the baking tray or bake the stollen directly on the baking tray for 45 minutes.
9.Then remove the stollen from the oven and melt the vegan butter. Brush the still-warm stollen with the vegan melted butter and sprinkle with a thick layer of powdered sugar shortly afterward.
Leave the stollen to cool completely, but then either eat it straight away or store it in an airtight container for 1–2 weeks.
More Vegan Cakes & Cookies