Vegan Crumble Buns with Custard Filling
Today I will show you my favorite bun from the bakery. I associate my whole childhood with these buns and have really missed them in the last few years. I only need to think of them, and my mouth is watering already.
The specific name of these baked sweets varies depending on the bakery and region. However, what is always meant is a round pastry made of a fluffy yeast dough, filled with a cream of vanilla custard and whipped cream and covered with lots and lots of crumbles. Doesn't that sound awesome? In any case, I've never understood why bakeries offer crumble buns without any filling.
Unfortunately, not every bakery sells filled crumble buns, and certainly not as a vegan variant. In addition, there are differences in taste that I, as a self-proclaimed pudding crumble bun tester, sometimes don't like. In my opinion, the best crumble buns can be found in the bakery located in the small village where I grew up. There, the ratio of vanilla custard and whipped cream in the filling is always just perfect. On top, they add more filling to the buns than most bakeries do, the crumbles are extra-large, and the buns are not too sweet. Therefore I've tried to remember the taste of these buns and developed this vegan recipe based on them. The result is quite simple and very close to the original! You should be a bit patient though!
And now a few things you should keep in mind: To make sure your dough becomes nice and fluffy, you should let it rise for a sufficiently long time. Additionally, it's important that you stir your pudding-mixture well on the stove so no lumps form. However, if it still happens,you can blend the mixture briefly. Furthermore, the cooked custard must cool out completely before you fold in the vegan cream. And for all lemon lovers: Please use only lemon zest and no juice if you want a bit of lemon flavor in your vanilla custard. Otherwise, the juice will, unfortunately, make your vanilla cream clumpy.
And that's it. From now on, I'll probably have filled custard crumbles again regularly, and hopefully, you will too soon.
Vegan Crumble Buns with Custard Filling
8 crumble buns
50 minutes (+ 90 minutes resting time + 15 minutes baking time)
Ingredients
For the dough:
200 ml (0.75 cup) plant-based milk (lukewarm)
21 g (0.75 oz) fresh yeast
50 g (0.25 cup) sugar
500 g (4 cups) wheat flour type 550 or spelt flour type 630
1 pinch of salt
50 g (0.5 stick) vegan butter
For the crumble:
220 g (1.75 cups) wheat flour type 550 or spelt flour type 630
140 g (1.25 sticks) vegan butter
150 g (0.66 cup) sugar
8 g (1.5 tsp) vanilla sugar
For the filling:
200 ml (0.75 cup) vegan whipped cream (cold)
8 g (1.5 tsp) cream stiffener
8 g (1.5 tsp) vanilla sugar
75 g (5 tbsp) vanilla pudding powder
40 g (2 tbsp) sugar
30 g (1 oz) agartine (30% agar agar)
800 ml (3.5 cups) plant-based milk
30 g (0.25 cup) icing sugar
0.25 tsp ground vanilla
Also:
Instructions
We start with the yeast dough. Pour lukewarm plant-based milk into a bowl and crumble in yeast. Stir in 1 tbsp of the sugar and let the mixture stand for 5-10 minutes until it's bubbly on the surface. Meanwhile, mix flour, salt, and the remaining sugar in a large bowl.
Add the yeast mixture and vegan butter to the flour and knead well until a smooth dough forms. Cover the dough and let it rise in a warm place for about an hour.
In the meantime, prepare the crumble dough and the filling. For the crumbles, knead flour, vegan butter, sugar, and vanilla sugar into a dough. Refrigerate until further processing.
For the filling, whip cold vegan cream with cream stiffener and vanilla sugar and store it in the fridge until needed.
Mix custard powder with agartine, sugar, and 200 ml cold, plant-based milk in a bowl. Heat the mixture with the remaining plant-based milk in a saucepan and let boil for two minutes, stirring constantly.
Remove the cooked vanilla pudding from heat and pour it into a bowl. Cover with plastic wrap so no skin forms on the pudding, and let cool.
Divide the risen dough into eight equal-sized portions. On a floured working surface, roll out each piece of dough into a round bun about 1 cm (0.5 inch) thick and transfer it on a lined baking sheet. Then form crumbles from the streusel dough and press lightly on the buns. Let the dough pieces rise for another 30 minutes.
Preheat the oven to 180°C/355°F (convection heat). Bake the crumble buns for 10-15 minutes until lightly browned. Remove from the oven and let cool completely.
Cut each of the cooled crumble buns crosswise. Mix vegan whipped cream with icing sugar, ground vanilla, and custard until homogeneous. If it's easier for you, you can use a blender for this. Spread the filling with a spoon or a piping bag on the lower half of the custard buns. Then place the "lid" on the custard and dust with icing sugar. The buns taste best once they are freshly baked, but in an airtight container, they also keep for 3-4 days.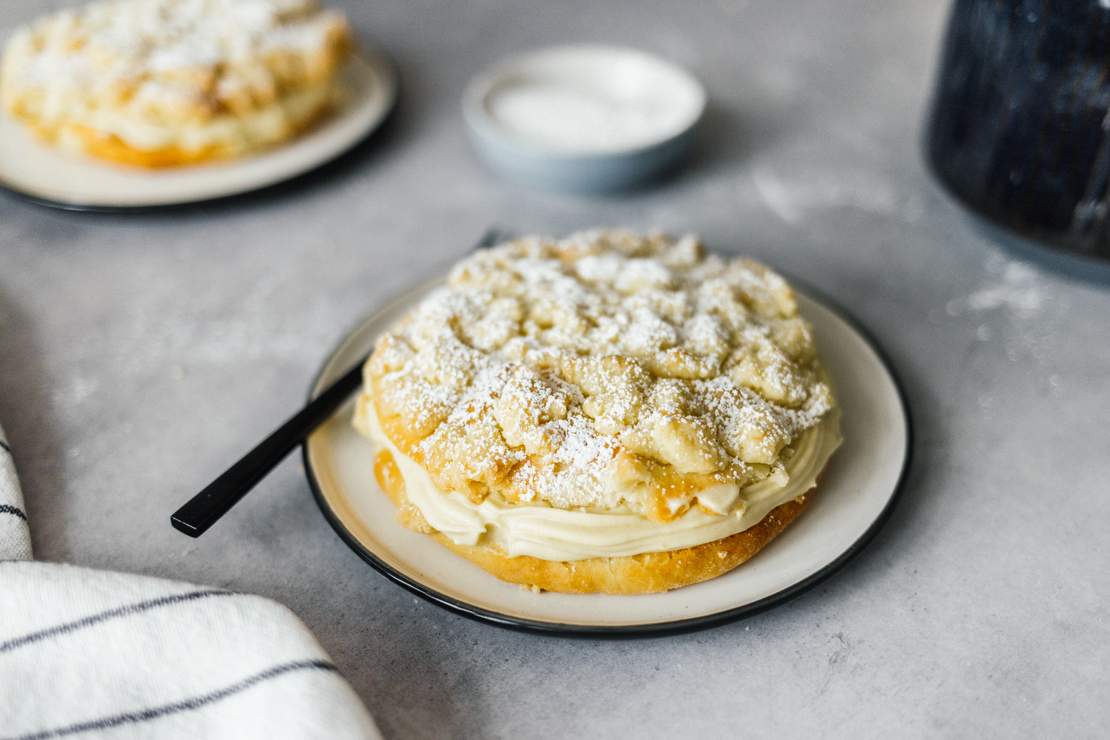 More Vegan Cakes & Cookies