I associate chili sin carne with a kind of love-hate relationship. On the one side, I really like this dish and it suits almost every occasion when you have to feed a lot of people – from grandma's 70th birthday to a party buffet. Chili sin carne is always a great vegan option but it often turns out to be just a bland mixture of canned beans, sweet corn, and tomatoes that have been thrown together, then warmed for 10 minutes. Done! Don't get me wrong, I do agree that canned tomatoes and beans are a nice shortcut in the kitchen (we will also use them in this recipe to save some time), but they shouldn't be all ingredients for a chili, right?
Chili sin carne needs some time, just like a good bolognese! A selection of spices and plenty of time turn simple ingredients into a flavorful chili with a deeper taste. We'll also receive the help of a strong umami task force consisting of mushrooms, tomato paste, soy sauce, and vegan red wine. Since all my bad experiences with boring chili sin carne have been connected to an overload of canned kidney beans and sweet corn, these two ingredients will never end in my chili sin carne again. But of course, feel free to add a selection of beans according to your taste. I prefer black and white beans that have very delicate, almost buttery flavor. To contrast these soft ingredents, I like to add some chopped nuts for a crunchy bite.
Another nice aspect of a chili is that it's such a freezer-friendly dish! I love to cook way too much of it, then eat one serving right away, take a second serving as an office lunch the day afterwards (served with rice, couscous, or so), then freeze the remaining chili in batches for later.
We're happy that EDEKA supports us with this recipe. They offer an extensive range of vegan products such like the organic textured soy protein used in this recipe. Since the protein itself doesn't taste of much, you should season it generously and soak it in a flavorful broth. The textured protein consists of soy flour only that is made from organically famed soy beans from France.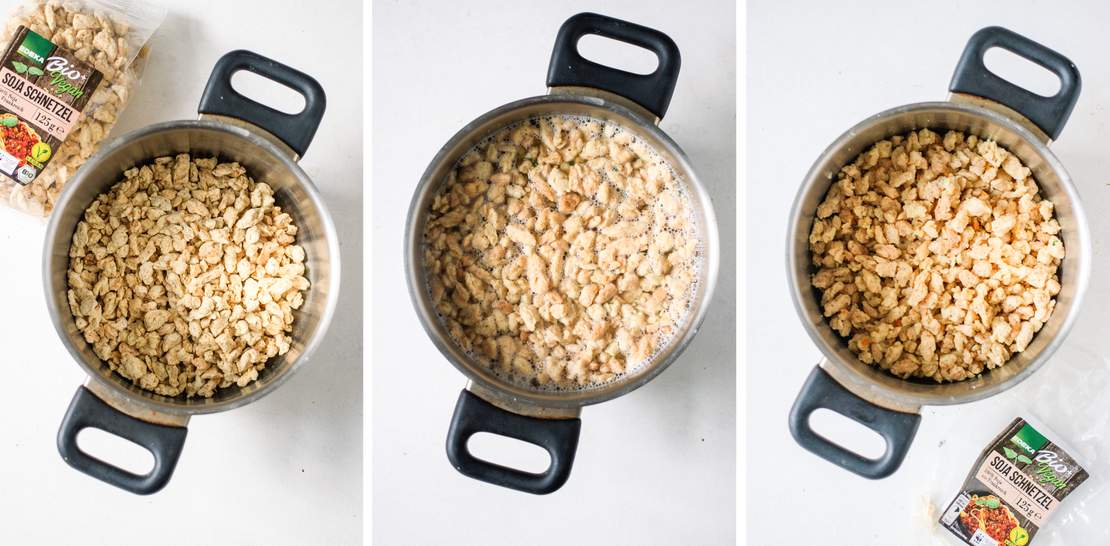 Vegan Chili sin Carne
Ingredients
15 g (0.5 oz) dried mushrooms (e.g., shiitake or porcini)
125 g (4.5 oz) EDEKA organic textured soy protein
400 g (14 oz) sweet potato
2 onions
50 g (2 oz) celery root
2 carrots
1 chili
2 garlic cloves
250 g (9 oz) black beans
250 g (9 oz) white beans
50 g (2 oz) walnuts
2 tbsp soy sauce
2 tbsp dried oregano
1 tbsp dried basil
1 tbsp ground cumin
1 tbsp paprika
150 g (5.5 oz) tomato paste
2 tbsp maple syrup
100 ml (0.5 cups) vegan red wine
800 g (28 oz) chopped canned tomatoes
oil for frying
vegetable broth
salt
pepper
For Serving
1 red onion
2 scallions
fresh cilantro
plant-based yogurt
Instructions
Add dried mushrooms to a bowl, cover with 500 ml (2 cups) warm water, and let them soak for at least 30 minutes. Parallelly, add organic textured soy protein to a pot or a heatproof bowl and cover with hot vegetable broth. Let soak for approx. 15 min.

In the meantime, peel and dice sweet potato, onions, celery root, and carrots. Remove seeds from the chili and finely chop it. Mince garlic and chop walnuts. Drain and rinse canned beans under water, then set aside. As soon as the dried mushrooms have been soaking long enough, drain (but reserve the broth!) and chop soaked mushrooms.

Drain the soaked organic textured soy protein and squeeze out as much liquid as possible. Generously season with salt and pepper.

Heat vegetable oil in a large pot over medium heat and fry the textured soy protein for approx. 3-4 minutes, or until browned. Add soy sauce and keep frying for 1-2 minutes.

Add chopped onions, garlic, chili, and dried oregano, basil, cumin, and paprika, and fry for approx. 3-4 minutes, or until the onion is translucent. Add tomato paste and maple syrup, stir to combine, and fry for another 2-3 minutes to darken the tomato paste.

Add sweet potato, celery, mushrooms, and carrots, and fry for 5 minutes before deglazing the veggies with vegan red wine. Add chopped canned tomatoes, drained canned beans, and the mushroom broth. Bring to a boil, then reduce to medium heat, and cook chili sin carne for approx. 30 minutes. After half of the cooking time, add chopped walnuts. If the chili thickens too much, add water or vegetable stock until the desired consistency is reached.

While the chili sin carne simmers, peel and finely chop red onion, finely slice a scallion, and chop cilantro. Serve the chili with these toppings and a dollop of plant-based yogurt.