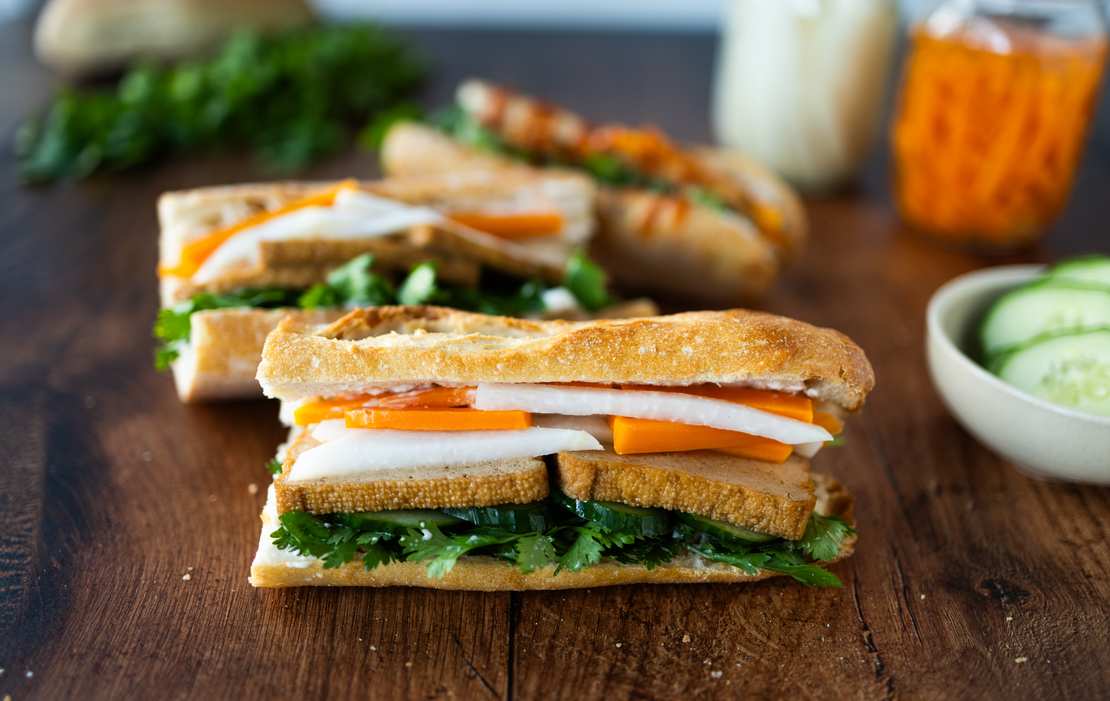 If you've been following us for a while, you know we're really into Bánh mì at the office. It's the perfect sandwich for lunch on a warm summer day, it's great to take to a park for a picnic, but we'd never say no to it in the winter, either. But where does this sandwich come from, what is it topped with, and why do we love it so much?
What, where, why: Bánh mì is actually the Vietnamese name for any kind of bread. So we're eating a sandwich-sandwich today if you want to be precise. The French brought the baguette to their colonies in Indochina, including Thailand, in the mid-20th century. There, rice flour was mixed into the dough to make the baguette particularly airy and crispy. At first, they only spread pâté on the bread, but gradually more and more toppings were added, and today it is one of the most popular street food dishes worldwide. After the Vietnam War, many Vietnamese moved to the USA or Europe and spread the love of Bánh mì.
What is usually put on it: There are several variations of a classic Bánh mì sandwich. Usually, steamed and/or grilled pork, pork liver pate, pickled carrots and daikon radish, sliced cucumber and cilantro end up on a fresh, crusty baguette. On top of that, you'll find mayonnaise, fish sauce, sliced chili and sometimes chicken.
What we put on it: Although the Bánh mì sandwich is distinctive in taste and appearance, you can already see that some things can be substituted. A not-so-small part of the Bánh mì sandwich is vegan anyway or can be veganized quite easily –so we've got a baguette, plant-based mayonnaise, pickled vegetables, cucumber and cilantro. The only thing missing is the massive meaty part, which we replace with tofu. We have eaten this version very often in Berlin and therefore know how crazy delicious it is. This is why we're already looking forward to the finished sandwich, even BEFORE cooking.
Vegan Bánh mì Sandwich
Ingredients
For the pickled vegetables:
2 carrots
200 g (7 oz) radish
1 tsp salt
1 tsp sugar
100 g (0.5 cup) sugar
200 ml (0.75 cup) white wine vinegar
200 ml (0.75 cup) water
For the tofu:
400 g (14 oz) baked/fried tofu
2 cloves of garlic
20 g (0.66 oz) ginger
1 lemongrass stalk
4 tbsp olive oil
4 tbsp soy sauce
0.5 lime (juice)
4 tsp rice vinegar
2 tbsp maple syrup
Also:
1 fresh baguette
3 tbsp vegan butter
3 tbsp vegan mayonnaise
30 g (1 oz) coriander
0.5 cucumber
Sriracha to serve
1 jalapeño (optional)
Instructions
Peel the carrots and radish and cut them into thin sticks. In a bowl, sprinkle with 1 teaspoon each of salt and sugar and massage the vegetable strips for about 5 minutes until they become soft. Then drain the liquid and rinse again with clear water. Put the soft vegetable strips into a jar.

Heat the white wine vinegar, water and sugar in a small saucepan until the sugar has dissolved. Pour the mixture into the jar over the vegetable strips and let soak for at least 1 hour, but preferably overnight.

Cut fried tofu into wide strips. Finely chop garlic cloves, ginger and lemongrass stalk and stir together with the other ingredients for the marinade. Marinate the tofu slices in it for at least 1 hour.

Slice the cucumber and jalapeños. Preheat the oven to 150 °C / 300 °F (top and bottom heat). Cut the baguette into thirds and bake for about 5 minutes until warm and crispy. Simmer the tofu with the marinade in a pan on medium heat for about 5 minutes, until the tofu has soaked up and softened.

To serve, cut the baguettes in half lengthwise and then spread both sides first with butter and then with mayonnaise and top with cilantro, cucumber slices, tofu, pickled vegetable strips and a few slices of jalapeno, depending on taste. If you like, you can also add Sriracha on top.
More Sandwich Sunday - Vegan Sandwich Recipes