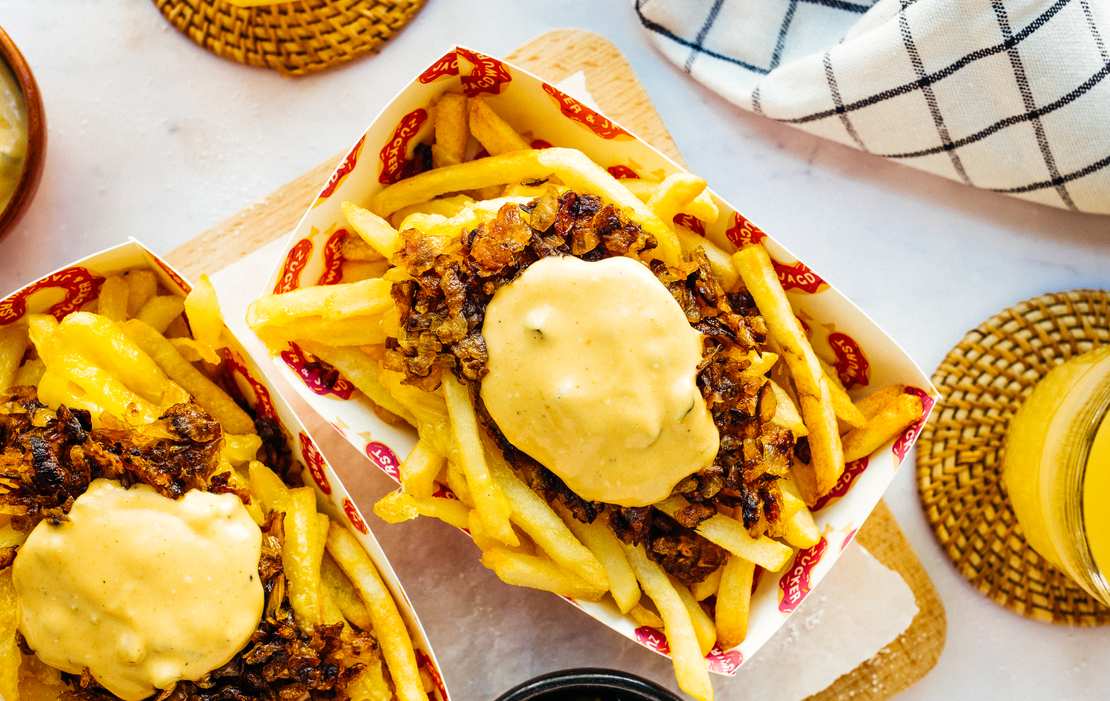 When I was on vacation in Los Angeles, a visit to In-N-Out was on my to-do list. The Californian fast-food chain is located mostly in the Southwest of the USA and to be honest, it ended up on the list rather for my travel buddy as the only vegan item on their menu are fries with ketchup. However, what I got to know there was "Animal Style Fries". They are on a "secret menu", which is not really secret. Burgers can also be ordered "animal style", but for the fries, the extra order means that they are topped with caramelized onions and a special sauce. The exact recipe of the "special sauce" isn't known, but many people agree that it's very close to the taste of Thousand Island dressing. Now, of course, I didn't get to try the fries myself at In-N-Out and instead watched everyone else eat it.
But that was about to change when we went to Monty's Good Burger a few days later, which is a completely vegan fast food restaurant that already has several locations in Los Angeles. They also have a "not-so-secret menu" there, on which you can find something similar (even EVEN better): the Dog Pile. Their fries are then topped with melted vegan cheese, doused with sauces, and topped with caramelized onions AND minced Impossible burger patties. What can I say: it was a feast and incredibly delicious.
So it was pretty clear that we needed this kind of loaded fries on our Zucker&Jagdwurst Fast Food Menu, too. However, since you can't get Impossible burger patties here in Germany and the (very tasty) alternative from Beyond Meat is also not available everywhere, we decided to go for the classic Animal Style Fries.
We used frozen fries, which are easy to get in vegan. Of course you could make them yourself, but since we're right in the middle of our fast food week, we wanted to make the recipe as quick and easy as possible for us (and you). Instead of fries you could also use tater tots or wedges (which I actually prefer).
Finally, here's one last tip for caramelizing onions: I've failed at them quite a few times and it was always because I got too impatient. You really need to fry them over low heat and let them caramelize for at least 30 minutes if you want buttery, soft, sweet onions.
Vegan Animal Style Fries
Ingredients
For the sauce:
100 g (0.5 cup) vegan mayonnaise
60 g (0.25 cup) sweet pickle relish
1.5 tbsp ketchup
1 tbsp mustard
1 tsp apple cider vinegar
4 tsp water
salt
pepper
For the caramelized onions:
4 large onions
salt
vegetable oil for frying
Also:
500 g (1 lb) frozen fries
150 g (5.5 oz) vegan sliced cheese
Instructions
Peel and dice onions. Add vegetable oil and onions to a large frying pan and season with salt. Heat onions over low heat until translucent. Once that's done, cover the frying pan with a lid and keep frying the onions for approx. 15-20 minutes while stirring the onions from time to time. Remove the lid and fry the onions for another approx. 10 minutes until they're golden brown, sweet, and caramelized.

In the meantime, add vegan mayonnaise, sweet pickle relish, ketchup, mustard, apple cider vinegar, and water to a bowl, and stir to combine. Season with salt and pepper to taste. If needed, add some more water until you get a thick but runny sauce.

Arrange frozen fries on a lined baking sheet and bake them according to package instructions. Approx. 5 minutes before the end of the baking time, remove the baking sheet from the oven. Push the fries a little bit closer together. Add a layer of vegan sliced cheese either directly on the fries or rub vegan cheese with some vegetable oil beforehand. Transfer the fries back to the oven and continue baking until the plant-based cheese has melted.

It's easiest to just serve the fries on the baking sheet and top them with caramelized onions and the sauce. Alternatively, you can also serve them in smaller portions in a bowl or on plates.