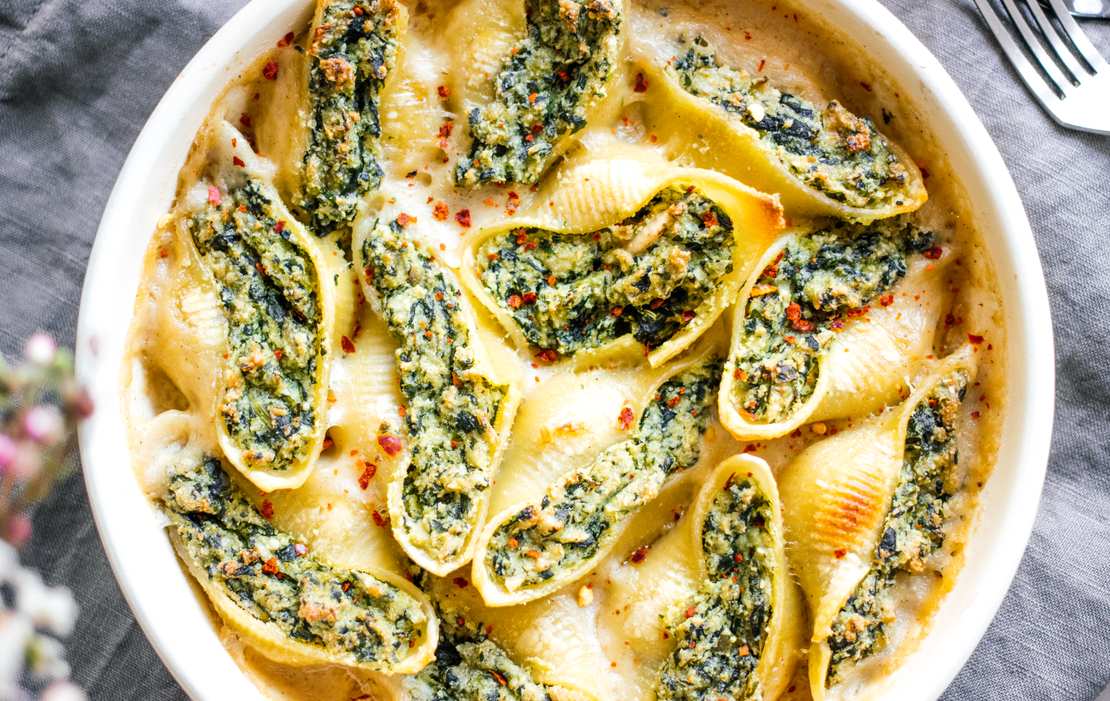 Vegan Stuffed Shells with Spinach and Cashews
Unfortunately, conchiglioni is not my middle name, but the Italian word for the larger type of pasta shells (the smaller ones are called conchigliette). Whether you prefer larger or smaller shells - as soon as you cook with them, your dinner will look somewhat fancy, workmanlike, and elegant.
But in fact, the preparation is super easy: first prepare the stuffing, then cook pasta shells, fill and bake them. We decided on the vegan version of a classic spinach and ricotta filling, but used cashews instead of cheese. Instead of a tomato based sauce, we'll cook a creamy béchamel, because why not! For this recipe, it's important to drain the spinach (especially if you use frozen spinach) to avoid a watery stuffing. And by the way, if you don't find any pasta shells, you can also make the recipe with cannelloni instead!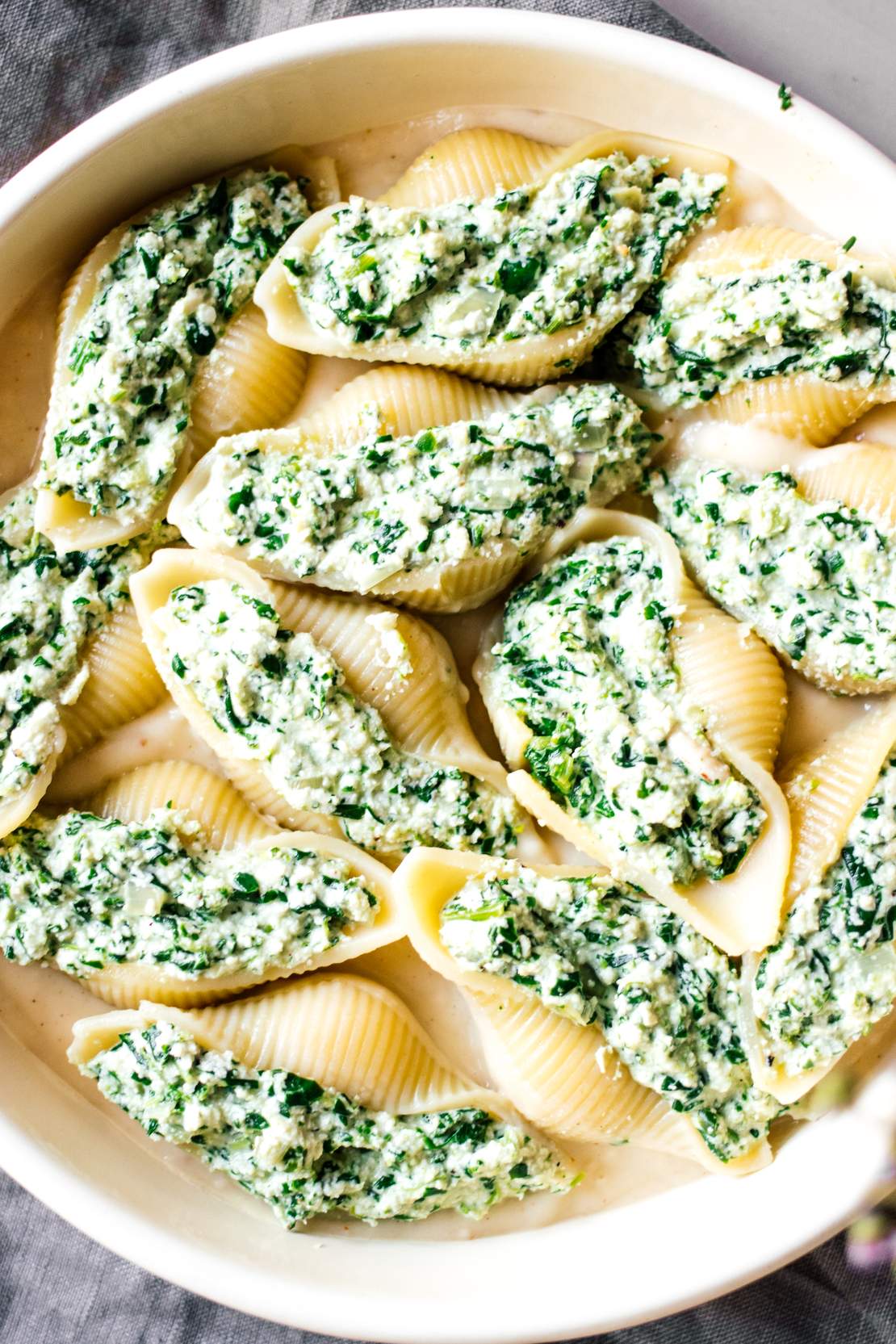 Vegan Stuffed Shells with Spinach and Cashews
2 servings
40 minutes (+20 minutes baking time)
Ingredients
12 pasta shells (approx. 100 g /3.5 oz)
1 onion
1 garlic clove
150 g (5.5 oz) spinach (frozen or fresh)
100 g (3.5 oz) cashews (soaked)
2 tbsp water
3 tbsp nutritional yeast (divided)
1 tbsp apple cider vinegar
2 tbsp vegan butter
2 tbsp flour
150 ml (0.66 cup) plantbased milk
150 ml (0.66 cup) plantbased heavy cream
0.5 tsp chili flakes
vegetable oil for frying
salt
pepper
nutmeg
Instructions
Peel and finely chop garlic and onion. Defrost frozen spinach in a sieve or wash and chop fresh spinach.

Heat vegetable oil in a frying pan and fry onion and garlic until translucent. Add spinach and braise for approx. 10 minutes or until either the fresh spinach wilts or the defrosted spinach is warmed. Season with salt, pepper, and nutmeg to taste. In case the spinach is still too watery, transfer to a sieve and drain.

Add coaked cashews, water, 2 tbsp nutritional yeast, and apple cider vinegar to a liquid measuring cup and mix with an immersion blender until combined, but still chunky. Season with salt and pepper to taste, or add more nutritional yeast or some lemon juice.

Add spinach to cashew mixture and stir to combine. For the last time, season with salt, pepper, and nutmeg to taste.

Cook pasta shells according to package instructions. Parallelly, melt vegan butter in a saucepan and stir in flour. Slowly add plantbased milk and heavy cream, but keep stirring all the time to prevent any lumps in the sauce. Season with chili flaked, 1 tbsp nutritional yeast, salt, pepper, and nutmeg to taste. Let the sauce simmer for a few minutes until thickened.

Preheat oven to 180°C/350°F. Once the pasta shells are done, drain. Add approx. two third of the sauce to your baking dish. Carefully fill each pasta shell with the spinach-cashew mixture and transfer to the baking dish, right into the sauce. Repeat with remaining pasta shells and filling, then drizzle with remaining sauce. Bake for approx. 20 minutes, or until the first pasta shells turn golden brown on top.