Vietnamese food is not only high on our favorite food list but also always an excellent choice for lunch on weekdays. Sure, we're talking about quite comfortable conditions here in Berlin where the next Vietnamese restaurant is always close by, but with today's recipe, it doesn't matter where you live. Some Vietnamese recipes can be a great inspiration for a homemade dish that's quick and easily adjustable to your taste.
Glass noodle salad can be done in less than 20 minutes, and you can use all kinds of salads and vegetables from your kitchen to combine with a fresh dressing. If you prep this dish for the next day, we recommend to store the dressing separately and only add it right before serving to keep the salad as fresh as possible. The pink glass noodles are just a fun gimmick on top: maybe you sometimes use pre-cooked beetroots from a jar and usually drain the liquid directly, but you can use that to natural dye your glass noodles and impress your colleagues, friends or buddies from the university!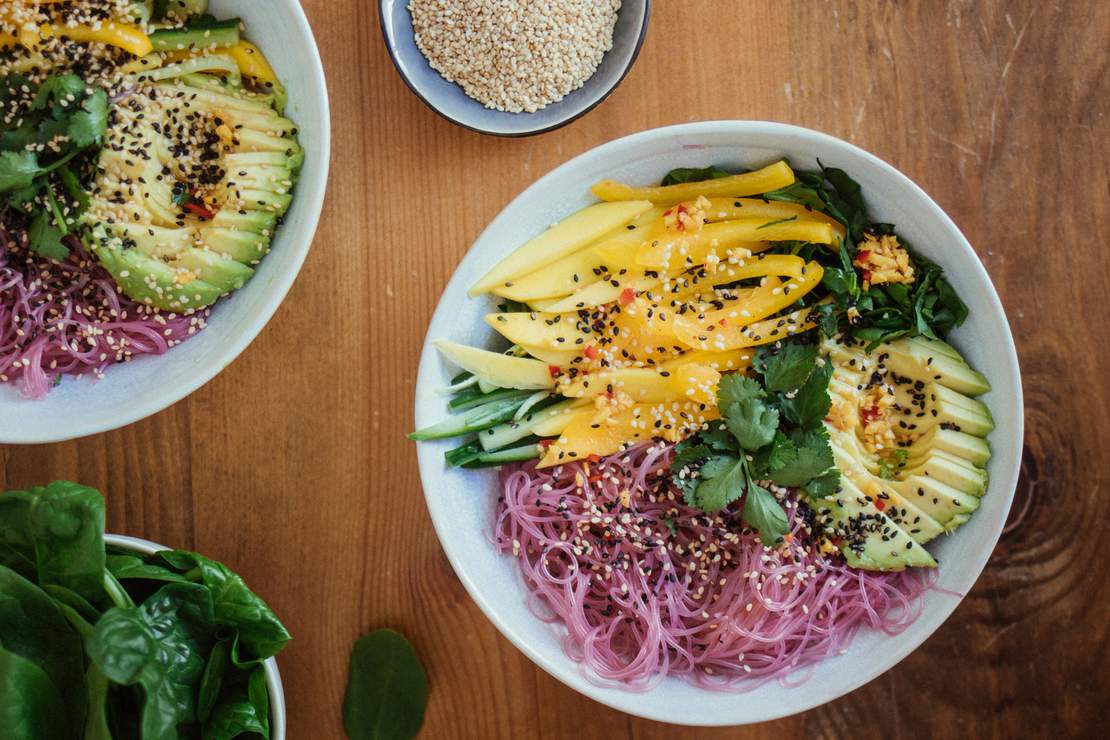 Pink glass noodle salad
Ingredients
100 g (3.5 oz) glass noodles
1 package or jar precooked beetroots
1 small mango
1 avocado
1/2 cucumber
20 g cilantro
1 small yellow bell pepper
100 g fresh spinach
1 small red chili
10 g (0.33 oz) ginger
1 tbsp sesame oil
2 tbsp soy sauce
1 tsp rice vinegar
1 tbsp lime juice
1 tbsp rice syrup (or agave nectar)
2 tbsp water
white and black sesame for serving
Instructions
Soak glass noodles in hot water for approx. 3 - 5 minutes, then drain and add to a bowl. Toss with 1 tsp sesame oil until coated.
Open the package or jar full of beetroot and save the juice in a cup. Add juice to the cooked glass noodles and stir until the noodles change color and turn pink.
Slice mango and avocado. Cut cucumber, bell pepper, and fresh spinach into stripes. Pluck cilantro leaves from the sprig and finely chop them.
For the vinaigrette, finely chop chili and ginger and add to a bowl along with lime juice, remaining sesame oil, rice vinegar, water, soy sauce, and rice syrup. Stir to combine and season to taste.
Serve pink glass noodles and vegetables in a bowl. Drizzle vinaigrette on top and sprinkle with cilantro, white, and black sesame.