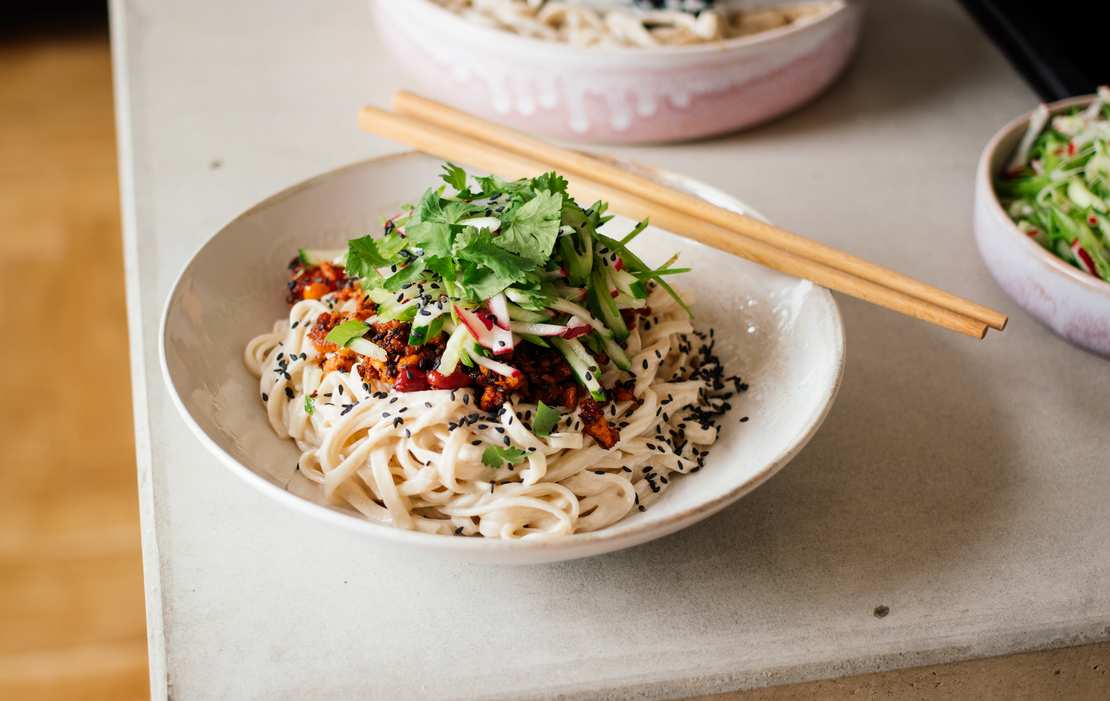 Vegan Sesame Udon Noodles with Spicy Soy Mince
No matter what other theories might say: cold food is just the best during summer for me. It can be a light salad with plenty of vegetables (and maybe even some fruit), but when I'm in the mood for something more filling like noodles, I found myself making Asian noodles way more often than pasta salads. If you're now thinking Phở and fried rice noodles and wondering where the refreshment is supposed to come from, you've probably never tried "cold noodles" before. Most people are familiar with a glass noodle salad, and our rice noodle salad with lemongrass dressing is at least lukewarm, but today we simply let our noodles cool down and then toss them in a creamy sesame sauce – which is cold as well. The topping of spicy soy granules is pan-fried but also ends up cold or lukewarm on top of our pile of noodles. I've already eaten this dish in large quantities and in different variations in Berlin, for example, at Chungking Noodles or at Wolf Kino in Neukölln.
Which Asian noodles work best for this salad? I chose udon noodles for today's recipe, but you can also use other Asian wheat noodles like ramen or even rice noodles. For those wondering why the udon noodles in our dish are not so thick: I used dried ones, which you can often find in the Asian sections in larger supermarkets, and which are then actually flat. But you can of course, also use the thick fresh udon noodles – just prepare them according to package instructions.
What is chili crisp? This spicy Chinese oil is a bright red jewel in my pantry that I wouldn't want to be without anymore, and it's often added to dishes just before serving. It's more than just chili oil, though, because it also has lots of crunchy chili bits in it. Some also contain bits of garlic and peanuts, for example. You can either buy it directly in Asian markets or throw it on the search engine of your choice and search for a recipe to make it yourself– it's actually easier than you think! In the recent past, I loved to add it to tofu or soy granules, as in this recipe – just make sure to dose it according to your own (spicy) taste.
The toppings: Pan-fried soy granules (which have been soaked beforehand) give the dish a great bite, but crumbled firm tofu would also work great. For a real crunch, we will add finely sliced cucumber, scallions, radishes, and sugar snap peas to the dish. I probably don't need to mention it, but of course, you can omit individual vegetables if you don't like them.
Vegan Sesame Udon Noodles with Spicy Soy Mince
Ingredients
For the noodles:
300 g (10.5 oz) udon noodles (or ramen or rice noodles)
For the spicy soy mince:
125 g (5 oz) dry soy granules
500 ml (2 cups) hot vegetable broth
2 garlic cloves
2 cm ginger
2 tomatoes
1 tbsp tomato paste
1 tbsp soy sauce
1 tsp sugar (or agave syrup)
chili crisp / chili oil (to taste)
vegetable oil for frying
For the sesame sauce:
150 g (0.5 cup) tahin
1 tbsp agave syrup
1 tbsp soy sauce
1 tbsp rice vinegar
1 tsp toasted sesame oil
water
For the topping:
0.5 cucumber
2 scallions
100 g (3.5 oz) sugar snap peas
5 radishes
1 tbsp toasted sesame oil
1.5 tbsp rice vinegar
1 tsp sugar (or agave syrup)
salt
cilantro
sesame seeds
Instructions
Soak soy granules in hot vegetable broth. Parallelly, cook udon noodles according to package instructions, then drain, rinse under cold water, and set aside.

For the topping, finely slice cucumber, scallions, sugar snap peas, and radishes. Add them to a bowl with toasted sesame oil, rice vinegar, sugar, and a pinch of salt. Stir to combine and refrigerate until serving.

Drain-soaked soy granules and squeeze out most of the liquid. Peel and finely chop (or grate) garlic and ginger. Chop tomatoes. Heat vegetable oil in a frying pan and sear soy granules for approx. 5 minutes. Add garlic and ginger and keep frying for another 2 minutes. Add tomato paste, chopped tomatoes, soy sauce, and agave syrup, and keep frying for 2-3 more minutes. Remove from heat and add chili crisp or chili oil to taste.

For the sesame sauce, mix tahin, agave syrup, soy sauce, rice vinegar, and sesame oil in a bowl. Add as much water as needed until you get a smooth sauce — season to taste.

Toss the cooled-down noodles in sesame sauce, then transfer them to serving bowls. Top with spicy soy mince and refrigerate cucumber mix. Sprinkle cilantro and sesame seeds on top before serving.