Lentil Loaf with Vegan Potato Gratin
No doubt, Christmas is the most challenging holiday when it comes to vegan food. However, that's not because there aren't delicious enough, proper vegan Christmas dishes, but that the holiday is associated with so many meaty traditions that need to be updated and broken. That's why this meatloaf is made out of lentils, nuts, and oatmeal which bake into a tasty lentil loaf that goes with any kind of side dish. We chose to serve a potato gratin with it, but you can also go for mashed potatoes, potato dumplings, a potato salad or simple boiled potatoes.
We're happy that Edeka supported us and this recipe. They have a large selection of vegan products for your vegan Christmas dinner, such as organic oat milk that we used for the gratin and lentil loaf.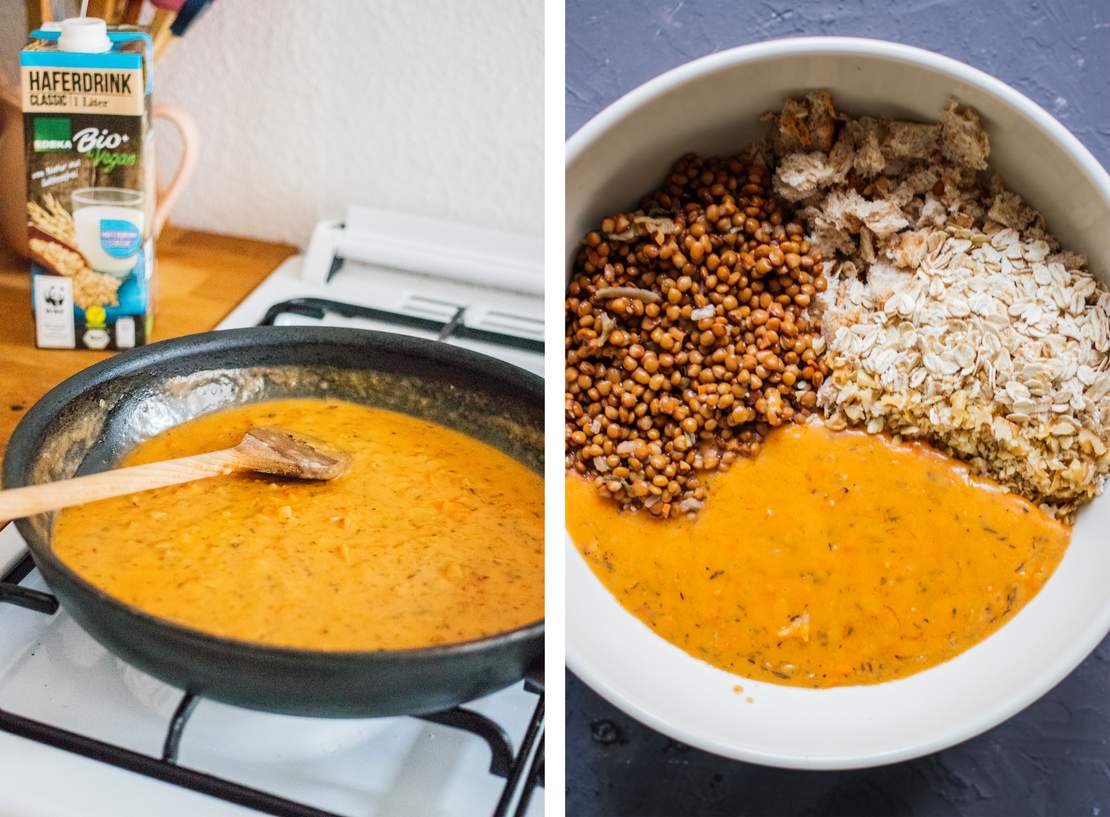 Vegan Lentil Loaf
1 loaf pan
25 minutes (+75 minutes baking time)
Ingredients
250 g (9 oz) cooked lentils (green or brown)
150 g (1.66 cups) rolled oats
2 onions
1 garlic clove
1 carrot
125 g (1 stick) vegan butter
1 tbsp flour
300 ml (1.25 cups) plant-based milk
2 tbsp mustard
2 tbsp tomato paste
1 tbsp dried thyme
1 tbsp dried oregano
50 g (2 oz) walnuts
200 g (7 oz) white bread
salt
pepper
vegan butter for greasing
breadcrumbs for dusting
Instructions
In case you didn't get cooked lentils, start by cooking them in a pot with water according to package instructions, until they are done. In the meantime, peel onions, garlic, and carrot and finely dice them. Chop walnuts and finely crumble white bread with your hands.

Melt vegan butter in a deep frying pan and fry garlic, onions, and carrots for approx. 5 minute. Stir in flour and keep frying for 2 minutes before adding plant-based milk. Add mustard, tomato paste, thyme, and oregano leaves and stir to combine. Season with salt and pepper to taste.

Add cooked lentils, rolled oats, chopped walnuts, crumbled white bread and the sauce mixture to a big bowl and carefully stir to combine. Again, season with salt and pepper to taste.

Preheat oven to 180°C/355°F, grease your loaf pan and use breadcrumbs to coat the insides of the pan. Add the lentil loaf mixture and smooth it out.

Cover the loaf pan with aluminum foil and bake for approx. 60 minutes, then remove the foil and keep baking for approx. 15 minutes longer. Remove from the oven and cool down in the pan for a few minutes, before removing and serving it.
Vegan Potato Gratin
4 servings
20 minutes (+30 minutes in the oven)
Ingredients
1 kg (35 oz) primarily waxy potatoes
1 tsp thyme
1 tsp rosemary
250 ml (1 cup) plant-based milk
250 ml (1 cup) plant-based heavy cream
1 tbsp starch
2 tbsp water
2 garlic cloves
salt
pepper
nutmeg
vegan butter for greasing
chives for serving
Instructions
If desired, peel potatoes, then slice them.
Finely chop thyme and rosemary. Add plant-based milk, heavy cream, thyme and rosemary to a small pot and bring to a boil. Mix starch and water in a small bowl, then add to the pot and heat while stirring until the sauce thickens. Season with salt, pepper, and nutmeg to taste.
Grease a baking dish with vegan butter, then grash a garlic clove and rub the inside of the dish with it. Add potato slices into the baking dish and pour the sauce over.
Bake at 180°C/355°F for approx. 30 minutes. Remove from the oven, let cool down for a few minutes before serving and sprinkle with some freshly chopped chives.