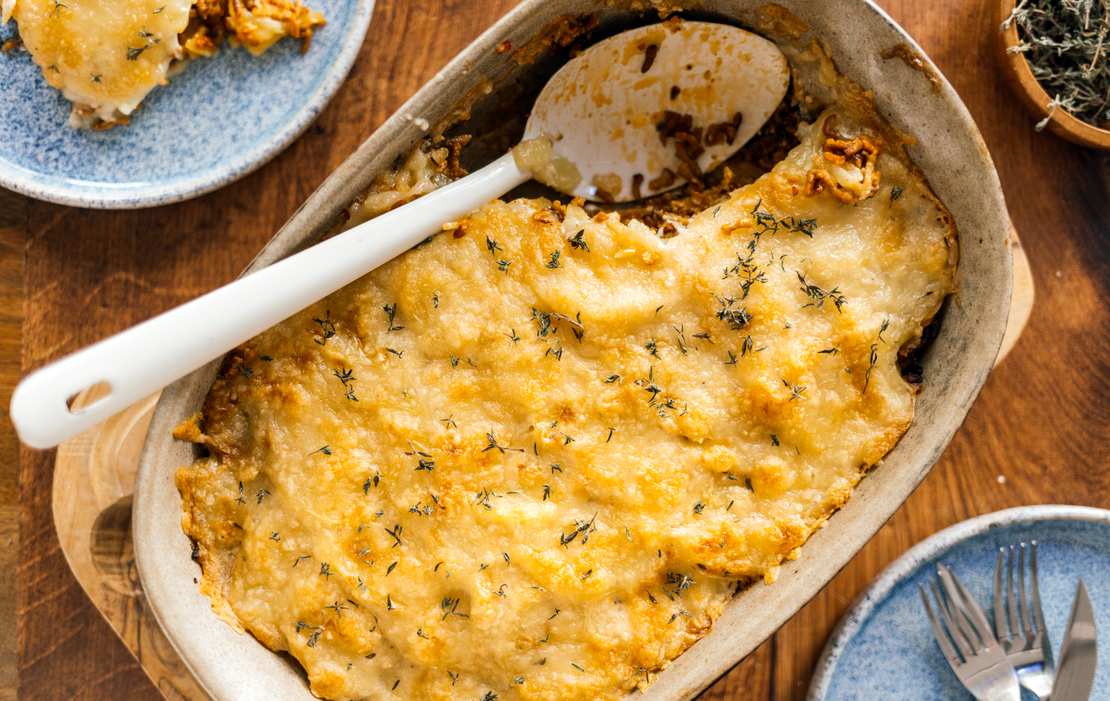 Potato Casserole with Plant-Based Mince
Fall is here, making our little gratinated hearts jump: The casserole season has started! Now it's back to throwing all sorts of ingredients into a casserole dish, topping it with plant-based cream, sprinkling it with vegan cheese and popping it in the oven! If you find that the thought of a casserole makes you as happy as it does us, here's a recipe for you that has already picked up some of our friends who weren't expecting much from a vegan casserole. This vegan potato casserole with really convinces everyone (meat eaters)!
A potato casserole with "minced meat" is an absolute classic, which you may have already eaten in the non-vegan version. For our recipe, we replace the conventional heavy cream with oat or soy cream, the butter with a vegan alternative or margarine, and use vegan shredded cheese, which we mix with a bit of water and oil (so your vegan cheese layer succeeds). We recommend you use the crumbly brown minced meat from the supermarket or the more raw pink version for the vegan mince. Both work great, and you should be able to get them at many stores.
And while we're on the subject of gratinating, if you want to make more vegan casseroles in the coming months, check out here. For example, suppose you have some potatoes left over. In that case, we recommend our potato broccoli casserole, and if you'd rather stick with vegan ground beef, our vegan cheese, mince and leek casserole or vegan pastitio might be for you!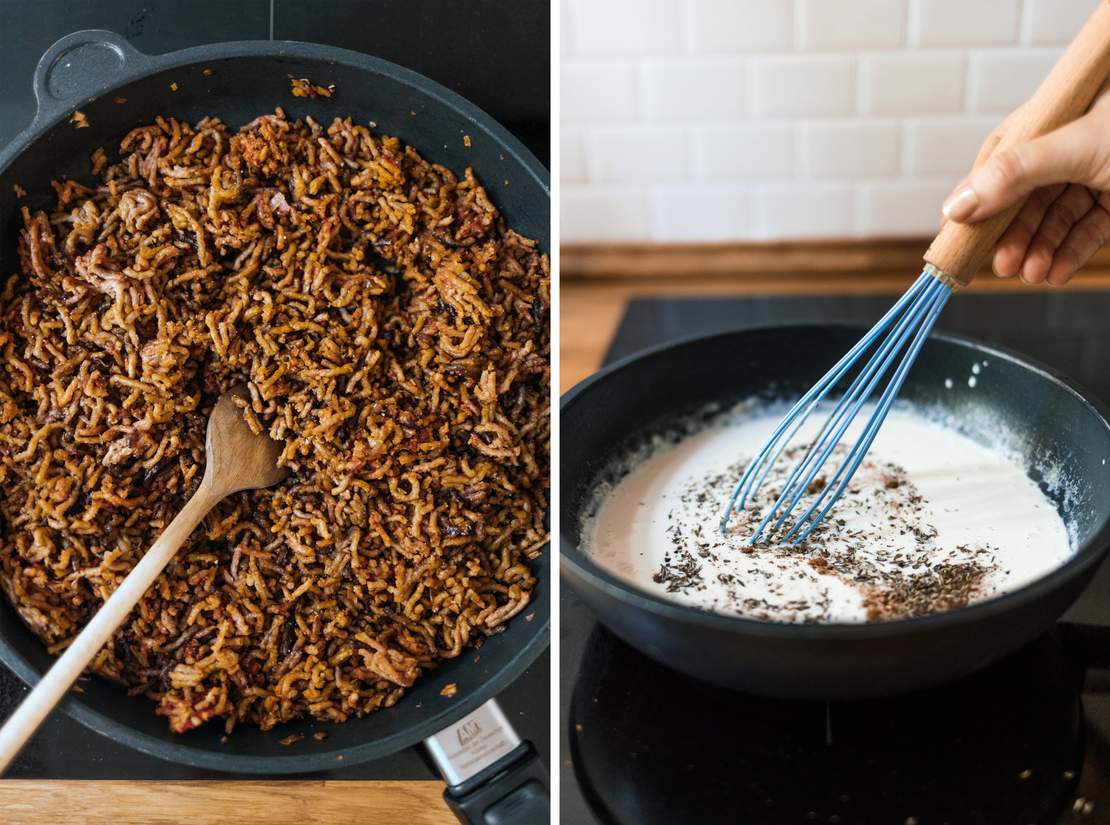 Vegan Potato Casserole with "Minced Meat"
6 servings
30 minutes (+ 40 minutes baking time)
Ingredients
For the potato layer:
1 kg (2.2 lb) waxy potatoes
For the "minced meat" layer:
1 onion
1 clove of garlic
2 tbsp vegan butter
approx. 500 g (1.1 lb) vegan minced meat
2 tbsp tomato paste
2 tbsp soy sauce
For the sauce:
1 tbsp vegan butter
1 tbsp wheat flour
500 ml (2.25 cups) plant-based heavy cream
0.5 tsp nutmeg
1 tsp dried rosemary
1 tsp dried thyme
For the cheese layer:
200 g (7 oz) vegan shredded cheese
2 tbsp vegetable oil
2 tbsp water
Also:
vegan butter for greasing
fresh thyme for serving
salt
pepper
Instructions
Peel the potatoes and cut into thin slices. Peel and finely dice the onion and garlic.

Melt the vegan butter for the "minced meat" in a large frying pan and sauté the onion and garlic for 2–3 minutes until the onions are translucent. Add the vegan minced meat and sauté until browned. Then add tomato paste and soy sauce, mix and sauté for another 4–5 minutes–finally, season with salt and pepper to taste.

For the sauce, melt vegan butter in a small saucepan and stir in flour thoroughly. Add plant-based heavy cream, stirring to prevent lumps from forming. Season with nutmeg, rosemary, thyme, salt and pepper, and remove the sauce from the heat.

Preheat the oven to 180 °C / 355 °F (convection heat). Mix vegan shredded cheese with oil and water to make it melt better. Grease a baking dish with vegan butter.

Spread half of the potato slices in the baking dish and then pour half of the sauce. Now add the complete vegan minced meat and cover with the remaining potato slices. Finally, pour the remaining sauce over it and spread the vegan cheese on top.

Bake the casserole at 180 °C / 355 °F (convection heat) in the middle of the oven for about 40 minutes, until it is golden brown on top and the potatoes are cooked through. After baking, let it cool down and sprinkle with fresh thyme.