Vegan Macaroni Pie with Meatless Meatballs
You can't even imagine my shining eyes when I first loosened the rim of my springform pan, pulled it up, and saw my very first vegan macaroni pie. Yes, of course, this is basically "just "macaroni with sauce and vegan meatballs, but you eat with your eyes first, and this is especially true for this recipe. For me, this is the perfect birthday cake for everyone who loves savory food. A vegan meatball for every year of life – why not?
It all started with a photo I once saw on the internet. There were thick rigatoni neatly placed next to each other, doused with a sauce, and then baked. I knew immediately that I had to try this, but I only had long pasta shapes at home. No problem, as it turned out. In fact, spaghetti pies exist as well, but I ended up using macaroni, so you can actually use both kinds of pasta for this recipe.
My first test attempt, however, didn't end quite so happily. At the time, I mixed the cooked pasta, tomato sauce, and a vegan cream mixture together, packed it into the springform pan, and grated vegan cheese on top. The pie was firm, and I could cut it into pieces, but it was also quite dry. Some of the macaroni on top were slightly burnt, and there were far too few vegan meatballs. So "unfortunately", I had to retest the macaroni pie – and I was much happier afterward.
To keep your pasta from burning on top, it's not enough to just add plant-based shredded cheese on top – even if you mix it with vegetable oil beforehand to make it melt better. Instead, we will prepare a creamy mixture that is both combined with the cooked macaroni and tomato sauce and additionally spread on top as a kind of cheese layer. At best, it should cover all the pasta, keeping it wonderfully moist. The mixture consists of plant-based shredded cheese, water, vegan heavy cream, vegan cream cheese for texture, and nutritional yeast for more flavor. Everything is heated briefly so that the vegan cheese melts already now, and you can spread the mixture easily. After heating, we stir in some soy flour, which acts as an egg substitute to bind the pasta and sauce.
As for the vegan meatballs, you can either use ready-made plant-based meatballs or form them yourself from vegan minced meat. With 15-20 minutes of baking time, it shouldn't be a problem to add them directly to the pie without frying them first, but if you want to be on the safe side, there's nothing against frying them in the pan beforehand and then arranging them on the pie. We baked this pie in a sprinform pan (24cm/9inches) and it fed a good six people.
So happy birthday, everyone! I think we've given ourselves a great present here.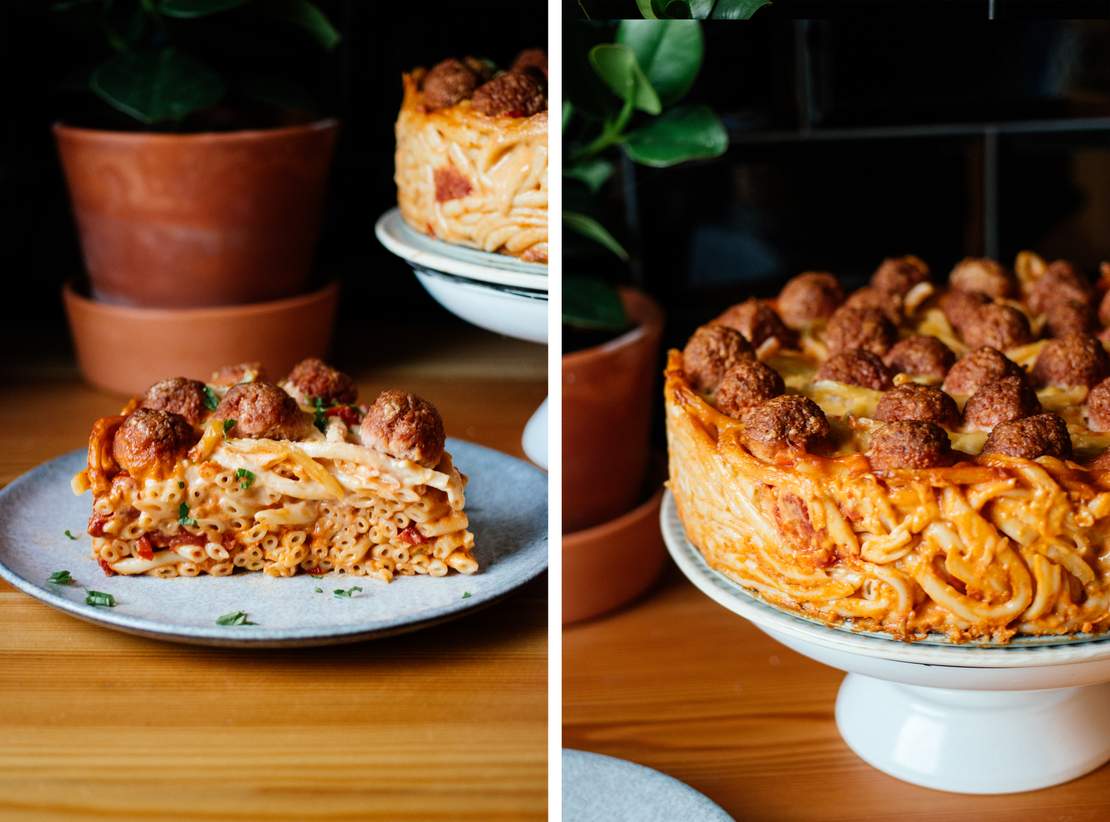 Vegan Macaroni Pie with Meatless Meatballs
1 springform pan (⌀ 24 cm / 9 inches)
45 minutes (+ 20 minutes baking time, + 15 minutes resting time)
Ingredients
For the casserole:
500 g (18 oz) macaroni
500 g (18 oz) (for approx. 30 meatless meatballs) vegan mince
For the tomato sauce:
1 large onion
2 garlic cloves
1 bell pepper
250 g (9 oz) cherry tomatoes
1 tsp dried basil
1 tsp dried oregano
0.5 tsp paprika
0.25 tsp cayenne pepper
3 tbsp tomato paste
1 tsp agave syrup (or sugar)
400 g (14 oz) canned chopped tomatoes
salt
pepper
vegetable oil for frying
For the creamy mix:
200 g (7 oz) plant-based shredded cheese
125 ml (0,5 cup) water
250 ml (1 cup) plant-based heavy cream
2 tbsp nutritional yeast
100 g (3.5 oz) plant-based cream cheese
40 g (0.33 cup) soy flour
salt
pepper
Also:
Instructions
Peel and finely dice onion and garlic. Finely dice the bell pepper and halve or quarter cherry tomatoes.

Heat vegetable oil in a frying pan and start to fry the onion until translucent. Add garlic and keep frying for approx. 1 minute, then add the bell pepper, dried basil, oregano, paprika, cayenne pepper, salt, and pepper. Keep frying for approx. 5 minutes, then add tomato paste and agave syrup, stir to combine and fry for another 2-3 minutes. Add the canned chopped tomatoes and fresh cherry tomatoes, then let the sauce simmer until the pasta is done.

Bring a pot of salted water to a boil and cook macaroni according to package instructions until al dente. Before draining, reserve approx. 100 ml (0.5 cup) of the cooking water.

For the creamy mixture, add plant-based shredded cheese, water, plant-based heavy cream, nutritional yeast, and plant-based cream cheese to a small pot. Stir to combine and heat over medium-low heat until the vegan cheese is melted. Season with salt and pepper, then remove from heat, stir in the soy flour, and set the mix aside.

Preheat oven to 200°C/390°F (circulating air). Mix cooked pasta, tomato sauce, and half of the creamy mixture. Stir in the pasta cooking water until you get a creamy sauce coating the pasta.

Transfer the pasta and sauce to a greased springform pan and cover it with the remaining creamy mixture. Best case, every macaroni should be covered as it might get dry in the oven otherwise. Form vegan mince into approx. 30 small meatless meatballs. Add them on top of the macaroni pie and carefully press them a bit into the pie.

Bake the macaroni pie at 200°C/390°F for approx. 15-20 minutes. Afterward, turn off the oven, open the oven door, but let the macaroni pie sit inside the baking dish for approx. 15 minutes. Then carefully remove the springform pan, sprinkle the pie with chopped basil, and serve.