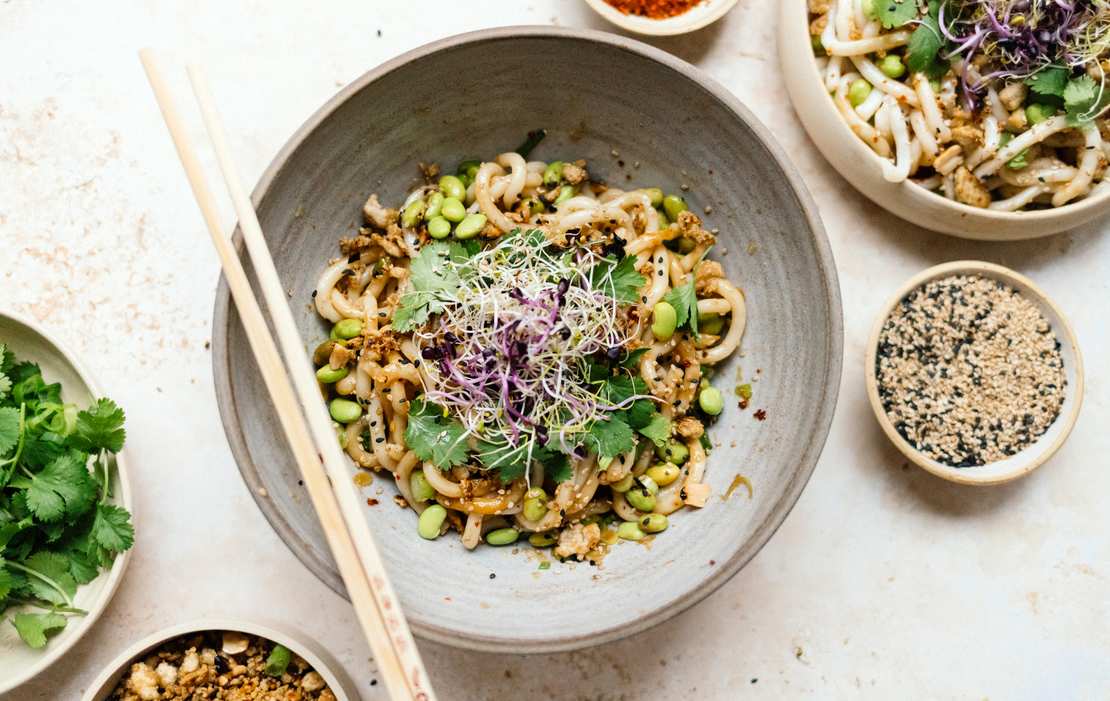 Hot Oil Udon Noodles with Crispy Crumbled Tofu
We think it's about time for a new quick dinner in your cooking routine that you can adjust in many ways. Be sure that it will still be anything but boring, because it will actually sizzle on your plate today.
Meet "You Po Mian", a Chinese dish where noodles are doused with hot oil. I like it so much because it's incredibly quick and easy to make. I learned about it on the blog "The Woks of Life", whose recipe I still use as a base. Here's how it works: the noodles are first cooked before they end up in a bowl with ingredients like scallions and garlic, but also chili flakes, soy sauce, and rice vinegar. Now all that's left is to heat oil and pour it over the noodles – and it's sizzling time!
Over time, I kept making a few changes to the recipe. Sometimes I didn't have dark soy sauce, then there was some tofu lying around in my fridge, then I ran out of chili flakes, and on and on. But the recipe forgives you quite a bit and leaves additional room for all kinds of adjustments. And that's basically how today's recipe came about, which now has Japanese influences. I love the hot oil version especially with udon noodles, edamame, and soybeans.
In addition, I pan-fry tofu and peanuts until crunchy and serve them as a topping. If you want to make it even easier, you can also add both directly to your plates without sautéing them first and pour the hot oil over them as well. Of course, this won't make them as crispy, but they will still taste delicious.
One very important thing is to use the proper oil for this recipe. Since it's poured hot over the noodles, you should only use oil that is highly heatable. This fact is usually written on the bottle or package. Native oils should not be used as a rule, as they can even develop toxic substances when heated. With refined varieties or even frying oil, you're on the safe side. For example, I used a refined peanut oil that tastes mild.
Finally, here's a note on substitutes, because I'm pretty sure that you'll ask for them otherwise. For the soy sauce, a mix of light and dark soy sauce is actually best, but for the sake of simplicity, you can also only take the kind you have at home. The black rice vinegar is easily found in Asian markets and can also be used in other dishes, so it's worth buying. Since it tastes similar to balsamic vinegar, you could use this as an alternative. And once you're in an Asian market, you can also grab some Sichuan chili flakes. Of course, other chili flakes that you can find in other supermarkets will also do the job.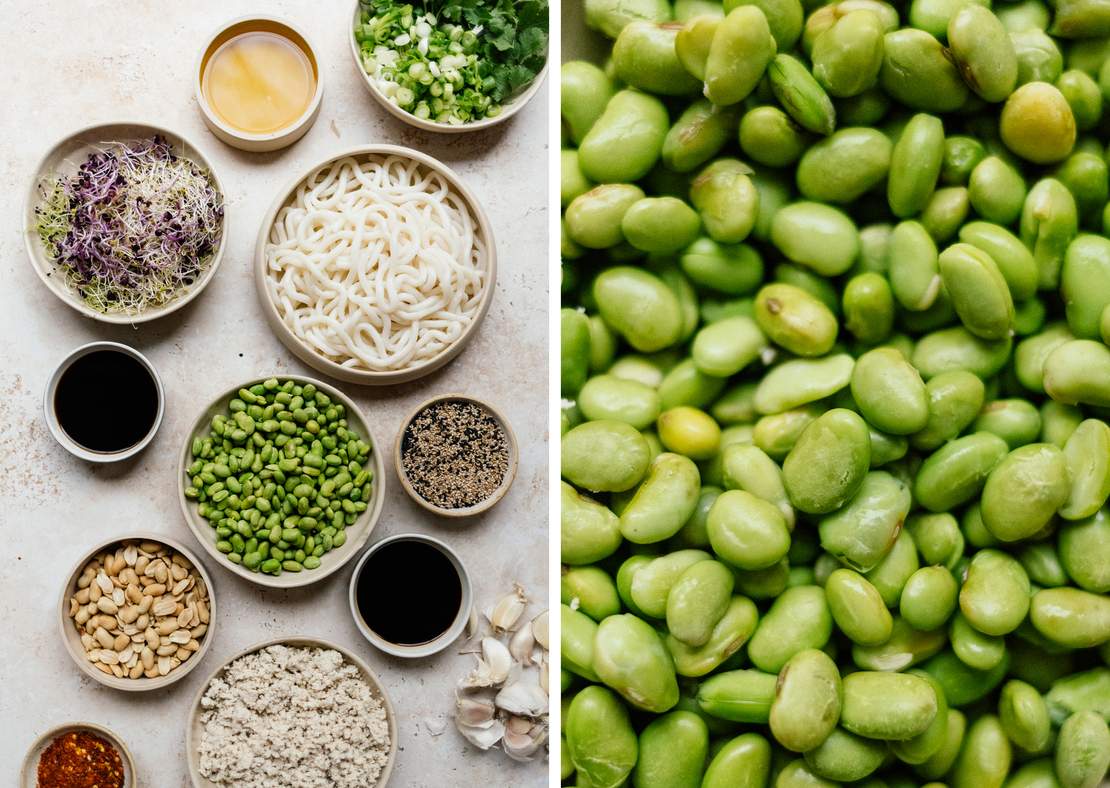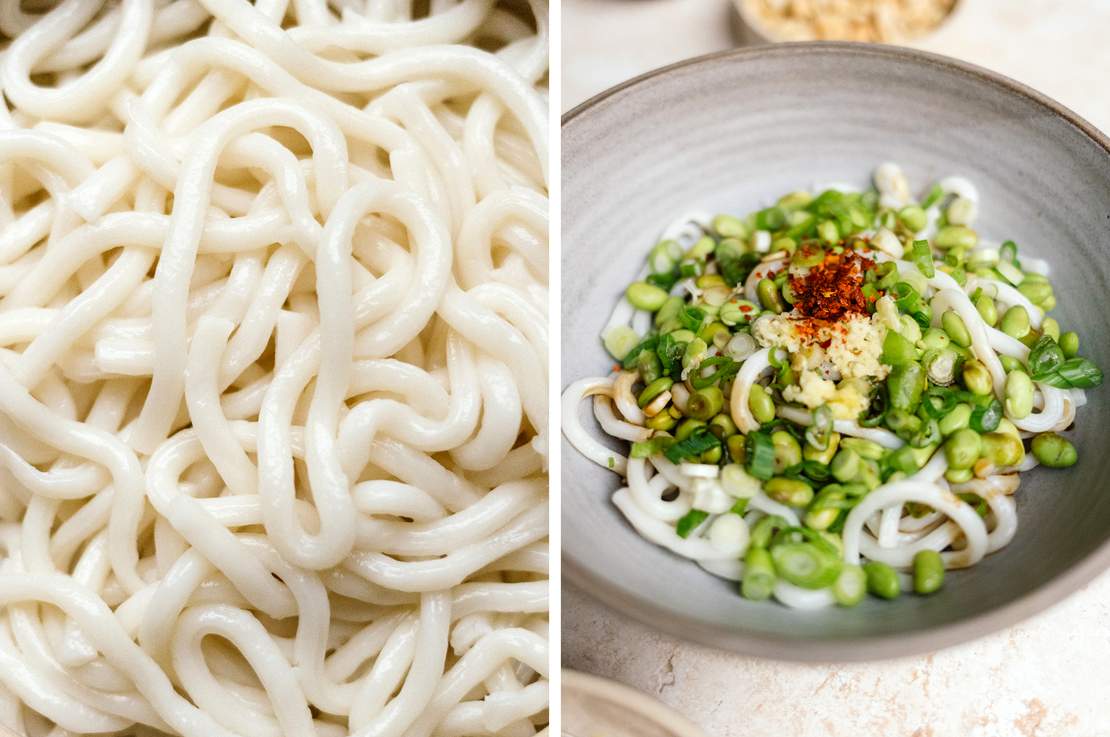 Hot Oil Udon Noodles with Crispy Crumbled Tofu
Ingredients
100 g (3.5 oz) tofu
2 tbsp peanuts
200 g (7 oz) udon noodles
50 g (2 oz) edamame
1 scallion
1 garlic clove
1.5 tbsp soy sauce
1 tsp black rice vinegar
0.25 tsp (Sichuan) chili flakes
3 tbsp peanut oil
salt
peanut oil for frying
sesame seeds for serving
cilantro for serving
fresh sprouts for serving
Instructions
Crumble tofu with your hands and roughly chop peanuts. Heat some peanut oil in a frying pan over medium heat. Start by frying the tofu for approx. 5-6 minutes until it's browned. Next, add the peanuts and keep frying for approx. 3-4 minutes until everything is crispy. Remove from heat.

In the meantime, bring a pot of water to a boil. Cook udon noodles according to package instructions, then remove them from the water. Next, add the edamame to the pot and let them cook until done. Drain and rinse under cold water.

Finely slice the scallion and finely grate garlic.

Add the cooked noodles, edamame, scallion, garlic, soy sauce, rice vinegar, chili flakes, and some salt to a bowl. Heat peanut oil until it's hot. Then pour it over the noodles and stir to combine.

Season the udon noodles to taste and top them with crispy crumbled tofu, sesame seeds, cilantro, and fresh sprouts.