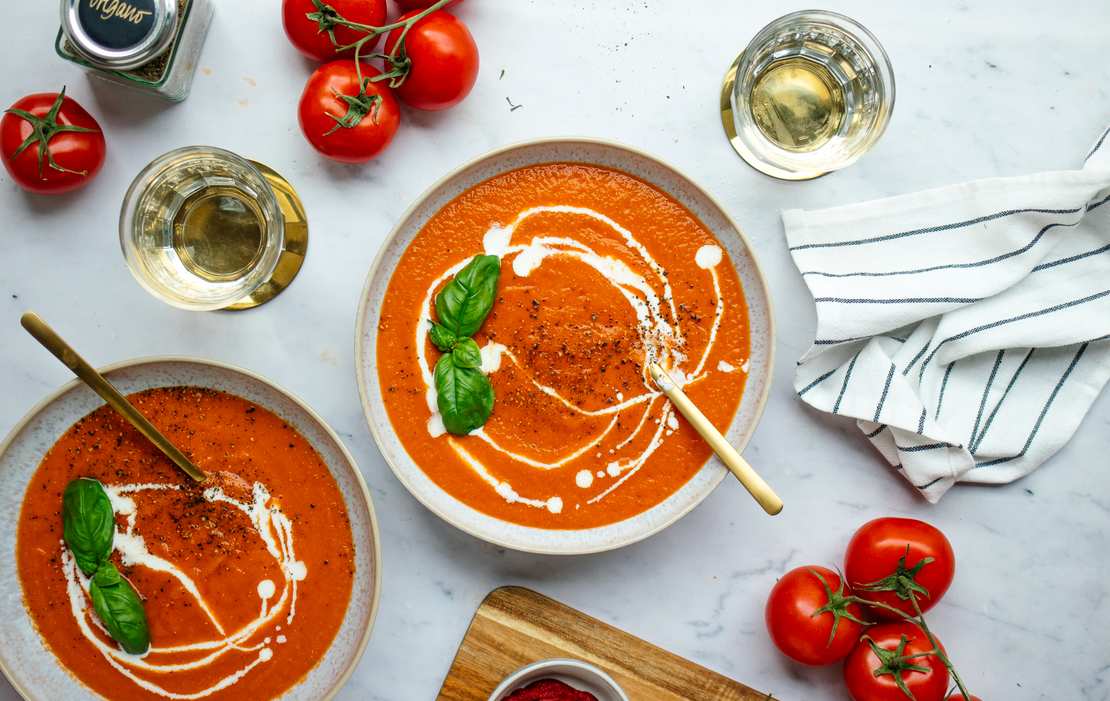 Easy Vegan Tomato Soup (Isa's Grandma's Recipe)
When I went vegan eight years ago, my family had a few concerns. Questions like "What can you eat now?", "Is this just a phase?" and "I do understand this, but it's a bit extreme, isn't it?" became a constant topic when we visited. Over time, however, everyone got used to it – from aunts to cousins. But especially my grandma, who is usually responsible for the culinary part of our get-togethers, figured out pretty quickly which of her recipes happened to have been vegan anyway and which ones could be veganized super simply. Nowadays, she also takes great pleasure in going around the supermarket and buys all the products with the tag "vegan" written on them, which is why her fridge is more than generously filled when I visi her.
Luckily, my grandma's recipe repertoire is huge, so we've already found a pretty good selection of recipes that she cooks when I'm there. I've already published a few of them on the blog: for her sour lentils, she simply swaps butter for vegetable oil, and for her smoked lentil soup she just adds plant-based sausages. Her recipes for Swabian potato salad, "Zemmadle", and beetroot salad are still to come, I promise!
My grandma's tomato soup is also a recipe where almost nothing needs to be changed. The drizzle of heavy cream at the end is optional. You can replace it with a plant-based alternativ, but the soup will also taste great without it. The most challenging part of the recipe is finding good, flavorful tomatoes because that is the essential thing in this soup. Here's a tip from my grandma: smell the tomatoes! If they smell intense, you are good to go!
Easy Vegan Tomato Soup (Isa's Grandma's Recipe)
Ingredients
1 kg (2.25 lbs) round or beef tomatoes
1 red bell pepper
1 small red chili
2 garlic cloves
2 onions
5 g (0.25 oz) fresh basil
5 g (0.25 oz) fresh oregano and lovage (optional)
3 tbsp tomato paste
vegetable broth
salt
pepper
vegetable oil for frying
plant-based heavy cream for serving
Instructions
Wash and chop tomatoes, red bell pepper, and chili. Peel and chop garlic and onion.

Heat vegetable oil in a large pot over medium heat. Start by sautéing garlic, onion, and chili until the onion is translucent. Then add tomatoes, bell pepper, fresh herbs, tomato paste and sauté for approx. 5-10 minutes.

Add vegetable broth until the vegetable is covered and let it simmer over low heat for approx. 60 minutes. If necessary, add more vegetable broth.

Blend the soup until smooth and season with salt and pepper to taste. Again, add more broth if needed until you get the desired texture. Serve with a drizzle of plant-based heavy cream.