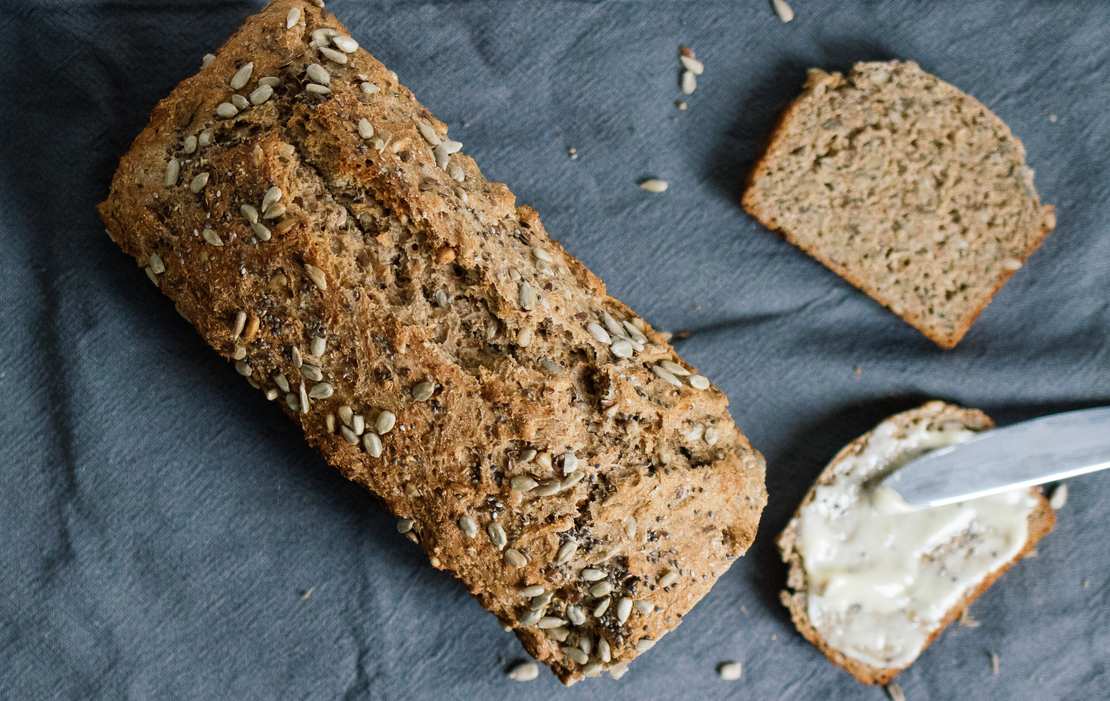 Crispy & Sweet: Sunflower Bread with Chia
The reason I baked this sunflower bread was the bulk of sunflower seeds I had left in my kitchen. This is a real problem, if you have a kitchen that is chronically too small for trillions of preserving jars, instant pots and mixers. The result of my mission was a fresh bread, cause in a way you can hide all your leftovers in yeast dough, right? Watch out: I used maple syrup for this bread, so it turned out sweet. If you like to eat very hearty stuff like vegan sausages or vegan spreads, it won't match that well. But if you like cheese or chocolate creams on your bread slices, this bread will work perfectly.
Sweet Sunflower Bread with Chia
1 bread
30 minutes (+ 90 minutes & 40 minutes baking time)
Ingredients
300 ml (1.25 cups) plantbased milk
3 tbsp instant yeast
70 g (2.5 oz) maple syrup
70 g (2.5 oz) rolled oats
3 tbsp soft vegan butter
390 g (3.25 cups) flour
100 g (3.5 oz) sunflower seeds
2 tbsp flaxseeds
3 tbsp chia seeds
0.5 tsp cinnamon
0.5 tsp salt
Instructions
Heat your plant-based milk in a small pot. Take care that your milk is not too hot for your yeast, room-temperature is perfect.
Add yeast and oats into your pot, stir well and let sit for five minutes.
In a second pot, melt vegan butter and let chill afterwards. When the butter is also at room-temperature, add the butter to your oat-milk-mix.
Take a big bowl and add all the other ingredients to your oats.
Kneed everything well until you get a well-combined dough.
It's now time for the maple syrup and all your seeds! Add chia seeds, flaxseeds and sunflower seeds and kneed again.
When the dough is ready, cover the bowl with a damp cloth or cling film to keep the dough moist.
Let raise for one hour.
Now kneed your dough again, fill the dough in a well-oiled pan and let raise for another 30 minutes.
Sprinkle sunflower seeds and chia seeds on top of the dough.
Bake for 35-40 minutes or until loaf is golden brown, at 190°C / 375°F.