To be honest, this recipe almost seems to easy to write it down, but it's simply the best snack during fig season. When doing it non-vegan, people often use goat cheese for this, but I just want to state before, that I didn't try to imitate this taste. By the way – is there something vegan that tastes like goat cheese? Instead we made a vegan, delicious version of its own.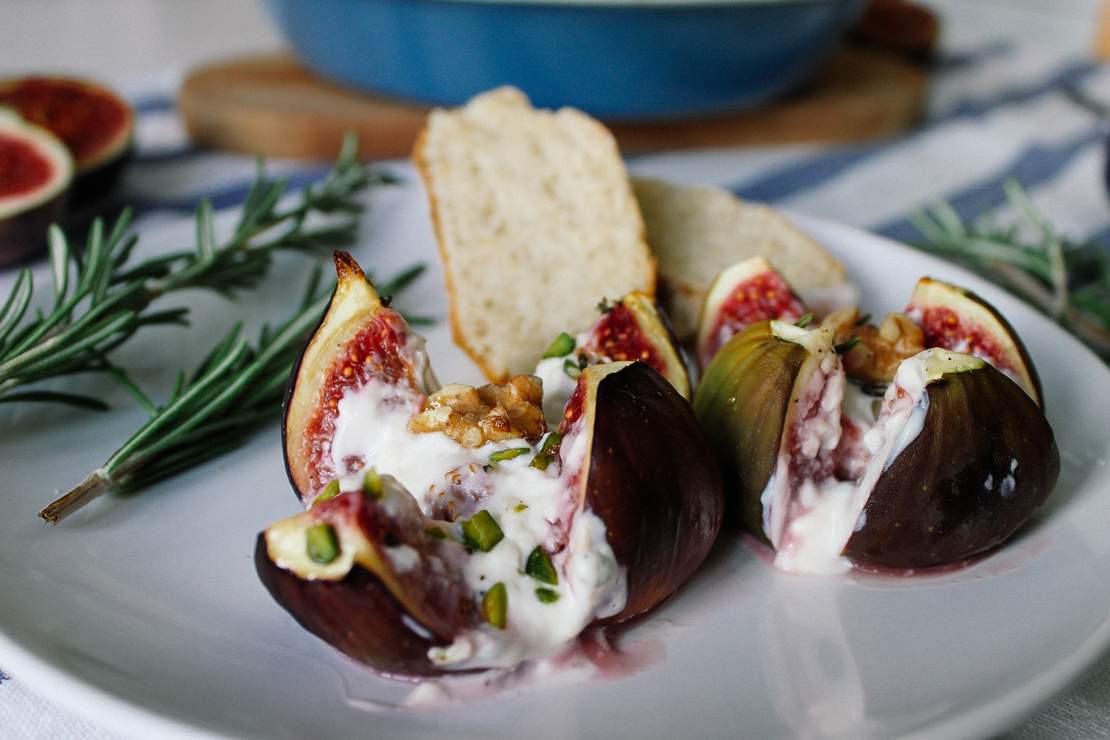 Figs from the Oven
Ingredients
8 figs
2 tbsp rosemary
200 g (7 oz) veganer curd
200 g (7 oz) vegan cream cheese
1 tbsp lemon juice
1 tsp apple cider vinegar
maple syrup
10 walnuts
2 tbsp pistachio
salt
pepper
Instructions
Let's start with the cream and stir vegan curd, cream cheese adding apple cider vinegar, lemon juice and seasoning with salt and pepper. Set aside for a minute.
Wash figs and cut in quarters, but don't cut them through. Put all figs in a casserole form and slighty press apart the quarters.
Roughly chop walnuts.
Fill each fig with 1 tbsp of the cream and top with walnuts, pistachio and rosemary. Finish by drizzling maple syrup on it.
Bake it in the oven for about 10 minutes at 300°F and serve warm and with bread. You can drizzle some more maple syrup on it before serving.