Happy New Year with soba noodles! While we are deciding between fondue and raclette grill in Germany, there is a special New-Year-soup in Japan called Toshikoshi Soba. This dish has several traditional sources, e.g. that it's said that long noodles equal a long life. You don't need many ingredients but what's necessary is a proper vegetarian Kombu Dashi. This is a vegan broth where we use kombu alga and mushrooms and leave out fish flakes. You should prepare the broth a day before in order to develop enough flavour. We got all ingredients easily in our Asia market.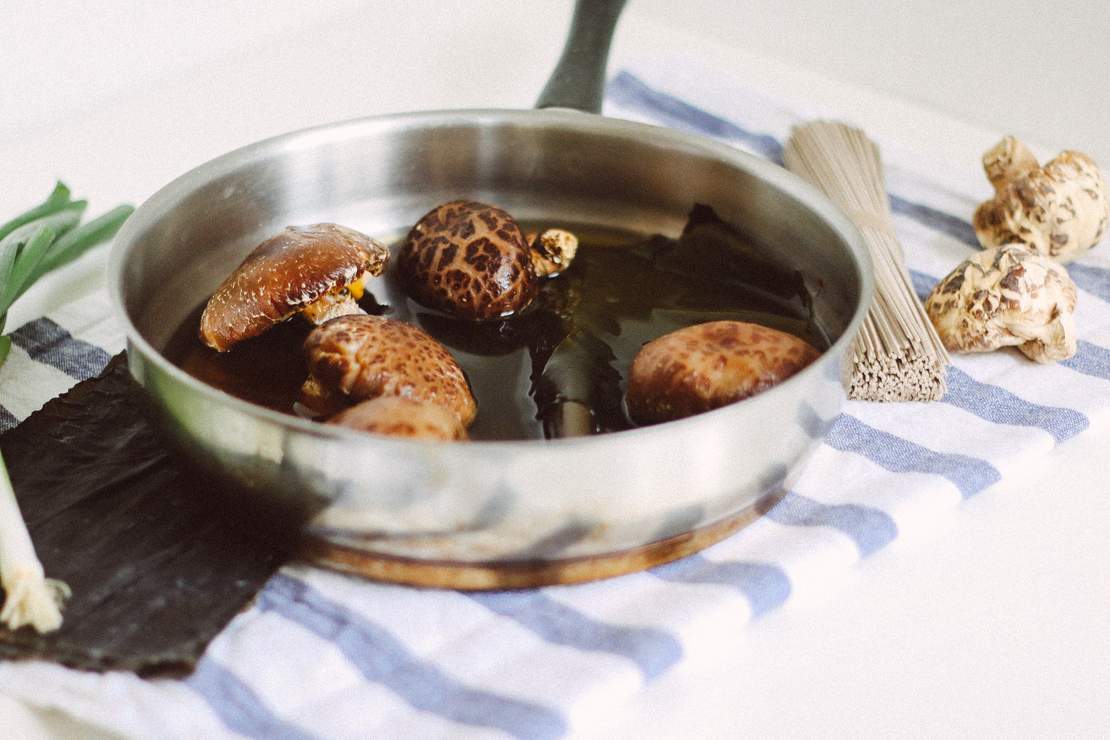 Vegan Toshikoshi Soba
2 servings
30 minutes (+ preparation time)
Ingredients
150 g (5.5 oz) soba noodles
3-4 green onions, finely cut in rings
80 ml (0.3 cup) soy sauce
1 tbsp sugar
50 ml (0.25 cup) mirin rice wine
For the broth
3-4 large dried shiitake mushrooms
1 large sheet of kombu
500 ml (2 cups) water
Instructions
Start with preparations a day before eating. Take out a large pan, place dried mushrooms and a sheet of dashi kombu in there and fill up with water, let it soak overnight. Make sure to follow instructions for dashi kombu which is: Gently "clean" the kombu with a damp cloth but do not wash it. There are white substances on the dashi kombu and they are important, so don't rub them away. Afterwards make a couple of slits in your sheet of kombu. Let this all soak overnight.
On the next day, take out mushromos and kombu and fill the broth into a small pot and heat it up. It's important that your broth will never really cook, just keep it simmering at at about 60°C/130°F.
Add mirin, sugar and soy sauce and keep simmering for 10 minutes. Then pour the broth through a sieve so that the mushrooms and kombu leaf remain suspended in it.
In the meantime, you can prepare soba noodles according to package instructions, they will cook in hot water about 5 minutes. Soba noodles need to be rinsed under cold water afterwards!
Take out a large soup bowl, add soba noddles and fill in broth.
Finely cut green onions in rings and top your broth with it.