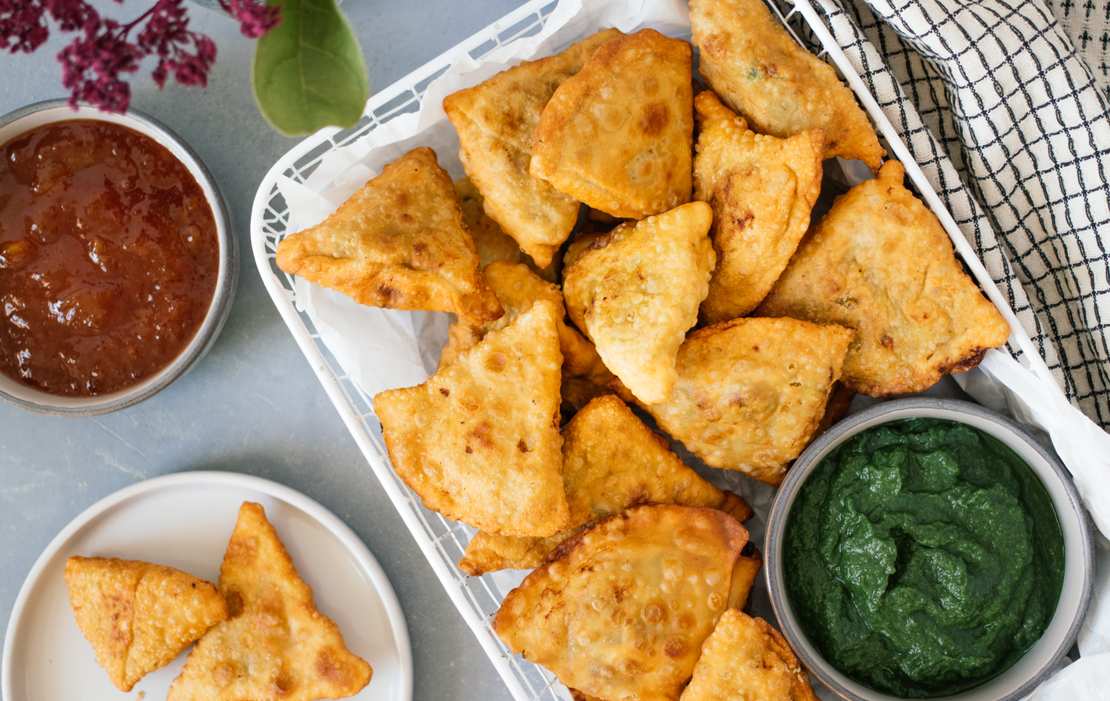 Vegan Samosas with Potato and Chickpea Filling
During my holiday in Sri Lanka, I got to know and to love samosas, one of the short eats. They are sold on every street corner, in train stations and even directly in trains, is very cheap for a snack that will actually fill you for a long time. The triangular dumplings are crispy on the outside and filled with spicy vegetables, meat, or fish - when you do them at home, you can also use leftover curries or other dishes.
The dough is made from flour, oil, water, and salt, but you could also already add some spices to it. We're going to show you a potato and chickpea filling today, for which we used chana dal - peeled and halved chickpeas. You can get them at organic stores, or - if you don't find them - just use some frozen peas or any other filling to your taste.
Stuffing samosas requires a bit of practice but its actually quite simple: Smaller portions of dough are rolled out and formed into shapes that reminded us of ice cream cones. In goes your filling and gets sealed well. Since the samosas are getting deep-fried, they are super crispy, and I could have eaten them all on the spot. But the best thing is - these dumplings also taste great when they are cold, so they are the perfect filling snack to go. Enjoy them as they are or serve with a chutney!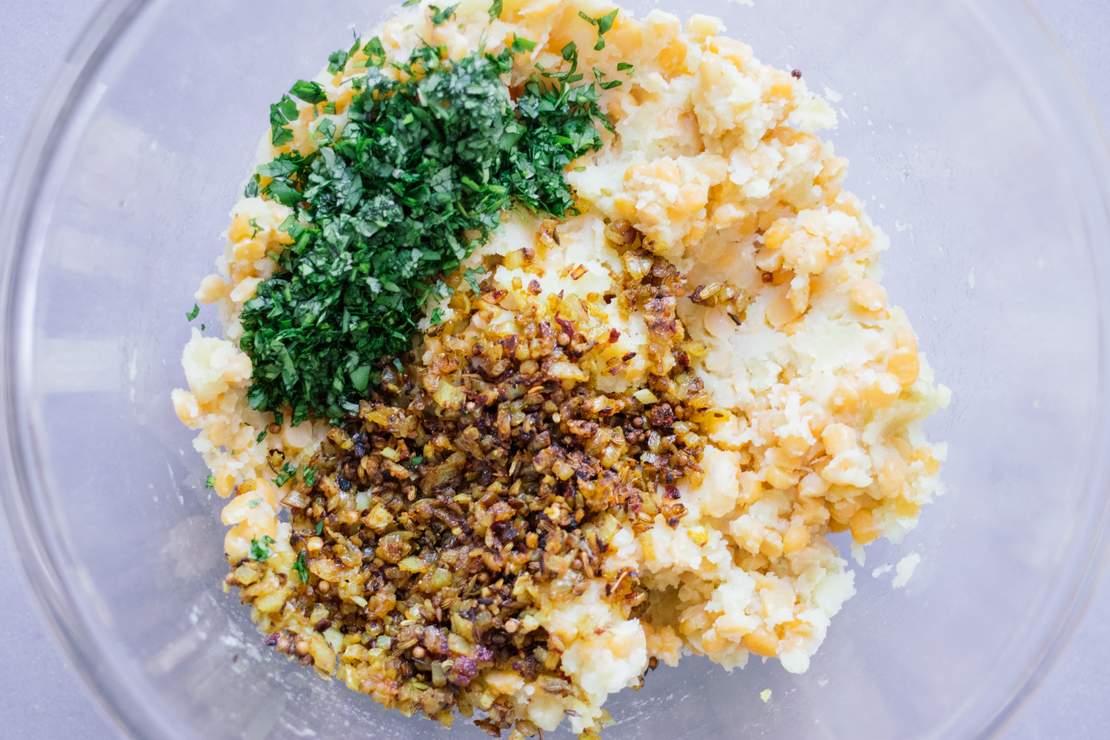 Vegan Samosas with Potato and Chickpea Filling
Ingredients
For the dough:
250 g (2 cups) flour
2 tbsp neutral oil (e.g. rape seed oil)
100 ml (0.5 cup) warm water
0.5 tsp salt
For the filling:
300 g (10.5 oz) potatoes
150 g (5.5 oz) chana dal (peeled and halved chickpeas, optionally soaked)
1 onion
20 g (1 oz) ginger
1 tsp fennel seeds
1 tsp coriander seeds
1 tsp cumin seeds
1 tsp garam masala
0.5 tsp ground cloves
0.5 tsp turmeric
0.5 tsp ground cumin
1 tsp chili flakes
10 g (0.33 oz) cilantro
Also:
1 l (4 cups) vegetable oil for frying
mango chutney
cilantro chutney
Instructions
Add unpeeled potatoes to a pot, cover with water and salt. Boil for approx. 20 minutes, or until soft. Parallelly, add chana dal to a separate pot, cover with three times as much water and let simmer for approx. 25 - 30 minutes, if you didn't let them soak. If they are soaked, they'll need approx. 10 minutes less, but it's safe to stick to the package instructions.

In the meantime, prep the dough. Add flour to a clean working surface and form a hollow in the middle. Add warm water, oil, and salt to the hollow and keep working in flour little by little, using a fork. Then use your hands to combine all ingredients until a smooth dough forms. If the dough is sticky, add some more flour, if the dough is too dry, add some water. Cover dough and let rest for approx. 20 minutes.

Doublecheck potatoes and chickpeas at this point. If they are already done, jump to step 4 first as the potatoes should be warm for the step. If they are not done, continue with this step and prepare the filling. Finely chop cilantro and set aside. Peel and finely dice onion and ginger. Heat vegetable oil in a frying pan over low heat and add fennel, coriander, and cumin seeds. Fry for approx. 2 - 3 minutes, before adding onion and ginger, garam masala, ground cloves, chili flakes, and turmeric. Fry for approx. 2 - 3 minutes longer, then remove from heat.

The potatoes and chickpeas should be done by now. Drain both and let the potatoes cool a bit so you can handle them. Peel the potatoes while they are still warm and mash them in a bowl - they should be chunky, so don't mash them too much. Add drained chickpeas and mash a bit more, then add onion and ginger mixture, chopped cilantro, and stir to combine. Season with salt and pepper to taste.

It's time for filling the samosas! Divide dough into approx. 10 equal sized balls and start rolling out the first dough ball into a circle. Halve the circle and form them into cones. This works very well when you turn the semicircle towards you, then fold in the left and the right sides towards the middle. Use some water to moisten the spot where the dough sides overlap, which will make sure that the samosas won't fall apart. Now carefully take the dough in your hands and open it. Add filling - this will take some exercise to get a filling how much filling is enough, but it actually fits quite a lot. Make sure to not fill them completely, as you now also need to seal the top part of the dough. Repeat with remaining dough and filling.

Heat vegetable oil in a deep frying pan. If you're afraid of too much hot oil and deep frying, I'm pretty sure this will also work if you just add some oil high enough (0.8-1.25 in., or 2-3 cm) for the samosas to fry until golden brown from both sides. Remove from the hot oil and drain on some paper towels. Serve samosas with chutney to dip in or enjoy them as they are!