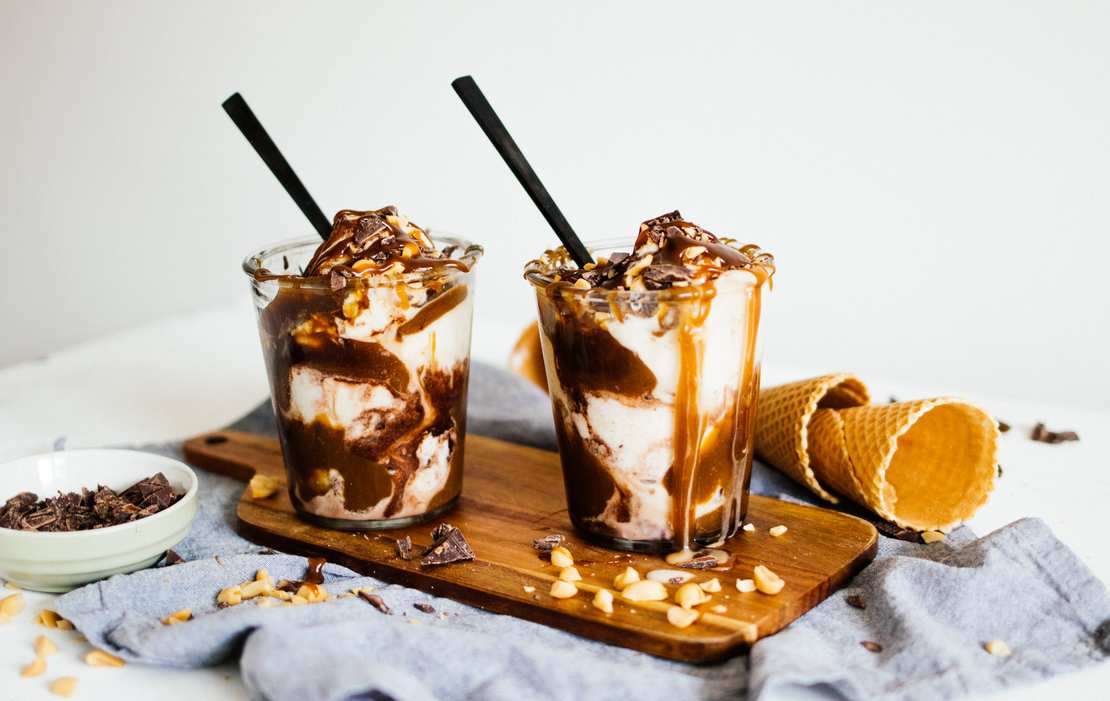 Vegan Salted Caramel Sundae
Maybe you've already noticed that the first Christmas sweets have already arrived in the supermarkets! This definitely means that autumn is coming. We're thinking of cozy evenings on the couch, autumnal walks on a Sunday afternoon and a glass of hot tea every morning.
But we don't have to say goodbye to ice cream in fall! Ice cream with hot raspberries, warm brownies or home-made, warm caramel is definitely a thing we will have from September to November. So we show you how to make a Salted Caramel Ice Cream Sundae at home, topped with chopped chocolate, salty peanuts, and warm caramel. Better than any series on Netflix. We promise!
LUVE supported us with this recipe. All products from LUVE are based on local lupins (from Mecklenburg-Western Pomerania) and thus support the regional agriculture - completely without genetic engineering. LUVE's ice cream is naturally lactose-free, gluten-free (except for the biscuit flavors), soy-free and super delicious. Besides the packaging is 100% biodegradable! You can find the products of LUVE at Kaufland, Aldi Nord, Veganz or at online delivery services.
Vegan Salted Caramel Sundae
Ingredients
4 scoops vegan biscuit cocoa ice cream (e.g., from LUVE)
50 g dark chocolate
50 g roasted peanuts
pinch of salt
vegan caramel
60 g coconut sugar
60 g coconut milk (canned)
pinch of salt
Instructions
For the vegan caramel, put the coconut sugar and coconut milk in a bowl and simmer for 5-6 minutes. Use the thick layer of the coconut milk, which is in the top of the can. Keep stirring and season with a pinch of salt.
Chop the peanuts and dark chocolate roughly.
Place two or three scoops of vegan ice cream in two cups or glasses and top with the lukewarm caramel, chopped peanuts and dark chocolate and a pinch of salt. Serve immediately.