Vegan Chocolate Mousse with Aquafaba
If you're a true chocolate lover, this vegan chocolate mousse is the perfect dessert for you! The recipe consists of just a handful of ingredients, is super easy to prepare, and the result is deliciously chocolaty, fluffy, and light! Plus, this mousse can be easily adjusted, so it always fits perfectly with the current season or individual tastes.
On our blog, you can already find a dark & white chocolate mousse, which, unlike this recipe, is prepared with silken tofu. The base for this chocolate mousse is melted dark chocolate stirred into whipped aquafaba. Aquafaba is the liquid that you find in a can of chickpeas and other legumes. When whipped, the liquid resembles beaten egg white, and its airy consistency is perfect for a chocolate mousse! Once the aquafaba and chocolate are mixed together, the mousse just needs to be chilled for a few hours, and that's it – your vegan dessert is done!
We topped our mousse with vegan coconut cream and brittle. Alternatively, you can also serve the dessert with fresh berries, jam, chopped chocolate, or vegan vanilla sauce, for example. Especially during the Christmas season, orange zest or speculoos spice taste great in the melted chocolate, but it's also wonderful without any other additions!
Although a vegan chocolate mousse is quite easy to prepare, we've collected some tips for you, so you can adjust your mousse according to your taste and know how to replace missing ingredients easily.
Tips for preparing the chocolate mousse:
You can adjust the amount of chocolate depending on how chocolaty you like your mousse to be. The higher the cocoa content of your chocolate is, the firmer and more tart your dessert will be.
If you don't have chickpeas at home, you can use the liquid from other legumes, such as canned beans, instead.
Depending on the brand, chickpea water may have more or less salt added. We recommend to use less salty brands which are more suitable for this mousse
The more cream stiffener or baking powder you use, the firmer your mousse will be.
Tips for preparing the coconut cream:
If you refrigerate the coconut milk for a few hours or overnight before whipping it, the fat will separate from the water, and you can easily spoon it out of the can.
As an alternative to cream stiffener, you can also use 1 teaspoon of carob bean gum or guar gum as a binding agent to whip the coconut cream until stiff.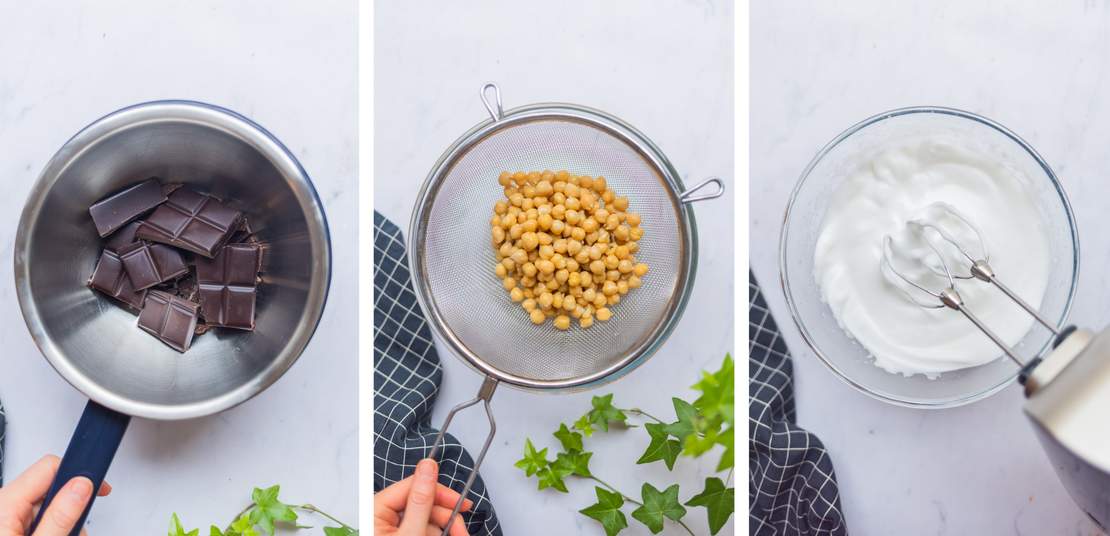 Vegan Chocolate Mousse with Aquafaba
4 servings
15 minutes (+ 3 hours cooling time)
Ingredients
For the chocolate mousse:
150 g (5.33 oz) dark chocolate or couverture
400 g (14 oz) canned chickpeas or other canned legumes
8 g (2 tsp) cream stiffener
8 g (1.5 tsp) vanilla sugar
40 g (3 tbsp) icing sugar
For the coconut cream:
150 g (5.33 oz) cold coconut milk (full fat content)
8 g (2 tsp) cream stiffener
8 g (1.5 tsp) vanilla sugar or alternative sweetener
1 pinch of salt
For serving:
Instructions
Melt the chocolate in a heatproof bowl over a pot of simmering water, then let it cool down until it's lukewarm.

Drain the canned chickpeas in a sieve and save the liquid in a large bowl underneath – this is the aquafaba. Add cream stiffener to the aquafaba and use a stand mixer or hand mixer to whip it on high speed. It may take a few minutes for the chickpea water to thicken and grow in volume. Once the aquafaba resembles whipped egg whites, add vanilla sugar and icing sugar. Keep beating on high speed for about 3 minutes. You can use the chickpeas for another dish, as they aren't needed for this recipe.
Tip: If you don't have cream stiffener at home, use baking powder instead.
Carefully stir in melted chocolate with a rubber spatula or spoon, until you get a smooth chocolate mixture. , Don't overmix it to prevent the mousse from getting watery. However, it's normal for the aquafaba to collapse a little.

Fill the mousse into four glasses and refrigerate for at least 3 hours, preferably overnight.

For the coconut cream, it's best to chill the coconut milk beforehand. Use a spoon to skim off the thick layer of fat that's on top of the canned coconut milk and transfer it to a bowl. The remaining coconut water can be used for cooking but isn't needed for the mousse. Add cream stiffener to the coconut milk and beat it with a hand mixer for a few minutes. Next, add vanilla sugar and salt and whip it for another minute until it's stiff.Depending on the brand of the coconut milk, you may need a little longer to whip the cream, or you may need to add a little more cream stiffener Once it's stiff, refrigerate the coconut cream until serving.

Before serving the mousse, top it with a dollop of the whipped coconut cream, and sprinkle with brittle and mint leaves. Alternatively, you could also use chocolate chips, cherries, or similar for garnish.