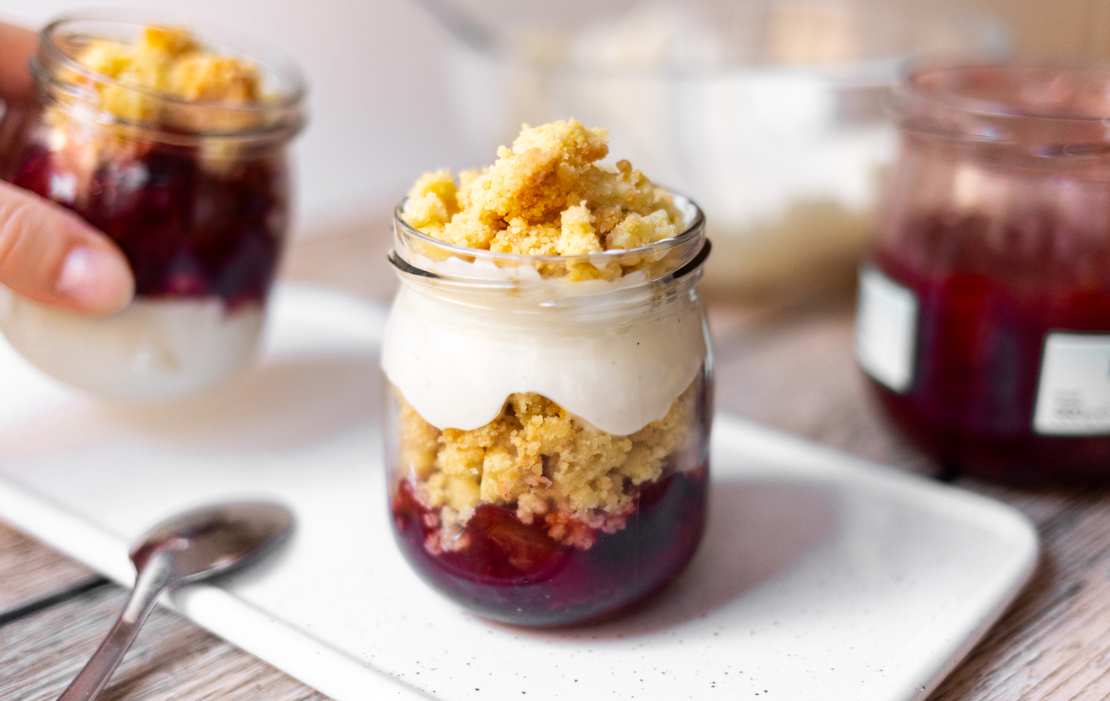 Spring, summer, fall and winter: The majority of people probably stick to this division of time. For us in the office, things look a little different. Instead of seasons, we naturally think of the year regarding our favorite foods. This could sound something like this: "The dumpling quarter (aka winter) was unusually stressful this year compared to last."
But before we throw ourselves into the dumpling quarter with full enthusiasm, the plum quarter (aka fall) is first on the agenda. To celebrate this properly, we're serving you these delicious little plum cakes in a jar. This dessert combines all the outstanding qualities of a plum cake with the simplicity of a layered dessert. We calculate it like this: You'll only need a third of the time to make this dessert, but you'll have four mini cakes afterward, so it's basically 12 times the fun of an ordinary cake.
And the preparation is super easy, too, yay! First, of course, we need some crispy crumbles. We make them quickly from flour, sugar, salt and vegan butter. Your crumble should not be too big so that it forms a good barrier between the individual layers but also not so small that it softens. It's best to use the size of a hazelnut as a guide.
So that our crumble doesn't feel lonely, a simple vanilla cream made from vegan curd, vanilla and lemon zest ends up in our dessert glasses. After a round of crumble comes the simplest and most important step: the plum jelly. Of course, we could make the jelly ourselves, but firstly, this is supposed to be a quick recipe, and secondly, we have to acknowledge without envy that we probably couldn't do it better ourselves than Zum Dorfkrug. Their jelly tastes just like homemade, but somehow just that little bit better. Maybe it's the extra large pieces of fruit or the traditional production method. Or is it the fact that we have to wait until October before we can eat the plummy cinnamony groats (they are only available seasonally, usually from October)? Whatever it is, we're fans!
If you want to understand why we rave about "Pflaumengrütze", you can use the new Storefinder to find your nearest plum jelly (and other Zum Dorfkrug products). Who still needs the Maps app? In any case, we only have one goal in mind!
Vegan Plum Cake in a Jar
4 jars (à 200 ml)
15 minutes (+ 15 minutes baking time)
Ingredients
For the crumble:
125 g (0.5 cup) sugar
250 g (2 cups) wheat or spelt flour
150 g (1.3 sticks) cold vegan butter
1 pinch of salt
For the filling:
400 g (14 oz) vegan curd or skyr
0.25 lemon (zest)
1.5 tsp vanilla sugar
1 jar of plum jelly (e.g. from Zum Dorfkrug)
Instructions
Preheat the oven to 180 °C / 355 °F (convection heat). Mix flour, sugar and salt in a bowl. Roughly dice the cold vegan butter. Add the butter to the dry ingredients and knead well until a firm, somewhat crumbly dough forms. Work the dough into crumbles with your hands on a lined baking sheet. The crumbles should be about the size of hazelnuts.

Bake the crumble for 12-15 minutes at 180 °C / 355 °F (convection heat) until golden brown. Fresh from the oven, the crumble is still very soft. It is, therefore, important to allow them to cool before using them again.

In the meantime, place the vegan curd or skyr in a bowl and season with lemon zest and vanilla sugar.

Once the crumble has cooled, you can start layering. To do this, alternate between plum jelly, crumble and the vegan curd cream in a jar.
Tip: The ingredients are calculated so that they are sufficient for four medium-sized jars (à 200 ml), each with a layer of plum jelly, a layer of quark cream and two layers of crumble. If you are using larger or smaller glasses, you will need to adjust the quantity accordingly. The composition of the layers can, of course, be varied.