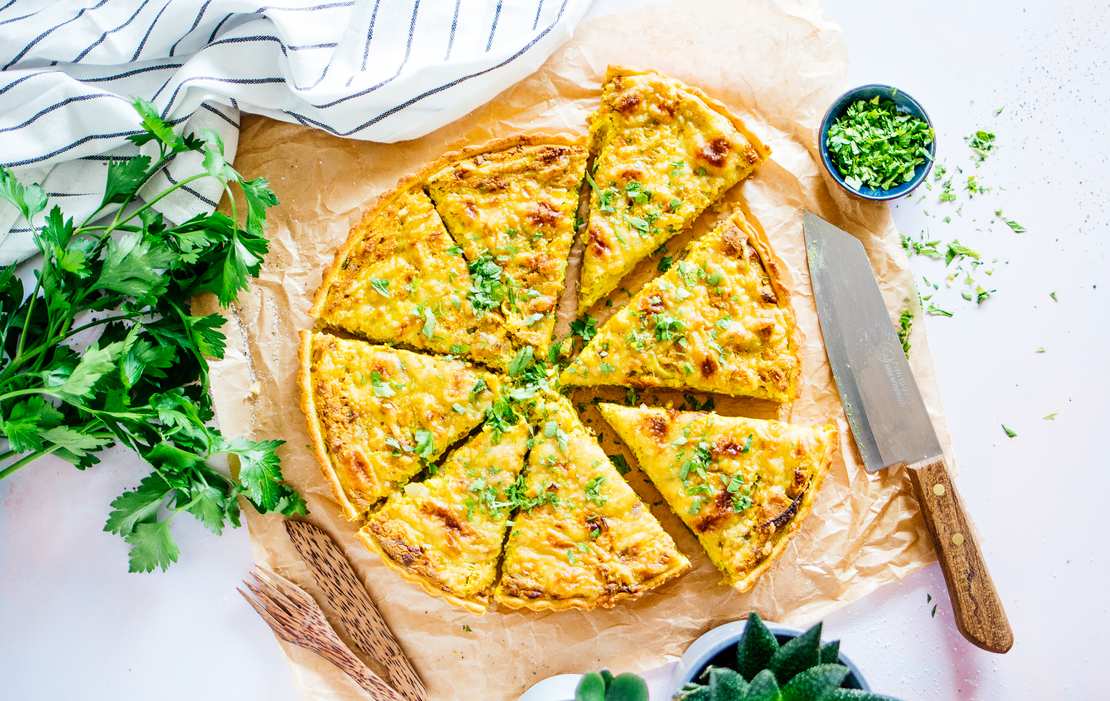 Cheese, eggs, bacon, and milk: if you read the ingredient list of a classic quiche lorraine, you probably wouldn't think that this recipe is easy to veganize. But the trick is to not replace every single ingredient, but rather recreate the overall characteristics of this dish. And if you don't even know what we're talking about: Quiche Lorraine is a classic French tart, also called "Tarte à la Crème". It's traditionally prepared with smoked bacon and a mixture of cheese, onions, eggs, and milk as the filling.
We used plain tofu as the base for our vegan filling and blended it with smoked tofu and plant-based unsweetened yogurt to get a creamy texture. The eggy taste is recreated by seasoning the filling with kala namak, while nutritional yeast adds a cheesy-like and more intense flavor. If you've never heard of both ingredients, check out our list of special ingredients for vegan cooking and baking. The filling should be creamy, but not liquidy. Smoked tofu makes it wonderfully hearty and the vegan cheese crust on top adds a final touch – but if you can't get any vegan shredded cheese, you could also kick it completely.
You can serve this Quiche Lorraine as a starter or a main. We would recommend to serve one slice as a starter and at least two slices as a main (and it tastes great with a fresh salad as a side). If there should be any leftovers, freeze the baked quiche for later when you only need to reheat it in the oven.
Vegan Quiche Lorraine
1 quiche, 11-inch tart pan (12 servings)
60 minutes
Ingredients
For the crust:
1 fresh vegan quiche or tarte crust
vegan butter for greasing
flour for dusting
For the filling:
250 g (9 oz) tofu
300 g (10.5 oz) smoked tofu
300 g (1.25 cup) plant-based unsweetened yogurt
20 g (2.5 tbsp) cornstarch
1-2 tsp ground turmeric
2 tbsp nutritional yeast
2 tsp kala namak
0.5 tsp ground nutmeg
200 g (7 oz) leek
1 red onion
salt
pepper
vegetable oil for frying
For gratinating:
100 g (3.5 oz) vegan shredded cheese
2 tbsp water
2 tbsp vegetable oil
Instructions
Grease your tarte or quiche baking dish (28 cm diameter/ 11-inch) with vegan butter, dust with flour, and carefully add the crust inside. Cut off any overhang or fold it decoratively. Refrigerate the crust until needed later.
Tip: If you can't find any premade quiche crust, add 300 g (2.5 cup) flour, 1 tsp salt, 180 g (1.5 stick) cold vegan butter, and cold water to a bowl and knead until a smooth dough forms. Refrigerate for approx. 30 minutes before rolling it out and transfering it to the prepared baking dish.
For the filling, roughly crumble tofu and 150 g (5 oz) smoked tofu and add them to blender along with unsweetened plant-based yogurt. Blend until smooth. Add cornstarch, ground turmeric, nutritional yeast, kala namak, nutmeg, salt, and pepper, then stir to combine.

Wash and clean leek and peel red onion. Finely slice both. Heat vegetable oil in a frying pan and fry leek and onion for approx. 5-6 minutes. Once done, add both to the filling, and stir to combine.

Add the frying pan back to your stove and heat some more vegetable oil. Finely dice remaining smoked tofu and fry over medium-high heat for approx. 3-4 minutes, or until browned and crispy. Add it to the filling as well.

Preheat oven to 190°C/375°F (circulating air). Remove the baking dish with your crust from the fridge, pour in the filling and smooth out.

In a small bowl, mix vegan shredded cheese with water and vegetable oil and sprinkle the shredded cheese over the filling.

Bake your vegan quiche for at 190°C/375°F (circulating air) for approx. 30 minutes. Turn on the top heat (220°C/430°F) or grill function of your oven and keep baking the quiche for another 5-10 minutes, but make sure that it doesn't burn on the top. Before cutting and serving, let the vegan quiche rest for a few minutes.
More Vegan Brunch Recipes