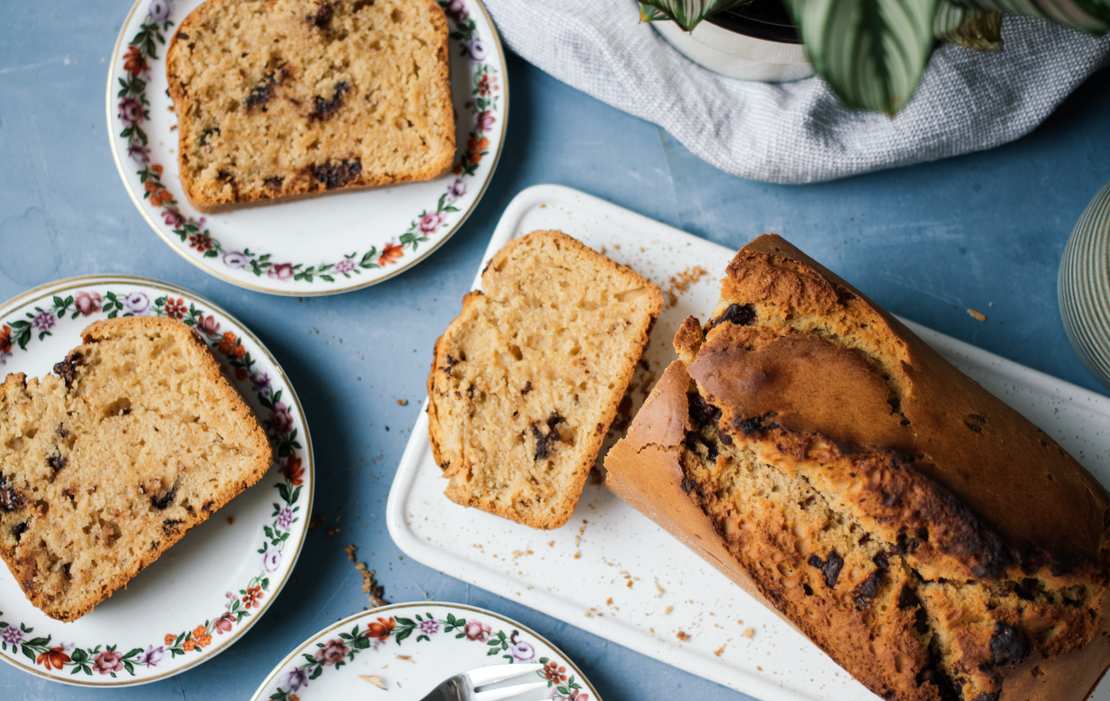 Vegan Peanut Butter and Chocolate Chip Loaf Cake
I think most readers of this blog know that usually Isa is responsible for baking here. This doesn't mean that I don't like doing it. I just prefer savory food. When it comes to cakes, many creations are too heavy or too sweet for me. A mini piece is already enough for me, to seek for a bite of a slice of bread again. My favorite cakes are actually very simple loaf cakes, e.g. a lemon poppy seed cake or marble cakes. They are all similarly easy to prepare and use almost the same ingredients. But recently I wondered whether you could actually replace the (vegan) butter with peanut butter.
A word and a blow – and it turned out delicious! I added dark chocolate chips to counter the rather intense peanut taste, but if you can't get chocolate chips, just chop some dark chocolate as I did. They don't melt in the oven, but keep a bite in between the fluffy cake batter after baking. If you feel strong about chocolate, feel free to increase the amount.
As you can see in our photos, the top of this cake became almost too dark at the end. So always take care of your gem in the oven and make sure to cover it in case the top gets too dark while the batter isn't done yet. To check on the butter, use the wooden pick test. Bake the cake until a wooden pick inserted in the centre comes out clean.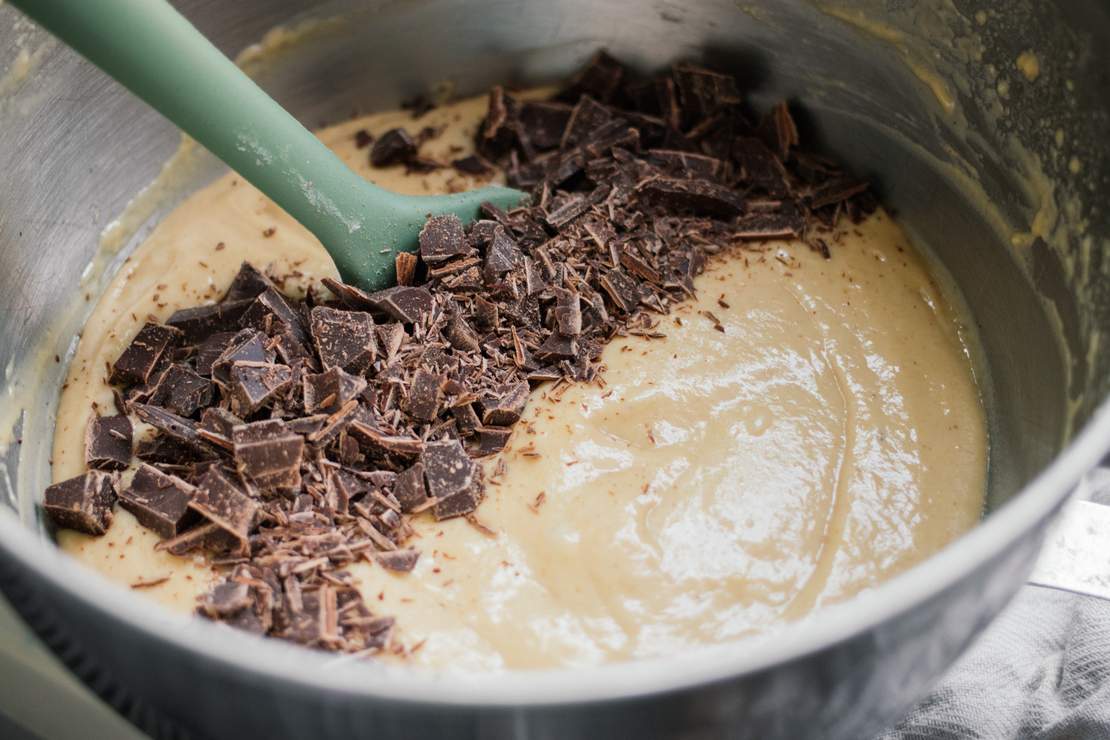 Vegan Peanut Butter and Chocolate Chip Loaf Cake
1 loaf pan (12 pieces)
15 minutes (+50 min. baking time)
Ingredients
150 g (0.75 cup) cane sugar
125 g (0.5 cup) creamy peanut butter
400 g (3.25 cups) flour
1 tbsp baking powder
0.25 tsp salt
2 tbsp apple puree
150 ml (0.66 cup) sparkling water
250 ml (1 cup) plant-based milk
50 g (2 oz) dark chocolate
Instructions
Add sugar and peanut butter to a bowl. Using a kitchen machine or a hand mixer beat for approx. 3-4 minutes, or until the mixture is well combined and a bit lighter.
 
Add flour, baking powder, and salt, and stir to combine until all the flour is incorporated. Add sparkling water, plant-based milk, and apple puree, and stir to combine until a smooth batter forms.
 
Chop the dark chocolate and fold into the batter.
 
Preheat oven to 180°C/355°F. Grease and flour a loaf pan, transfer batter into the pan, and bake for approx. 50 min. Make sure to test the doneness of your cake – a wooden pick inserted in the center should come out clean. Remove from the oven, but let the cake cool down a bit in the loaf pan, before removing it and letting it cool out completely.
More Vegan Brunch Recipes