Vegan mini frittatas with green asparagus
I have never eaten frittatas in my life. Traditionally the italian omelet is made of eggs, veggies and ham and is served in a pan. Today we are making frittatas without eggs, without ham and without a pan. Therefore we use a muffin tin, so it's much easier to share and carry them with you. Try them for your next brunch or picnic, cause these vegan mini frittatas are a perfect snack to go!
Vegan mini frittatas with green asparagus
12 mini frittatas
60 minutes
Ingredients
250 g (8.8 oz) green asparagus
2 tbsp canola oil
1 garlic clove
1 onion
50 g (1.7 oz) baby spinach
200 g (7 oz) chickpea flour
100 ml (o.4 cup) plant-based milk
200 g (7 oz) silken tofu
1 tbsp yeast flakes
1 tsp kala namak salt
1 tsp turmeric
10 g (0.35 oz) parsley
25 g (0.9 oz) rocket
salt & pepper
optional: dip made of vegan curd, parsley, salt & pepper
Instructions
Clean the asparagus and break off the ends, perhaps peel the bottom ends.
Heat salted water in a large pan and cook asparagus for 5 minutes, until firm to the bite.
Peel and chop the garlic and onion finely. Wash the baby spinach.
Heat a second pan with 2 tbsp canola oil and sauté the chopped onion and garlic. After 2-3 minutes, add the baby spinach and sauté for another 2-3 minutes. Season with salt and pepper.
Now put all the reamining ingredients (not the asparagus or spinach) in a blender and blend to a coarse purée.
Cut asparagus in small bites and lay the tips aside. Fold in the the asparagus bites and baby spinach to the frittata mixture.
Grease muffin pan with some more oil and fill in the frittata mixture. Now top mini frittatas with aparagus tips and bake for 20-25 minutes at 180°C/ 350°F. Optional: Top with a dip made of vegan curd, parsley, salt & pepper.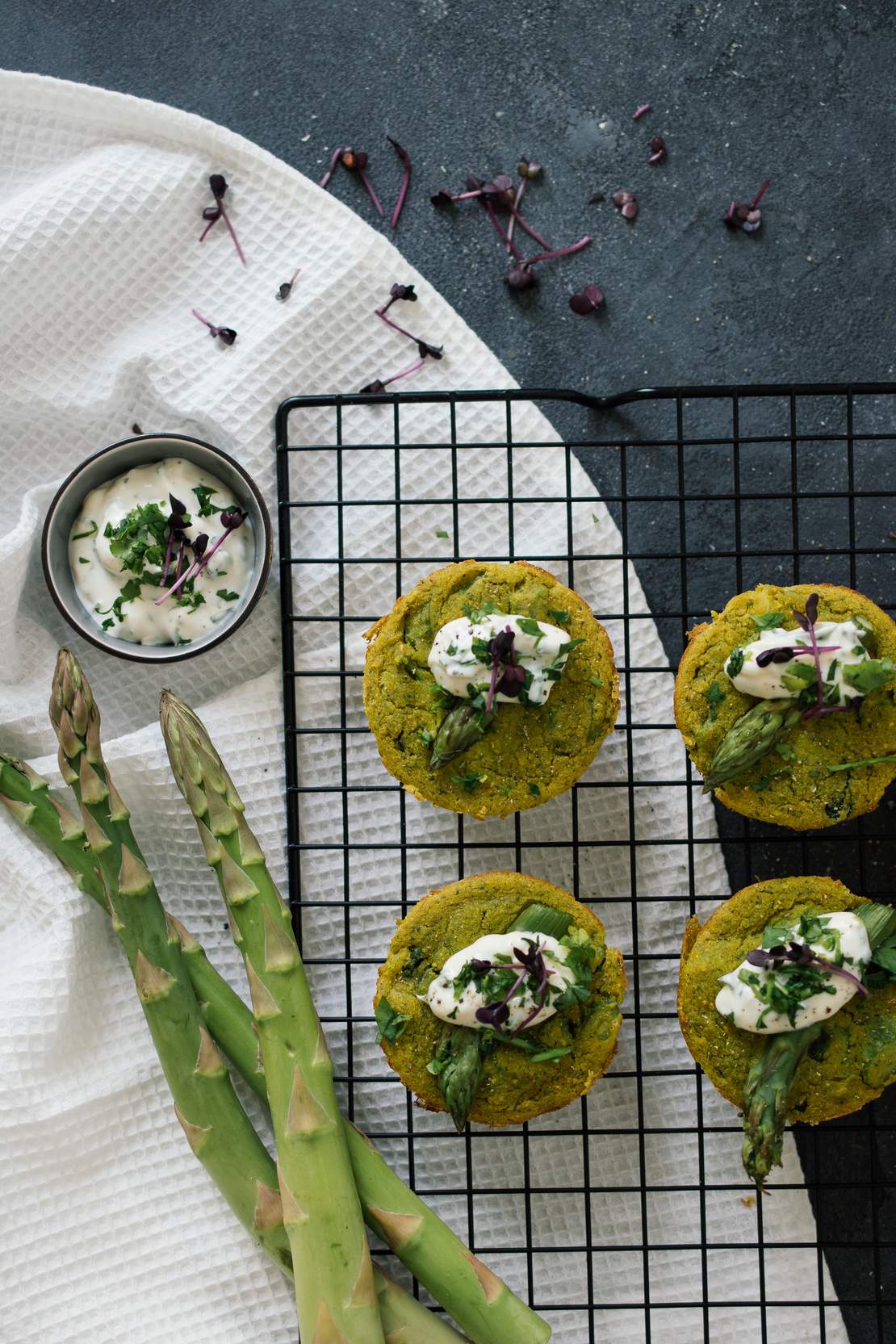 More Vegan Asparagus Recipes