Mushroom Scallops with Green Asparagus and Spicy Mashed Edamame
We usually don't serve dishes that look like fine dining - at least we can all agree that our blog looks a bit more rustic than a high class restaurant.
But then somehow we ended up with this plate and didn't know what happened. Maybe the mushroom scallops looked almost too fancy themselves that we thought: if we do this, then let's do it properly. Fun fact: we both have never eaten scallops, so we can't tell you if this version tastes similar, BUT we can tell you that they are delicious and that's all that really matters. King oyster mushrooms have this interesting, soft-but-still-firm texture that (according to friends) turns out to be a good option for a vegan scallop option.
To refine this dish, we serve some spicy mashed edamame beans with it and add various fruits and veggies. Get inspired by what you find in your kitchen. Since asparagus season is starting soon, we chose this option, but of course you can also use other fresh ingredients.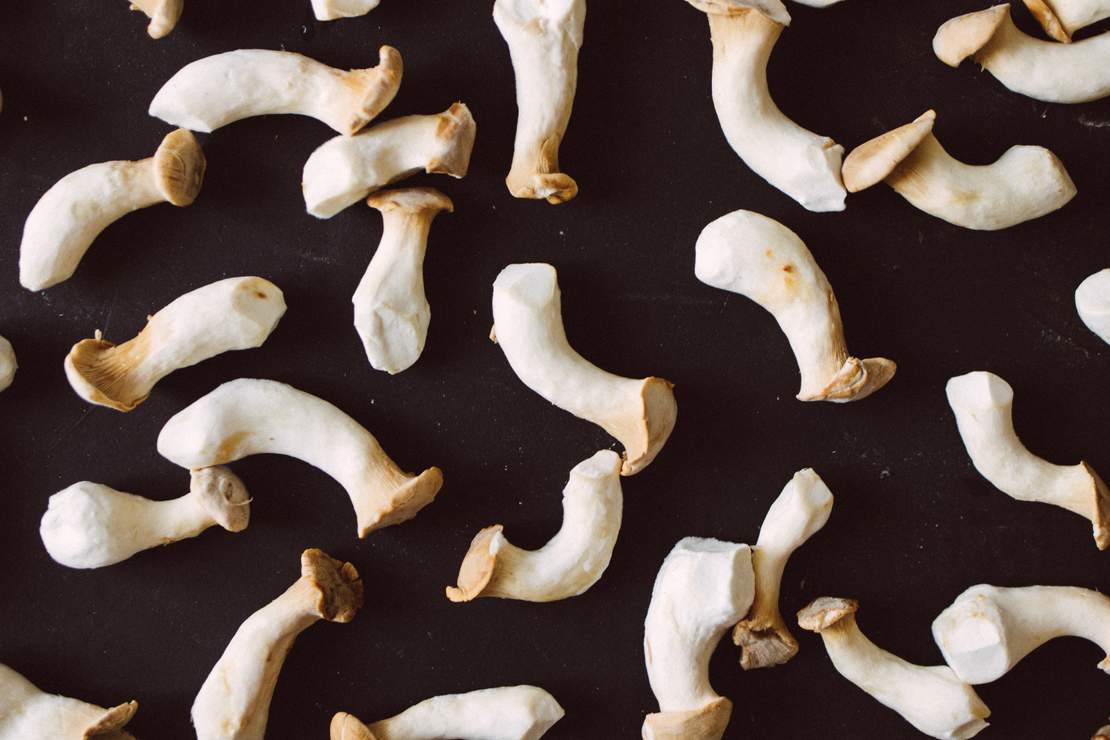 Mushroom scallops with green asparagus and spicy mashed edamame
Ingredients
For mushroom scallops:
200 g (7 oz) king oyster mushrooms
2 tbsp soy sauce
1/2 TL old bay seasoning (optional)
1 tsp lemon juice
1 tsp rice syrup (you can also use agave or maple syrup)
pepper
vegan butter for frying
For spicy mashed edamame:
250 g (9 oz) Edamame
1/2 tsp wasabi
1 tsp miso
100 ml (0.5 cup) vegan cream
salt
pepper
Also:
4 spears green asparagus
3 tbsp vegan butter
2 garlic cloves
4 radishes
1 blood orange (or orange)
dill or garden cress for garnish
salt
Instructions
In a small bowl stir to combine soy sauce, lemon juice, rice syrup, Old Bay seasoning and pepper.
Clean king oyster mushrooms and cut the stems into equal-sized thicker pieces. Add them to the marinade, toss to coat and let marinate for approx. 20 min. Use up the rest of the mushrooms for another recipe.
Melt butter in a frying pan. Fry marinated mushrooms for approx. 5 minutes until browned. Season with salt and pepper to taste.
Bring a litre of salted water to a boil, then add edamame. Let cook for approx. 5 minutes, then drain and peel. Add beans to a high container, add vegan cream, wasabi and miso and blend until creamy and combined. Season with salt and pepper to taste. If you'd like it creamier, add some more cream. Keep warm until serving.
Cut green asparagus into equal-sized chunks. Melt vegan butter in a frying pan and fry asparagus for approx. 8 minutes. It should still be firm to the bite. Season with salt and pepper to taste.
For serving, slice radishes and cut blood orange into filets. Serve mashed edamame and top with fried mushrooms scallops. Add radish slices and blood orange filets. Garnish with dill and garden cress.