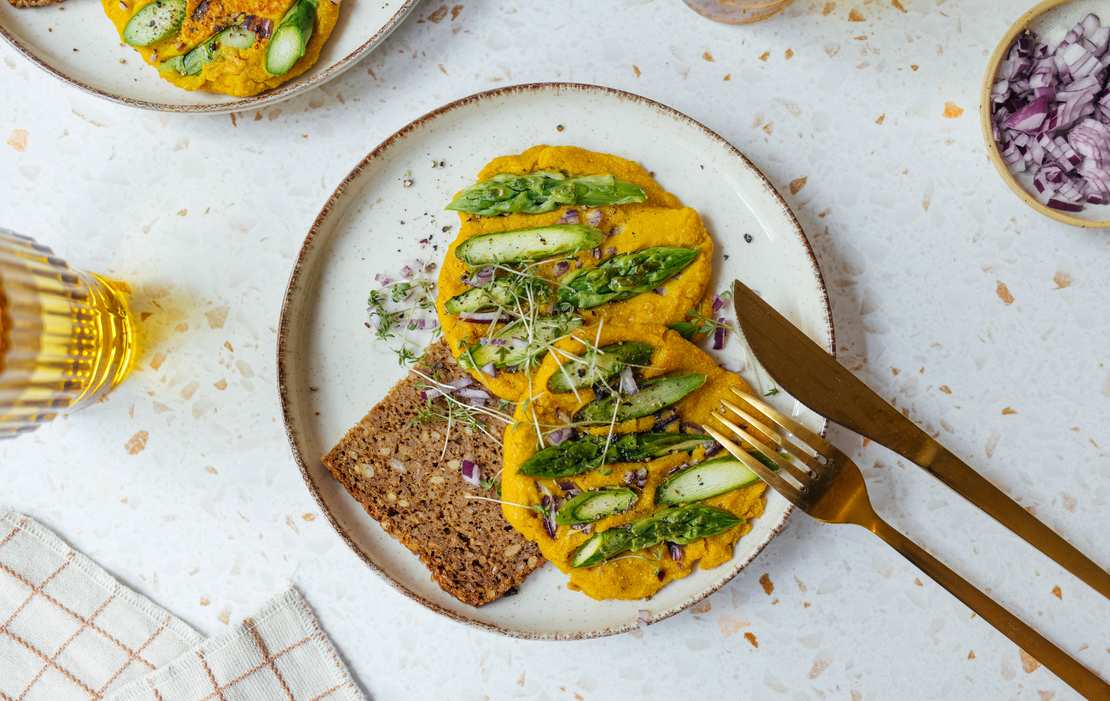 Vegan Silken Tofu Omelet (with Green Asparagus)
Close your eyes, lean back, and imagine it's 10 am. You slowly leave your soft and cozy bed, stretch, and smell the scent of fresh coffee coming from the kitchen. You slowly make your way to the kitchen, open the door and the sun shines on your face as you stand in front of a well-laid breakfast table. What do you see? Freshly baked rolls? Orange juice? Waffles? Or is it a large cheese platter?
When it comes to breakfast, egg dishes are a staple, at least in an omnivorous diet. Boiled eggs, scrambled eggs, an omelet filled with ham and cheese – it belongs to a Sunday breakfast like a toothbrush to toothpaste. Unfortunately, for most people on a vegan diet, egg dishes disappear from the breakfast table because they are of animal origin but also because they are hard to make vegan. Preparing a boiled egg vegan is possible, but it requires much more patience and skill than simply boiling an egg for five minutes. However, preparing vegan scrambled eggs, also known as scrambled tofu, or omelets, is a bit easier. After showing you how to make a vegan omelet with plain tofu or lentils (in our cookbook), we will show you how to make one with silken tofu.
If you have never used silken tofu before, don't worry! Similar to plain tofu, it is a small block of soybean puree that you can find in the refrigerated section of supermarkets or health food stores, as well as in Asian grocery stores. However, silken tofu has a much higher water content than plain tofu. It is, therefore, quite excellent as a vegan egg substitute, as it wobbles and jiggles like an egg naturally does. Delightful! We puree the silken tofu with chickpea flour and season the mixture with nutritional yeast, kala namak, garlic, paprika, and turmeric (for color). We add green asparagus to the omelet as a seasonal touch and because a few veggies never hurt anybody. If asparagus is not in season, you can, of course, replace it with peppers, tomatoes or mushrooms.
And now, close your eyes again, snuggle back into your warm bed, let the sun wake you up, and maybe some vegan asparagus omelets will be waiting for you!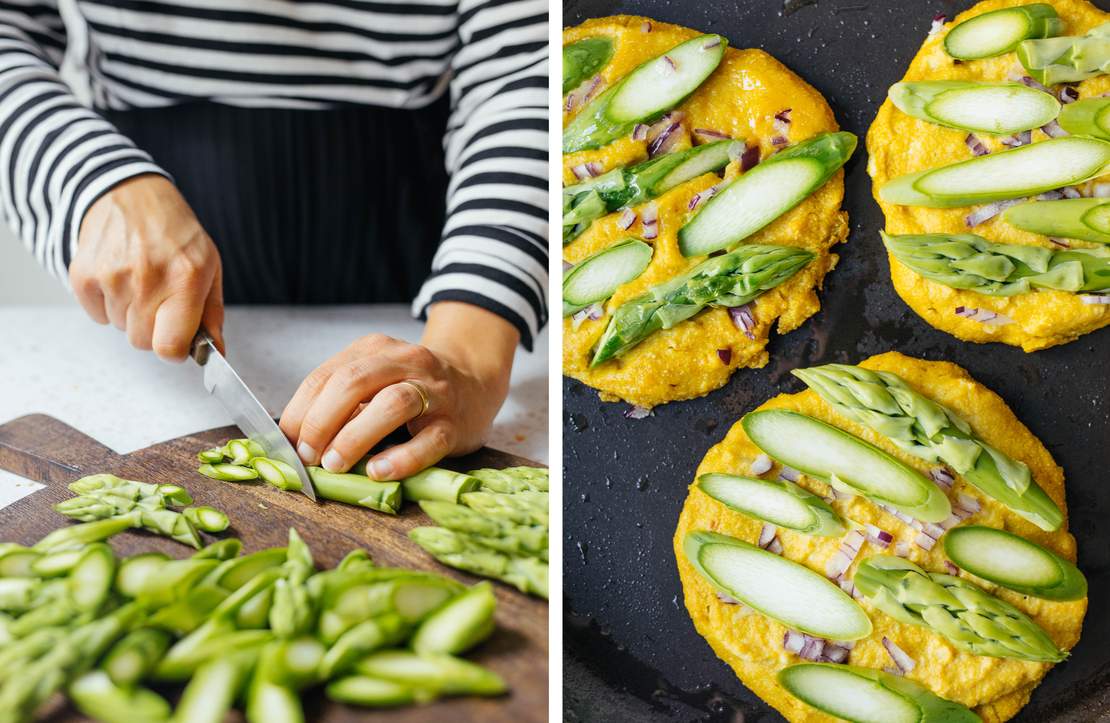 Vegan Silken Tofu Omelet (with Green Asparagus)
Ingredients
For the omelet:
200 g (0.5 lb) silken tofu
50 g (1.75 oz) chickpea flour/soy flour
25 ml (0.125 cups) plant-based milk
2 tbsp nutritional yeast
1 tsp Kala Namak
1 tsp garlic powder
0.5 tsp paprika powder
1 tsp turmeric powder
Salt
Pepper
Additionally:
1 red onion
300 g (0.66 lb) green asparagus
neutral vegetable oil
Instructions
Puree silken tofu, chickpea flour, plant-based milk, nutritional yeast, kala namak, garlic powder, paprika powder, turmeric powder, salt and pepper in a blender until smooth.

Dice the red onion and cut the green asparagus into small pieces.

Heat vegetable oil in a pan and pour half the omelet mixture. Use a spoon to spread the mixture evenly. Sprinkle half of the onion cubes and asparagus pieces over the omelet.

After 4–5 minutes, when the omelet has noticeably thickened, flip the omelet once and cook again. Repeat the steps until all ingredients are used up.
More Vegan Brunch Recipes