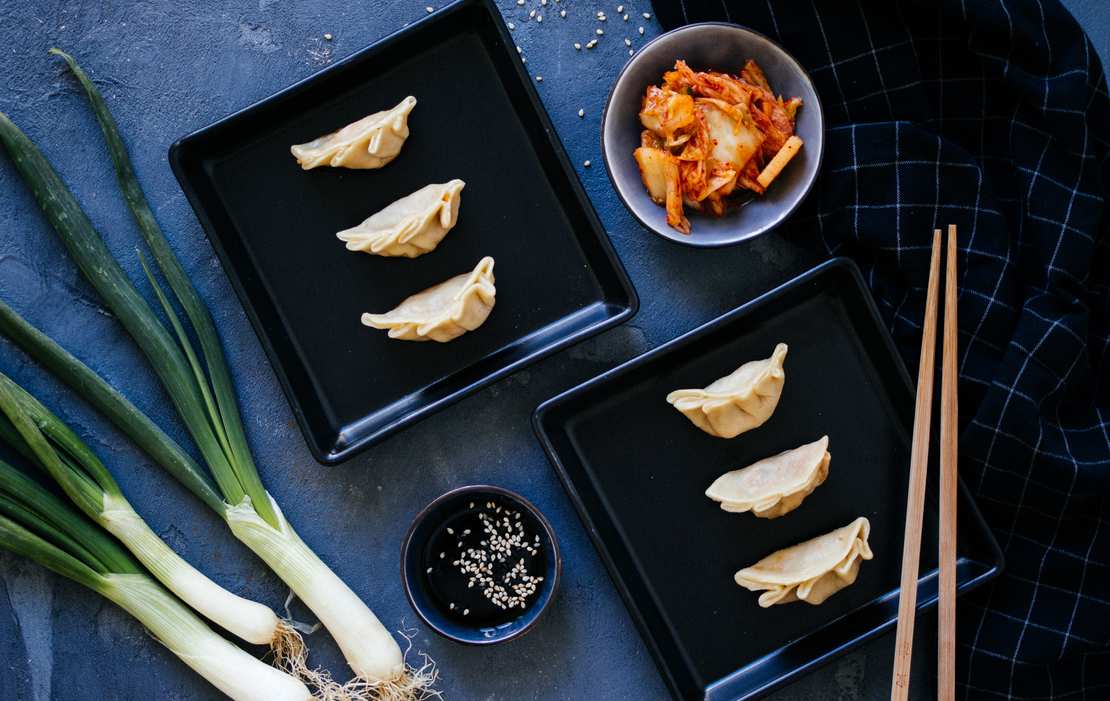 If you want to introduce Mandu very quickly, you could call them little Korean "Maultaschen" "German dumplings". The traditional mandu filling comes very close to the German dumplings, cause both of them use minced meat, eggs, and veggies. However, folding mandu is a bit more time-consuming in combination with soy sauce they don't really taste like the German dumplings. But whatever!
We tried to make the Korean dumplings without any eggs and minced meat and decided on tofu and kimchi. Kimchi is also used very often in traditional recipes, but take a look at the ingredient list, cause a lot of brands use fish sauce from anchovies or shrimps. And remember, you can also make your own vegan kimchi at home!
Vegan Mandus with Kimchi
40 mandus (4 Portionen)
90 minutes
Ingredients
dough
300 g (2.5 cups) flour
1/2 tsp salt
150 ml (0.6 cups) warm water
filling
300 g (10.5 oz) tofu
200 g (7 oz) vegan kimchi
4 scallions
1 onion
1 garlic clove
30 g (1 oz) fresh ginger
1 tbsp sesame oil
2 tbsp soy sauce
2 tbsp tomato paste
1/2 tsp salt
1/2 tsp pepper
serving
soy sauce
sesame oil
white & black sesame seeds
scallions
Instructions
Mix the ingredients for the dough (flour, salt, and water) in a bowl and knead until you get a smooth dough (you can easily form to a ball). Let the dough rest for 20 minutes.
In the meantime prepare the filling. Wash the scallions and cut them very finely. Peel and finely dice the onion, ginger, and garlic.
Chop kimchi and crumble the tofu in a large bowl. Now put all remaining ingredients for the filling in the bowl and mix with your hands. Set aside.
Roll out the dough on a floured surface and cut circles with a cookie cutter or a glass. Put 1 tsp of filling on the circles, brush a little water around the edges and fold in half. Start to make pleats to seal the mandu. Repeat with all the remaining dough.
Heat coconut oil in a pan and fry the mandu for 3-4 minutes. The bottom of the mandu should be crispy brown.
Turn the temperature of your cooker to the lowest setting and let the pan cool down. Carefully add about 100 ml of water so that the soil of your pan is slightly covered with water. Place a lid on the pan and steam the dumplings for another 4-5 minutes with medium heat. In the end, the dumplings are not only fried but also steamed.
Serve with soy sauce, sesame seeds, and fresh scallions.