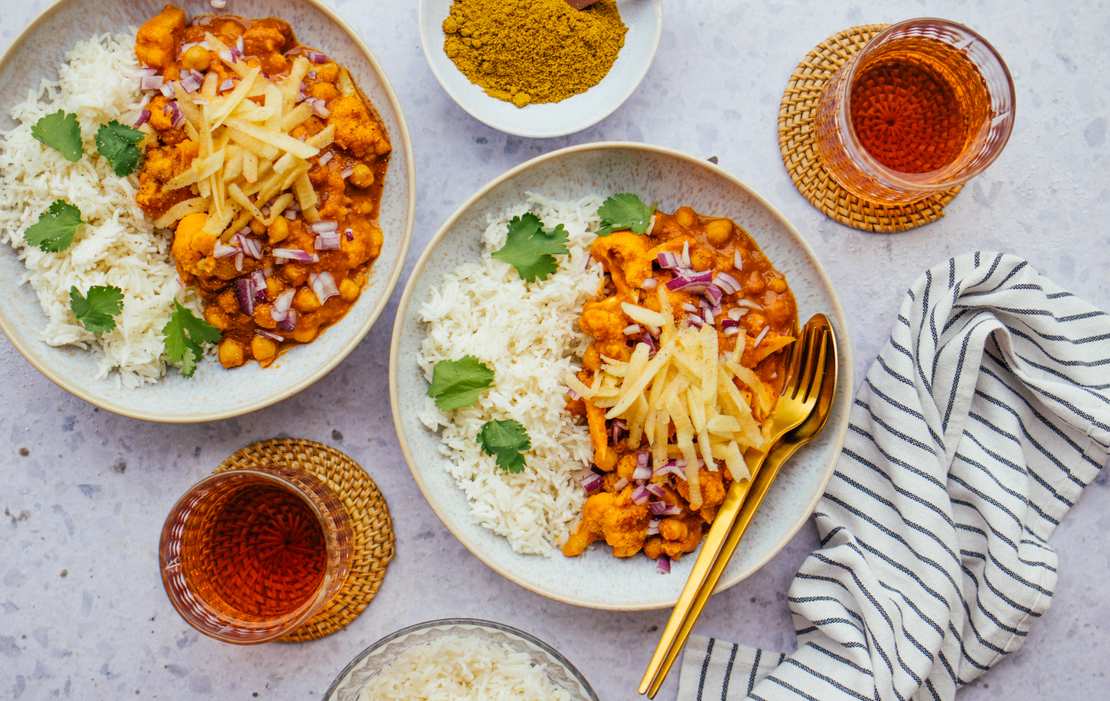 Vegan Madras Curry with Apple
In my childhood and teen years, there weren't many Indian dishes that we would typically eat. If I think about it, it was only one: Chicken Madras. My mother used a ready-made mix from the supermarket to prepare the mild (and fortunately not too spicy) curry for us every other week. It was heaven on earth for us kids because we loved this cozy dish that my mother always served with apples back in the days. To my surprise, it wasn't until a few years later that I realized that it's not at all common to serve chicken madras with apple at all, even though it goes so, so well with it.
Madras curry probably originated in southern India and is named after the city of Madras (now Chennai). However, some claim the origin of Madras Curry lies in 1960s Britain. Usually, it is prepared much spicier (and especially without apple) and often served with yogurt to tone down the spiciness. However, since I have it stored in my memories as very fruity and mild, I'll show you a not-so-spicy variation today – my little take on Chicken Madras.
For this, of course, we also skip the chicken and serve the curry instead with cauliflower and chickpeas. But of course, you can vary the choice of veggies as you like! But what you should do is: Enjoy it with a grated apple topping - this is the best combination in the universe, promise!
Vegan Madras Curry with Apple
Ingredients
For the Madras Curry:
1 onion
2 cloves of garlic
15 g (0.5 oz) fresh ginger
500 g (17.66 oz) cauliflower
2-3 tbsp. coconut oil
1 tsp cinnamon
4-5 tbsp. madras curry powder
1 tsp paprika powder, sweet
2 tsp agave syrup
200 ml (1 cup) coconut milk
400 ml (2 cups) strained tomatoes
400 g (14 oz) canned chickpeas
salt & pepper
Also:
250 g (1.5 cup) rice
1 apple
1 red onion
10g (0.33 oz) fresh coriander
optional: 1 small chili
optional: some fresh lemon juice
Instructions
Prepare the rice according to the package instructions. Peel and chop the onion, garlic, and ginger.
Wash the cauliflower, separate the florets and cut each floret into fourths.
Heat a large pan or pot with coconut oil and sauté the onion, garlic, and ginger. After 2-3 minutes, add cinnamon, madras curry powder, paprika powder, and agave syrup and sauté briefly.
Now pour in coconut milk and strained tomatoes and puree the sauce. Add the cauliflower florets and simmer for 10 minutes on low heat.
Now add the chickpeas and simmer for another 5 minutes.
Season to taste with salt and pepper. Wash the cilantro and pluck the leaves from the stem, peel and finely dice the red onion and wash and grate the apple. Optionally, cut the chili pepper into rings and squeeze some fresh lemon juice.
Serve the madras curry with rice, fresh coriander, diced onion, grated apple, and optional chili and fresh lemon juice.