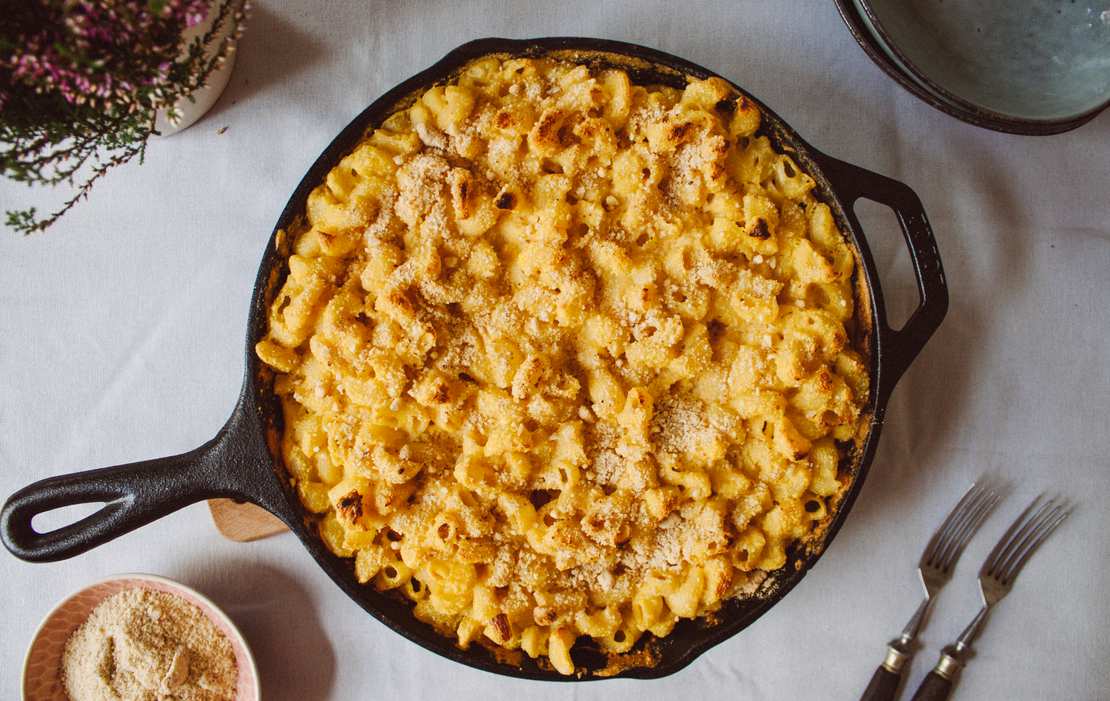 Some days, all I want is comfy food! When it's grey and rainy outside, there's nothing better than this warm feeling in my belly. Calories my ass, carbs, come to me! And the best thing is when your food comes out of the oven and the whole flat smells just delicious, even hours afterwards when you're curled up on the couch. So you can see why mac'n'cheese ist just the perfect dish for those kind of days. Fot this recipe you don't even need a special cheese substitute but only vegetables and cashews. Yeeha!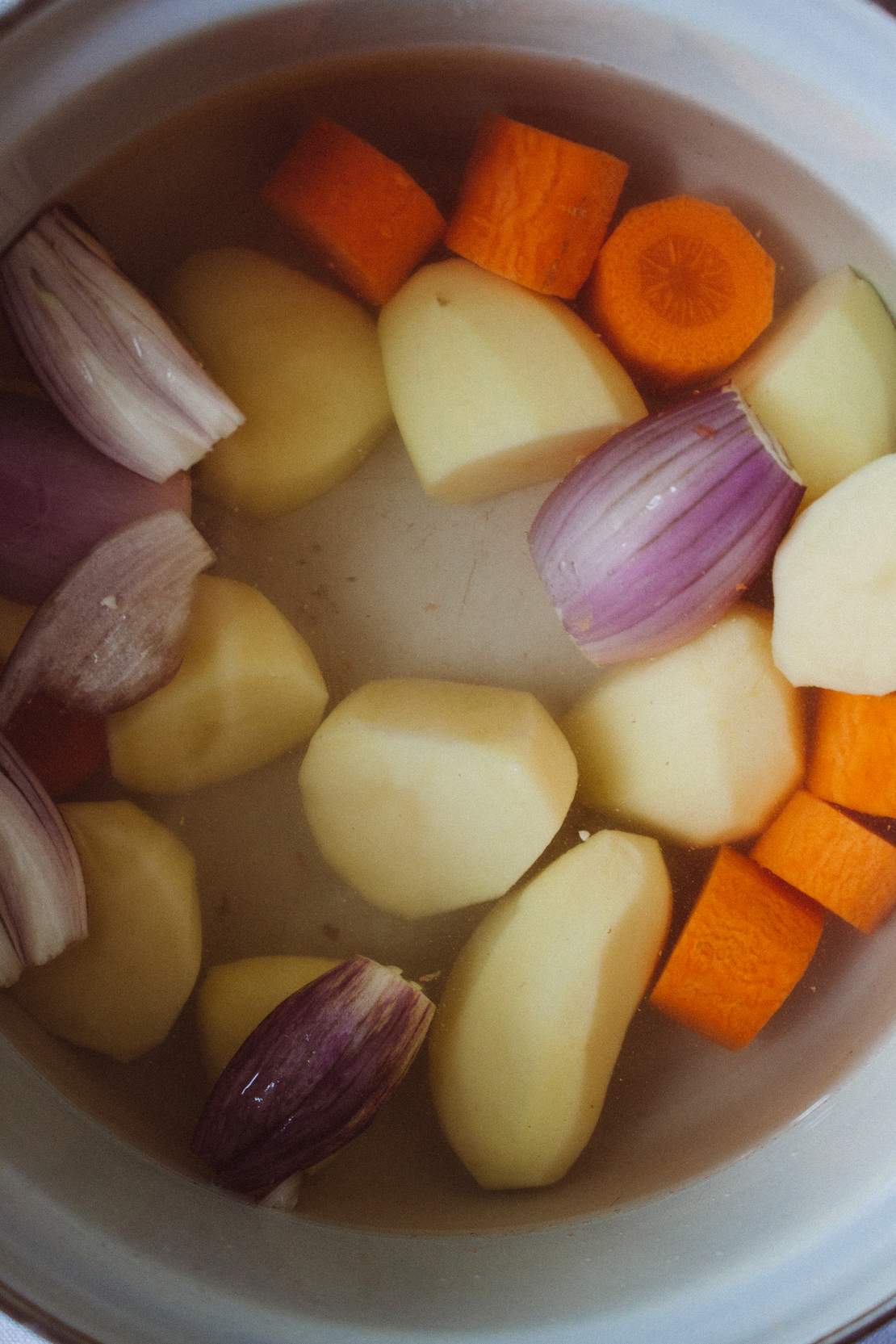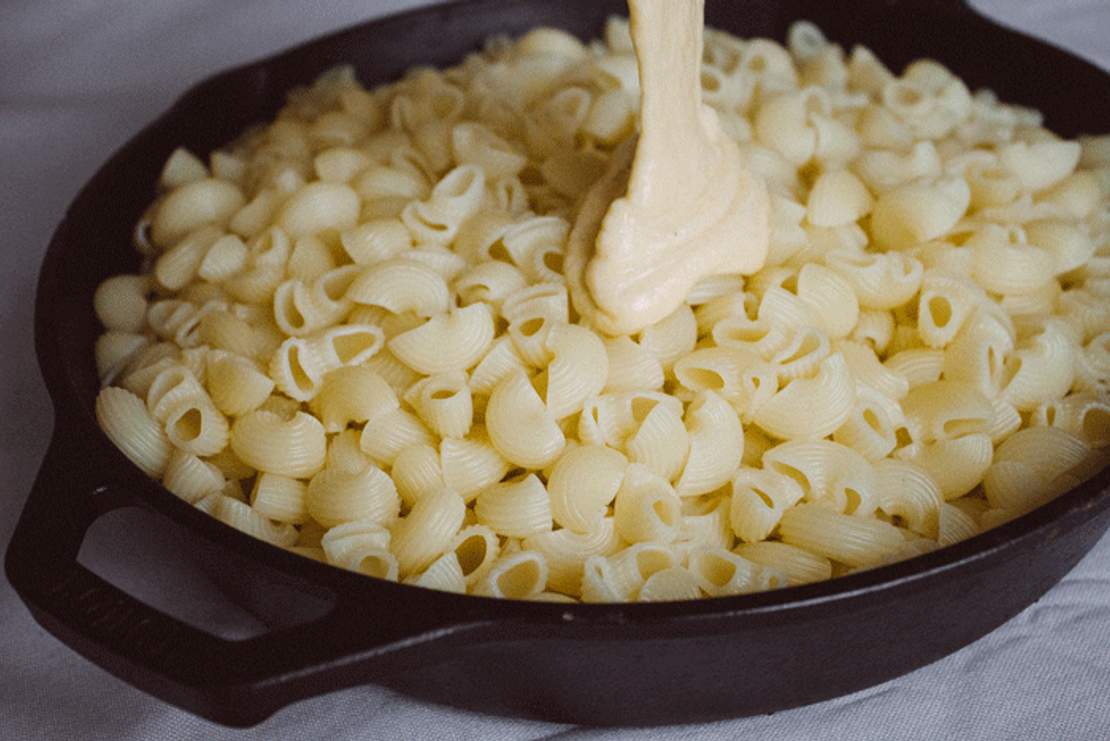 Vegan Mac'n'Cheese
4 servings
45 minutes (+ at least 30 minutes soaking time)
Ingredients
FOR SAUCE
250 g (8.8 oz) potatoes
1 small carrot
1-2 shallots
200 ml (0.8 cup) water
150 g (5.3 oz) raw cashews (soaked in water over night or at least for 30min in warm water)
60 ml (0.25 cup) soy cream (or any plant-based cream you like)
3 tbsp nutritional yeast
1 tbsp miso paste
1 tbsp lemon juice
FOR SEASONING
salt
paprica Powder
garlic powder
pepper
FOR TOPPING
breadcrumps or vegan parmesan
Instructions
Before the games can even begin: Let your cashews soak in water. The best would be to soak them over night, but if you have the munchies for mac'n'cheese, it'll work to soak those cashews in warm water for at least 30 minutes. Ready? Go!
Cook your pasta according to instructions until they are slightly before al dente. They definitely should not be too soft.
Boil some water in a sauce pan. Peel and cut the potatoes, carrot and onion in equal sized pieces, so they will cook in the same time. They are perfect, if you can prick in a fork and they are soft enough to get smashed.
As soon as that happens, drain the vegetable but keep the water. Toss the vegetable in a processor together with 200 ml of your kept water. Add cashews, soy cream, miso paste, nutritional yeast and lemon juice. Turn on the processor and keep looking at it fascinated as it will transform into a wonderful, creamy, yellow lot. Uuh, this looks suspiciously cheesy!
Now season your cheese sauce with salt and pepper, but also try a pinch of garlic powder, cayenne and paprika.
For anyone who doesn't think it's creamy enough: Just add a little more water or soy cream. For anyone who doesn't think it's cheesy enough: Just add some more nutritional yeast.
Tasty? Tasty! Pour the cheese sauce on your noodles. You can either eat it right now, just give it additional two minutes in a pan, until the pasta is al dente.
Otherwise you can put your mac'n'cheese in a casserole dish, sprinkle it with breadcrumbs and roast it in your oven for another ten minutes until those crumbs are golden brown.
Serve it warm with pepper, paprika and fresh parsley on it.
Better eat all your mac'n'cheese off the reel - but honestly it will be hard to stop eating. If you want to warm it up later, just put a little more water to eat, so it'll get creamy again. Otherwise you'll get sad, dry mac'n'cheese.
More Plant-Based Cheese Alternatives