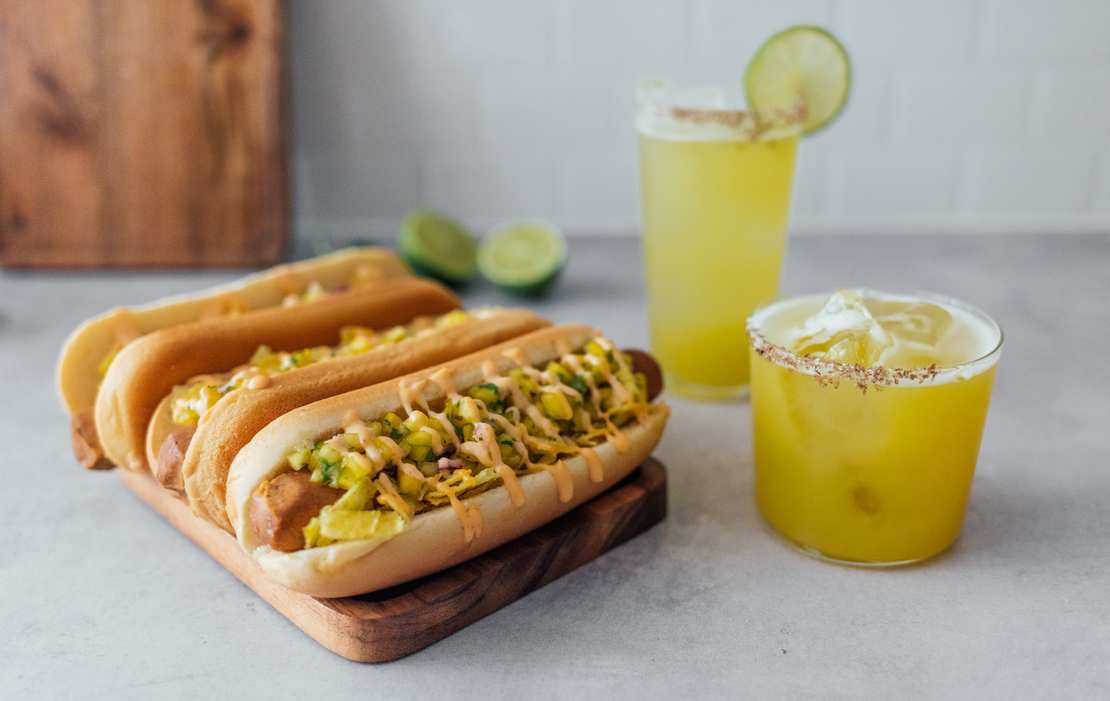 Vegan Hot Dogs with Pineapple Salsa
If you ask us for the best finger food in the world, hot dogs are not far behind. A soft bun, crispy fried onions, and sour pickles – for us, the toppings are the main focus. The vegan sausage may, of course, also be included in the bun, but for us, it's not the star on the plate. But since hot dogs can be much more than just "like the ones from the furniture store," we've come up with a much fresher and summery version for you.
For this, we prepare a fresh salsa of pineapple, red onion, cilantro, and jalapeños. For a certain spiciness, we use Sriracha, which we mix with vegan mayonnaise to get a creamy sauce. Depending on how spicy you like to eat, you can, of course, vary the amount of chili sauce. Finally, we topped our hot dogs with some riffle chips to give them a crunchy and a salty component. A smoky vegan hot dog sausage goes well with this, but "regular" veggie sausages are also perfect.
This recipe was created in cooperation with Anne Linden. She works as a creative director in the bar and spirits industry and is co-founder of "ice & tasty". For years, she worked as a successful bartender in Berlin and Munich and received several awards. She loves to combine cocktails with delicious dishes and to develop new drink recipes.
Not in the mood for Booze? Then you'll also find a non-alcoholic version of the cocktail recipe in the recipe, which is just as much fun. For the pineapple jalapeño margarita, a tumbler is particularly well suited. For the non-alcoholic version, however, she recommends highball glasses. Anne answers the most important questions here:
Can I use sugar syrup instead of agave? Yes. The degree of sweetness is similar. But of course, agave is more aromatic than sugar syrup.
Can I substitute other fruit juices for the pineapple? You can always experiment. But, of course, the recipe is adapted to pineapple juice.
Can I also use fresh pineapple? Every pineapple tastes different or has a different degree of ripeness. Thus, the taste result can also vary. In addition, the acid content of fresh pineapple is significantly higher. You'd have to adjust acidity (lime juice) and sweetness (agave) to the taste of the pineapple. In addition, you would need to add more liquid (e.g. coconut water).
Can I also use soda water instead of tonic water for the non-alcoholic version? You're always welcome to experiment. But the recipe is, of course, adapted to tonic water.
Can I also use pasteurized lime juice or lemon juice? Yes, but fresh lime juice always tastes better.
Can I also use aged tequila (anejo or reposado) or generally use another spirit? Yes, gladly. The recipe is adapted to Blanco Tequila, though.
Can I also use a different seasoning salt? You are always welcome to experiment. The recipe is, of course, adapted to smoked salt. Clear recommendation!
Can I also use fresh jalapeños? Very much. But be careful with the seeds. It's best to use fresh jalapeños without seeds, but you can possibly add some more of them.
And if you're wondering which bars in Berlin Anne likes to hang out in, here are her recommendations: Wax On Berlin, Velvet, Buck & Breck, Beckett's Head, Green Door, Fragrances Bar, Krass Böser Wolf, Schwarze Traube, Hildegard Bar.
Vegan Hot Dogs with Pineapple Salsa
Ingredients
For the hot dogs:
8 hot dog buns
8 vegan sausages
50 g (1.75 oz) vegan riffle chips
For the salsa:
0.5 pineapple
1 red onion
10 g (0.33 oz) cilantro
3-5 pickled jalapeño slices
salt
For the Sriracha mayo:
250 g (9 oz) vegan mayonnaise
4-5 tbsp Sriracha
Instructions
For the salsa, peel the pineapple, remove the stalk, and finely dice the flesh. Also, finely dice the red onion and finely chop cilantro. Depending on your spiciness preference, chop 3-5 pickled jalapeño slices and add them to the salsa. Season to taste with salt and set aside.

For the Sriracha mayo, mix vegan mayonnaise with Sriracha, again using more or less Sriracha depending on your taste.

Warm the vegan sausages and buns and crush the riffle chips a little. Add one vegan sausage to each bun, top them with riffle chips and pineapple salsa, and drizzle with Sriracha mayo. They are best served immediately.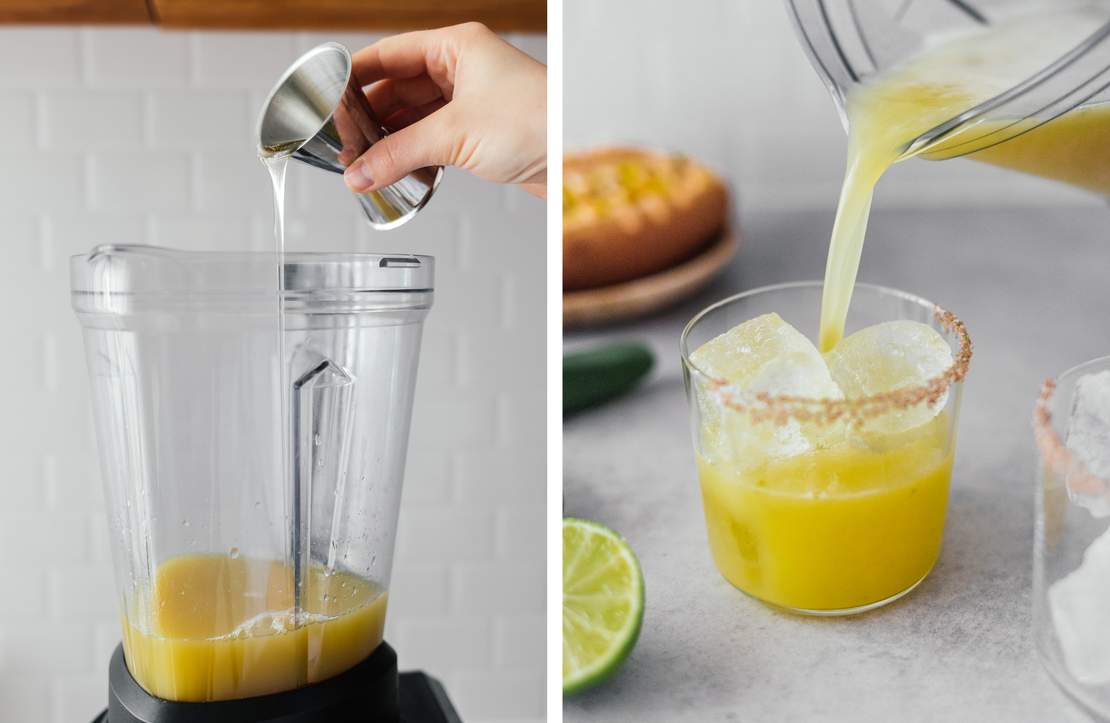 Ananas-Jalapeño-Margarita
Ingredients
With alcohol:
280 ml (1.25 cups) pineapple juice
180 ml (0.75 cup) Blanco tequila
80 ml (0.33 cup) fresh lime juice
80 ml (0.33 cup) agave syrup
4-6 jalapeño slices from the jar
Without alcohol:
200 ml (1 cup) pineapple juice
160 ml (0.75 cup) coconut water
80 ml (0.33 cup) fresh lime juice
80 ml (0.33 cup) agave syrup
4-6 pickled jalapeños
240 ml (1 cup) tonic water
Also:
Instructions
Transfer the smoked salt to a shallow bowl or plate. Carefully wet the rims of the glasses with a piece of lime. Make sure only to wet the top edges with juice. Then, holding the jars with the opening facing down, dip the moistened rims into the smoked salt.

Transfer all ingredients, except for the ice (and tonic for the non-alcoholic version), to a stand mixer and blend on high speed so the jalapeños are finely chopped. Add three ice cubes and mix everything on high speed (crush ice) for about 10 seconds.
Tip: You want just a hint of spiciness? Then it's best to pour the cocktail through a small sieve (or tea strainer). This prevents small pieces of jalapeño from getting into your cocktail.
Fill the glasses with ice cubes and add the cocktail. For the non-alcoholic version, top up with tonic water and stir well.