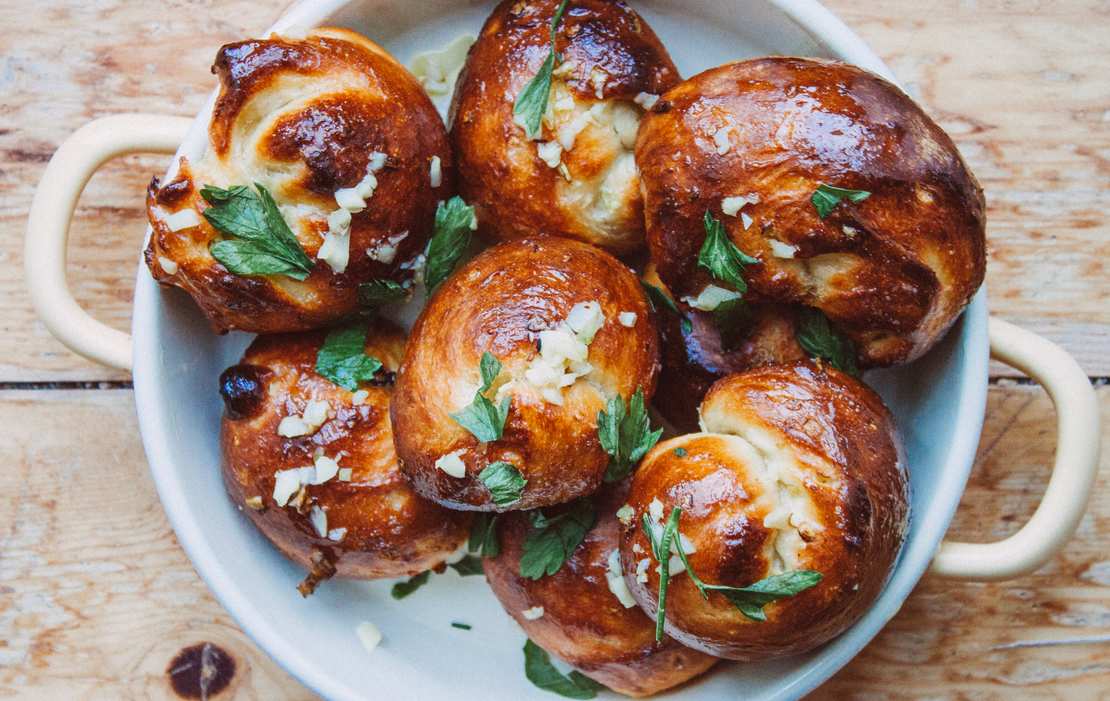 Imagine it's sunday and all you've been looking forward to a Netflix binge watch session all week long. Maybe you even invited some friends to join you. Well, what do you need for that? Snacks, of course! You could buy some chips, yes, but you could also surprise your guests with homemade small garlic buns fresh from the oven. Ooooh! Aaaah! Mmmmh! is what you're friends will say. And this is how easy you turn into the king or queen of snacks. Whoo!
This recipe was part of our recipe series about vegan store-bought pastries. If you're looking for something even more hearty, you can also fill those buns with fried diced tofu or vegetables and sprinkle vegan cheese on top.
Garlic knots
Ingredients
1 package for vegan rolls/buns (8 pieces)
4 tbsp vegan butter
3 cloves garlic
0.5 tsp salt
parsley for serving
olive oil for brushing
Instructions
Remove ready-to-use roll dough from the package and let warm up to room temperature. Using a rolling pin, roll out so they get bigger and flat. Using your hand, pull them apart until you can knot each roll.

Brush each garlic know with some olive oil and bake in the oven at 200°C/390°F for approx. 12 minutes until golden brown.

In the meantime, peel and chop garlic. Melt butter in a small pot and add chopped garlic. Fry over low heat for approx. 2 minutes until the garlic gets translucent and fragrant. Season with salt.

When your garlic knows are done, let them cool down a bit. Afterwards brush them with butter-garlic mixture. Sprinkle parsley on top and serve while they are still warm!