Vegan Eggplant Herring in Cream Sauce with Dill Potatoes
We might not finish our IKEA themed weekwith a classic that everyone immediately thinks of when we say "IKEA", but still with a Swedish dish that could be served in their restaurant: vegan herring with dill potatoes.
Eggplant is a great vegan herring substitute, which we noticed for the first time at a Midsommar festival in Berlin, but we were still surprised at how suspiciously fishy it tastes when it simmers with a few "triggering flavors". These include pickled cucumber water and a nori sheet, which you might know from sushi. The dried and roasted seaweed sheets add a fishy flavor to the cooking water that is soaked up by the eggplant. The pickled cucumber water contains vinegar, dill, mustard seeds, and other spices that enhance the effect and the eggplant's taste. Simmering the eggplant results in a softer texture, which still offers this distinct bite – the perfect consistency for a fake herring. If you have fish spice at home, add a good pinch of it to the cooking water as well.
We serve the eggplant herring in a creamy sauce with dill potatoes. I could've devoured the latter within a few minutes (by now, you probably know how much I love potatoes). I will certainly prepare them more often like this, even if there is no eggplant herring.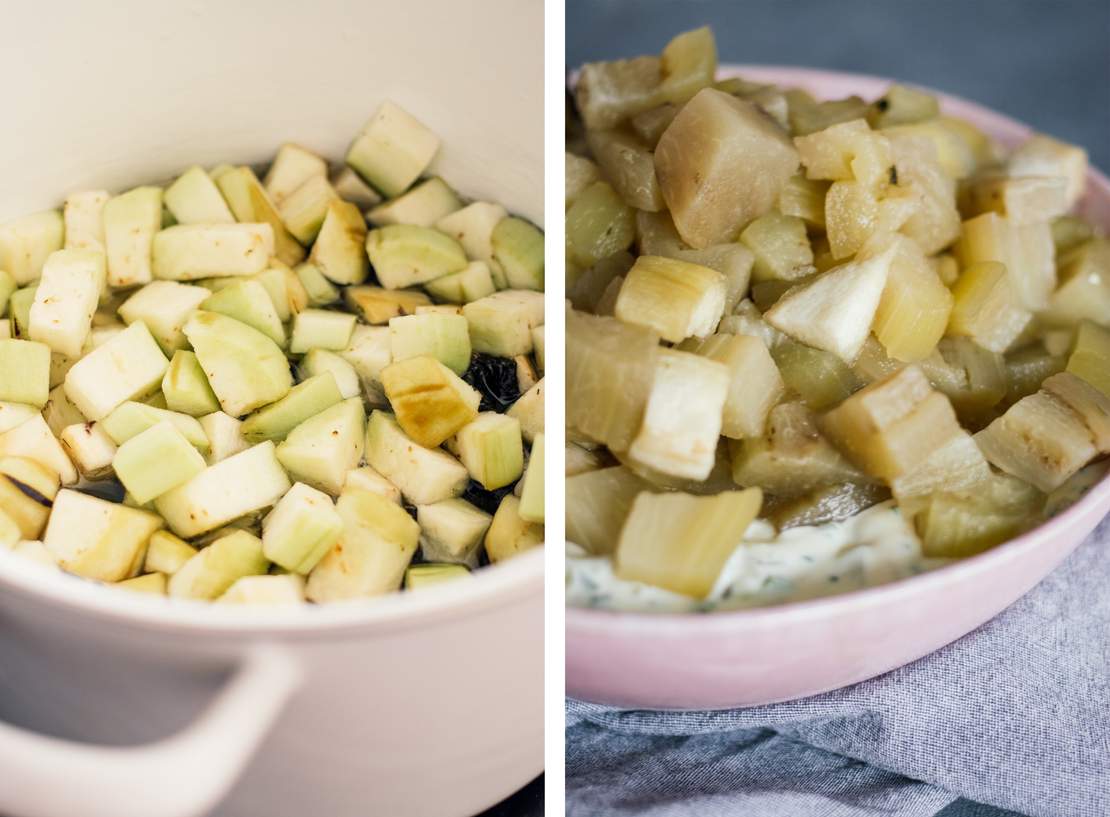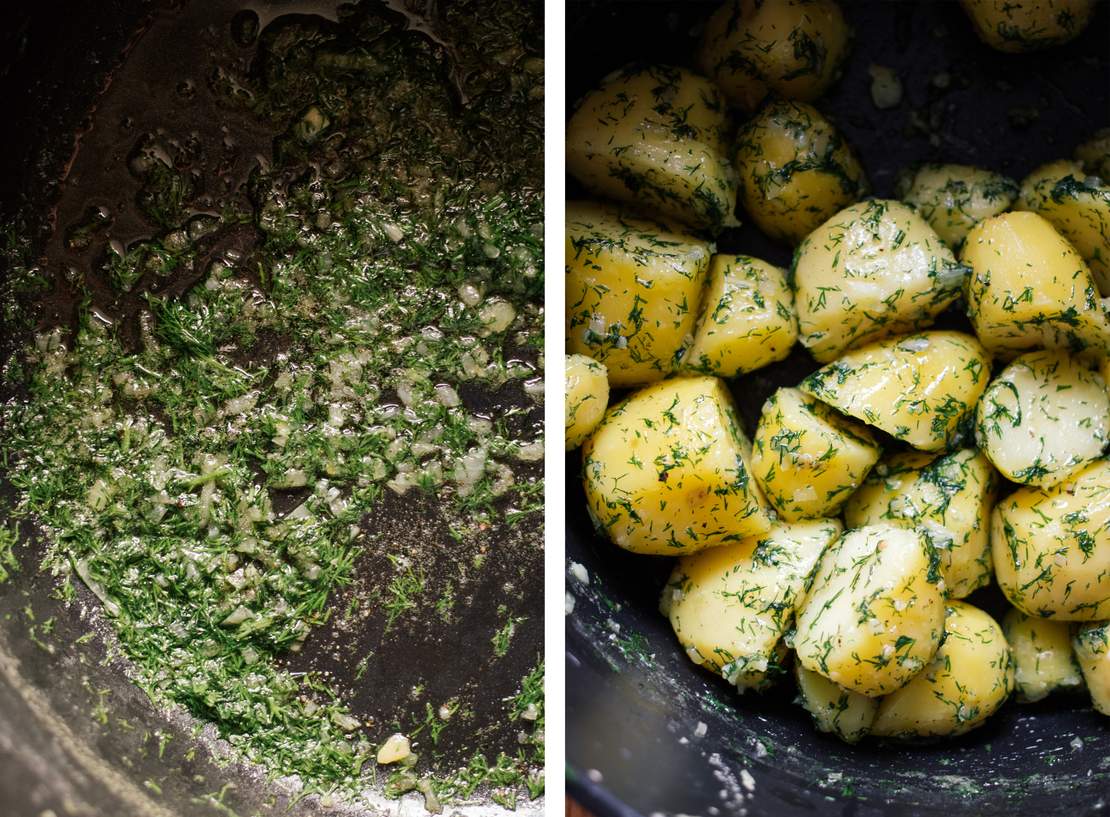 Vegan Eggplant Herring in Cream Sauce with Dill Potatoes
Ingredients
For dill potatoes:
25 g (1 oz) dill
2 shallots
1 kg (2.25 lbs) waxy potatoes
3 tbsp vegan butter
salt
For eggplant herring:
500 g (1 lb) eggplant
700 ml (3 cups) water
250 ml (1 cup) gherkin liquid from the jar
3 tsp salt
1 tbsp white wine vinegar
1 nori sheet
For cream sauce:
1 onion
200 g (7oz) gherkins
200 ml (1 cup) plant-based heavy cream
200 g (0.75 cups) plant-based unsweetened yogurt (or curd)
3 tbsp mustard
20 g (1 oz) chives
1 lemon
salt
pepper
For serving:
Instructions
Cut off the stems of dill and set aside. Finely chop the remaining dill leaves and set aside as well. Peel and finely dice shallots. Peel potatoes and add them to a pot. Cover with cold water, season with salt, and bring to a boil over medium heat. Cook for approx. 20 minutes, or until done.

In the meantime, prepare the eggplant herring. Peel eggplant and cut it into bite-sized pieces. Add water, gherkin liquid, salt, white wine vinegar, and nori sheet to a pot. Add cut eggplant to the pot and let simmer over medium heat for approx. 5 minutes, or until the eggplant is softened.

While the eggplant simmers, peel and finely dice the onion. Chop gherkins and finely chop chives. Add onion, gherkins, chives, plant-based cream, plant-based yogurt, and mustard to a bowl, and stir to combine. Season with salt, pepper, and lemon juice to taste. The eggplant should be softened by now. Drain and let cool for approx. 2-3 minutes, then add them to the cream mixture and stir to combine. Let sit until serving.

The potatoes should also be done by now. Drain them, but set the pot back to the stove over medium heat. Add vegan butter to the pot and let it melt. Fry shallots for approx. 2 minutes until translucent. Add chopped dill and some pepper. Transfer the potatoes back to the pot and toss to coat until they are covered in dill. Season with a pinch of salt, and serve eggplant herring in a creamy sauce with dill potatoes and cooked beetroot.