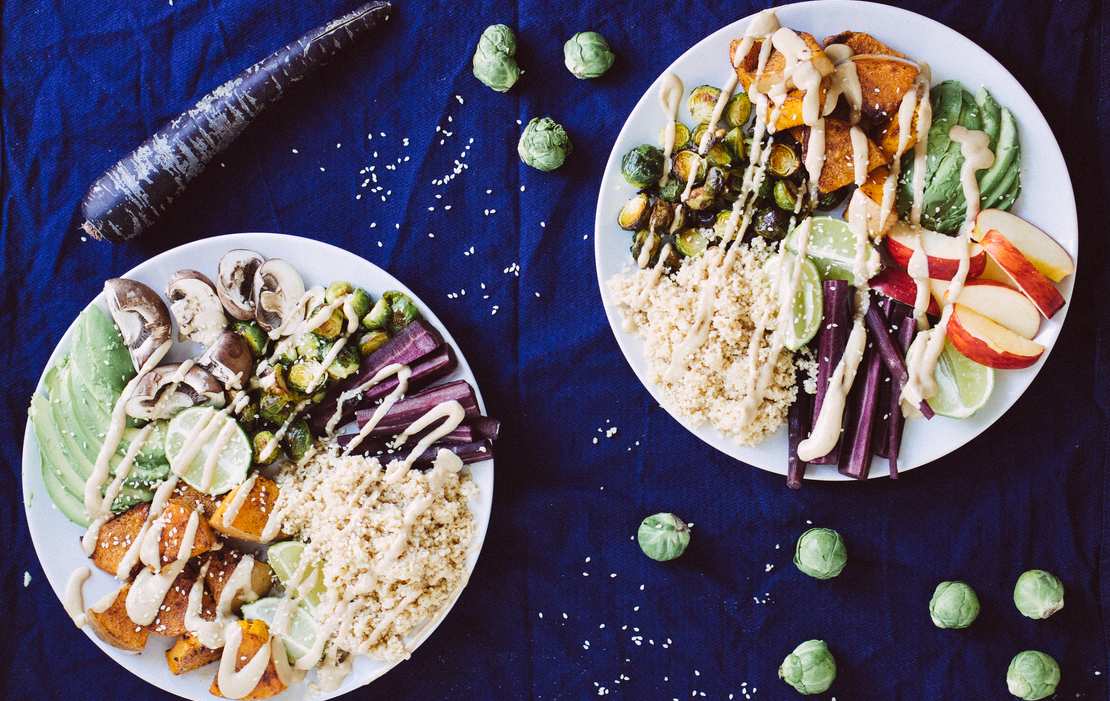 Vegan Couscous Bowl with Brussels Sprouts & Tahin Dressing
The kind of bowling we love! If you follow us on Instagram you may have seen all the yummy lunch bowls we ate in the last few months. No matter if we use roasted chickpeas, baked veggies, smoked tofu, limes, rice or guacamole – we love them in each constellation. So fill your bowls with the stuff you love and make them to your best friend ever. Today we show you a recipe for a vegan couscous bowl with roasted brussels sprouts, cause well, even Julia loves it, and she is not a fan of brussels sprouts. We topped this bowl with our favorite tahin dressing and that's all you need to be in love with bowling, haha.
Vegan Couscous Bowl with Brussels Sprouts & Tahin Dressing
Ingredients
FOR THE BOWL
1/4 butternut pumpkin
3 tbsp olive oil
pinch of nutmeg
salt+pepper
3 purple carrots
1 apple
1 Avocado
0.5 cup couscous
1 lime
4 mushrooms
1 cup brussels sprouts
2 tbsp olive oil
ADDITIONAL
1 portion of vegan tahin-yogurt-dressing (recipe on the blog)
1 tbsp sesame
Instructions
Wash pumpkin and flesh into large pieces. Place on a baking sheet, add 3 tbsp olive oil, a pinch of nutmeg, salt and pepper. Spread the spices all over the pumkin and let bake for 40 minutes at 190°C / 375°F.
Wash brussels sprouts and remove old leaves. Using a small knife, take off the tip of the stem and discard. Halve the sprouts and place on a baking sheet. Add 2 tbsp olive oil, salt and pepper and mix well. After 20 minutes, add the brussels sprouts in the oven and let bake for 20 minutes. The pumpkin should bake for 40 minutes in total.
Peel and quarter carrots lengthwise.
Clean mushrooms with a lightly wet cloth and halve them.
Wash the apple and cut in slices.
Prepare the couscous according to the recipe on the packet.
The couscous is ready? Add the juice of a half lime and season with more salt.
Cut the avocado in half, remove the seed and spoon out the pulp.
Now arrange all the veggies on your plate, add the tahin dressing, garnish with sesame seeds and enjoy!
Vegan Tahin Dressing
Ingredients
125 ml (0.5 cup) tahin
0.5 lemon
1 tbsp soy sauce
2 tbsp olive oil
1 tbsp roasted sesame oil
2-3 tbsp agave syrup
50 - 100 ml (0.25 - 0.5 cup) water
3 tbsp plantbased yogurt
Instructions
Squeeze the lemon.
Add all the ingredients to a tall container (except the water, lemon juice and yogurt) and mix with a immersion blender.
Now gradually add the water until you get a smooth texture. Season with some lemon juice. In the end add the yogurt.
Season again with more lemon juice, agave syrup or soy sauce if needed.