Our pasta series with "Bauckhof" goes into the next round. After a portion of pasta with plant-based Swedish meatballs comes a plate of rigatoni with vegan chorizo, an easy-peasy sauce of sun-dried tomatoes, and a parsley topping that packs a punch. But let's go through all the components in order, shall we?
The right type of pasta for the dish: After twisting thick bucatini onto our forks for our vegan köttbullar pasta, we get to "scoop." Mezzi rigatoni are a bit shorter than regular rigatoni, making them almost the same size as our vegan chorizo chunks. The sauce also sticks to its outer ridges quite wonderfully. But of course, this dish also tastes great with other short or long pasta varieties.
Vegan chorizo: We hope you've already tried the new "VeggieMix" varieties from "Bauckhof" in the meantime. Their "VeggieMix Bratwurst Chorizo Art" is prepared just like the other dry mixes by adding cold water and neutral oil and allowing the mixture to sit and soak briefly. Afterward, you form it into the shape of sausages. Normally, one package makes about twelve "sausages," but we made them extra large and ended up with six vegan sausages. It's perfectly fine to fry them once, but if you want it extra crispy (like we do), you can slice the vegan chorizo after frying and add the slices back into the pan for the second round frying. The vegan sausage has quite a great, slightly spicy flavor and a compact consistency, so you won't need to worry about the vegan sausages falling apart while shaping or frying them- you really wouldn't think they were rice-based. Like the other "VeggieMix" mix varieties, you can find them at organic food stores and online!
The easy-peasy sauce: For us to pay enough attention to the vegan chorizo, the sauce becomes a breeze to make! All you have to do is blend all ingredients until smooth and heat the sauce. It's based on sun-dried tomatoes, but they should be preserved in oil. Plain sun-dried tomatoes won't be moist enough. If you only have those at home, soak them in water beforehand. For a more considerable portion of vegetables, a bell pepper, onion, and extra sun-dried tomatoes also end up in the pan.
The fresh but intense topping: Because I wanted to add some freshness to counterbalance the fruity sauce and spicy vegan chorizo, my eye fell on the parsley sitting next to the stove during test cooking. Instead of simply sprinkling it over the final dish, it's mixed with finely chopped garlic, lemon zest, and olive oil as gremolata.
By the way:__ We are still not done with this recipe series, yay! You can already look forward to our third pasta recipe with Bauckhof, and we'll give you a spoiler: You probably haven't eaten bolognese like this before.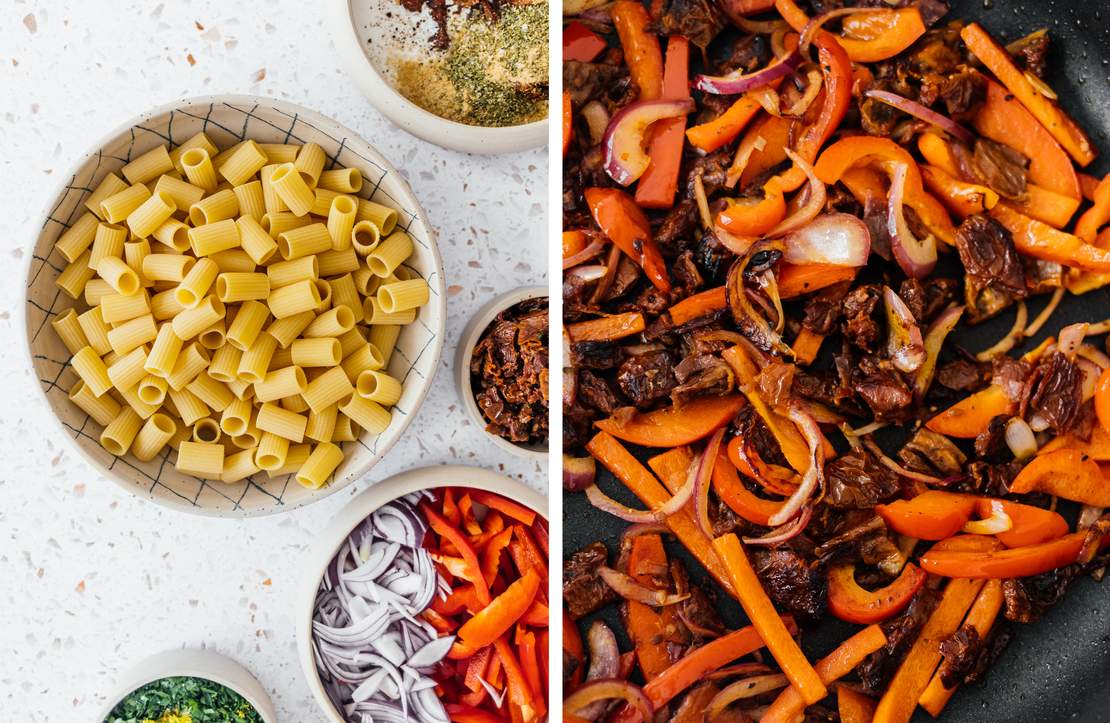 Vegan Chorizo Pasta
Ingredients
For the pasta:
250 g (9 oz) pasta (e.g. rigatoni)
1 red bell pepper
1 red onion
50 g (2 oz) sun-dried tomatoes in oil
vegetable oil for frying
For the plant-based chorizo:
1 package "VeggieMix Bratwurst Chorizo Art" from Bauckhof
220 ml (1 cup) cold water
1 tbsp neutral oil
vegetable oil for frying
For the sauce:
100 g (3.5 oz) sun-dried tomatoes in oil
1 tbsp tomato paste
approx. 100 ml (0.5 cup) water
1 tbsp nutritional yeast
125 ml (0.5 cup) plant-based heavy cream
1 tsp dried oregano
salt
pepper
sugar
For the topping:
30 g (1 oz) parsley
1 garlic clove
0.5 lemon (zest and juice)
2 tbsp olive oil
salt
pepper
Instructions
First, prepare the topping. Wash and finely chop parsley. Peel and finely grate garlic. Add both to a bowl along with lemon zest and juice. Mix with olive oil until combined, and season with salt and pepper to taste. Set the topping aside until serving.

Deseed the bell pepper and cut it into thin strips. Peel, halve, and thinly slice the onion. Cut the sun-dried tomatoes for the pasta into strips as well.

Heat vegetable oil in a frying pan and sauté the bell pepper, onion, and sun-dried tomatoes for about 10 minutes over medium heat.

In the meantime, prepare the sauce. Add the remaining sun-dried tomatoes, tomato paste, water, nutritional yeast and plant-based cream to a liquid measuring cup and puree into a thick sauce. Season to taste with oregano, salt, pepper, and sugar.

Add the sauce to the vegetables in the pan and keep warm over low heat.

Next, prepare the vegan chorizo. To do this, add the dry mix to a bowl and mix with cold water and oil. Let the mixture sit and soak for about 2-3 minutes. Then form about 2 tablespoons of the mixture into the shape of a sausage – you should have six sausages in the end. Heat vegetable oil in a pan and fry the vegan chorizo from all sides until browned. Then remove from the pan, let cool briefly and cut into thick slices. Fry the slices one more time in the pan so that they become slightly crispy from both sides.

Paralelly, bring a pot of salted water to a boil and cook the pasta al dente according to the package instructions. Before draining, reserve some of the cooking water and set aside.

Add the cooked pasta directly to the sauce in the pan and toss well. While doing this, add as much of the cooking water until the sauce becomes creamy and coats the pasta. Just before serving, add the vegan chorizo and serve everything together with the parsley topping.