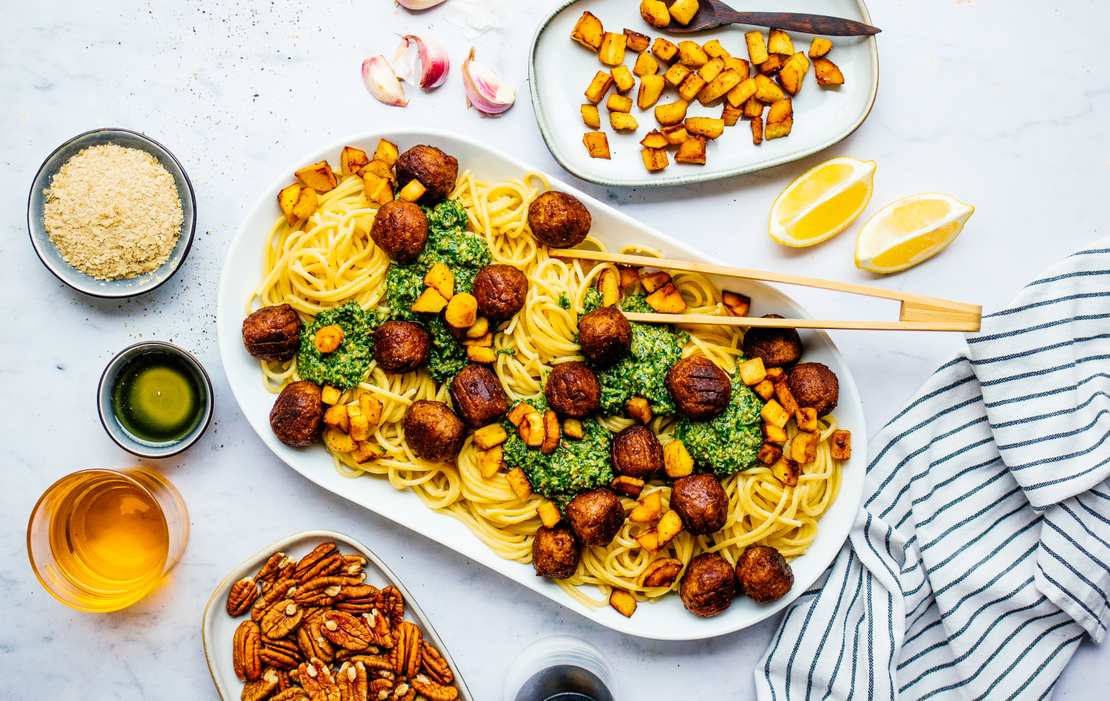 Arugula Pesto Pasta with Plant-based Meatballs and Crispy Parsnip
We're big fans of pasta al pesto. Although it's often just considered a "quick emergency dinner solution", it's arguably one of the simplest and best dishes in Italian cuisine. This is proven by the history of the dish, which goes back to the late 19th century and to Liguria, a region in northwestern Italy. Pasta al Pesto is therefore by no means a new and trendy dish, but one that relies even more than usual on high-quality ingredients.
The preparation of pesto is really not complicated and there's no need to buy a premade pesto in a supermarket. The only ingredient you should have fresh at home are herbs (or leafy vegetables). The rest is probably already hiding in your kitchen cupboard: nuts, spices, and olive oil. For today's recipe, we even swapped herbs with fresh arugula which gives this pesto a great tang that the pecans balance out with their mild, nutty-sweet flavor.
But of course, it doesn't end there. To add the icing on the cake aka your Pasta al Pesto, we serve this dish with plant-based 'meatballs' and crispy parsnips on top to sneak in some veggies. For this, we used the HUVUDROLL PLANTBULLAR from IKEA which are made with pea protein, grains, potatoes, onions, and apples. We're not kidding when we say that they taste like the original Köttbullar – but unlike meatballs they just have 4% of the carbon footprint. You can prepare these PLANTBULLAR in your oven, a frying pan, and even in a microwave. The exact instructions for all three options can be found on the packaging. Today we decided to prepare them in the frying pan and it worked out wonderfully! You can find the PLANTBULLAR in the Swedish store of your IKEA.
The recipe takes 30 minutes of preparation, it's soy-free, and can easily be made gluten-free by using gluten-free pasta. The pesto should be used within 2-3 days and is best stored in an airtight container in the fridge.
Arugula Pesto Pasta with Plant-based Meatballs and Crispy Parsnip
Ingredients
For the pasta:
500 g (18 oz) spaghetti
salt
For the arugula pesto:
100 g (3.5 oz) arugula
2 garlic cloves
60 g (2 oz) pecans
2 tbsp nutritional yeast
150 ml (0.66 cup) olive oil
2 tbsp lemon juice
1 tbsp agave syrup
salt
pepper
For the plant-based meatballs:
500 g (18 oz) IKEA HUVUDROLL plant-based meatballs
vegetable oil for frying
For the crispy parsnip:
3 small parsnips
vegetable oil for frying
salt
pepper
Instructions
Wash and dry arugula. Peel garlic cloves. Add arugula, garlic cloves, pecans, nutritional yeast, olive oil, lemon juice, and agave syrup to a food processor and blend until you have a smooth pesto. Season generously with salt and pepper to taste and add more lemon juice if desired. Set pesto aside.

Wash parsnips and peel them if desired (only if they are too dirty). Afterwards, quarter them lengthwise and cut them into small chunks of approx. 1 cm / 0.4 inches.

Bring a pot of salted water to a boil and cook spaghetti according to package instructions until al dente.

In the meantime, heat two frying pans with some vegetable oil. Fry frozen IKEA PLANTBULLAR in one of the frying pans over medium-low heat for approx. 10 minutes until they are browned from all sides. Toss every 2 minutes to avoid any burning. Add parsnips to the second frying pan and fry them until browned. Season with salt and pepper.

Drain pasta and toss to coat with arugula pesto. Serve with IKEA PLANTBULLAR and crispy parsnips.
Tip: You can easily prepare this dish gluten-free if you opt for gluten-free pasta.