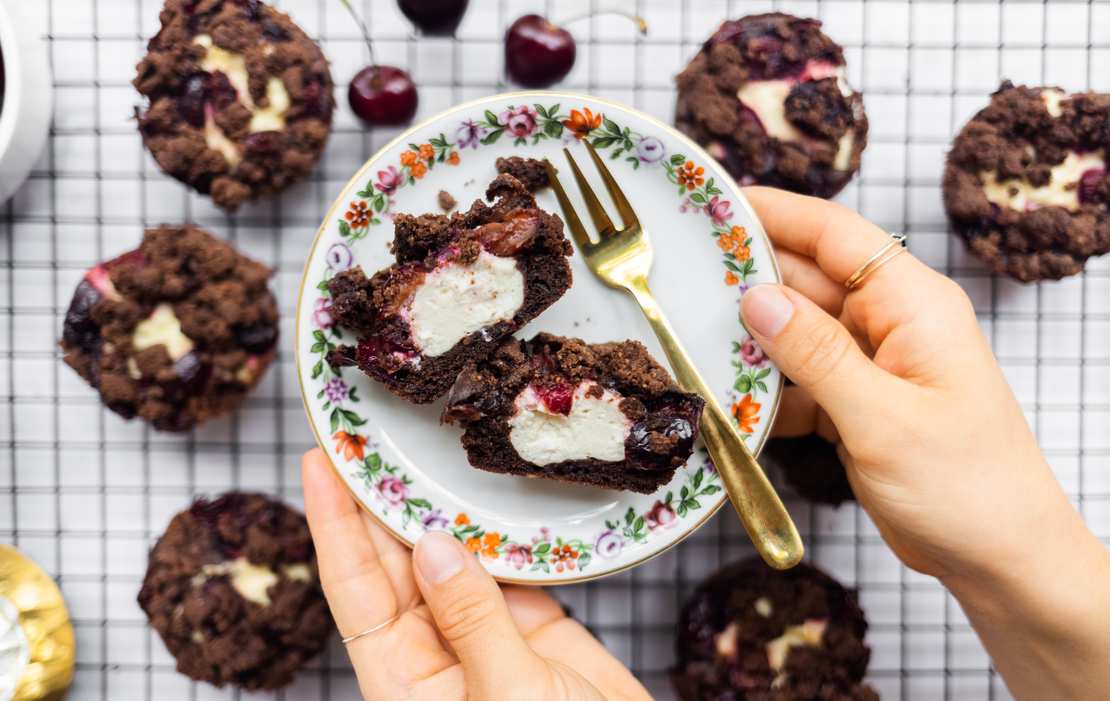 Vegan Chocolate-Cherry Muffins with Cheesecake Filling
Hej there! Did you read the recipe title and directly wanted to jump in your kitchen and bake these muffins? That's what I thought! These little delicacies come just in time for cherry season, which makes our fruit bowls glow red from June to August. Since we don't have many cherry recipes on the blog yet, it was definitely time for more! So far, we have a delicious grilled vegetable burger with cherry topping, a cherry chocolate bundt cake and these little cherry Danishes on offer.
Our muffins consist of four layers: the bottom part is a basic chocolate muffin with a classic chocolate batter. The next part is the cheesecake filling. I tried quite a few different variations for this layer: with silken tofu or plant-based cream cheese only, and combinations of silken tofu with vegan cream cheese and plant-based yogurt. As you can imagine, this testcooking day was a delicious day – yum! Our favorite filling was a mixture of plant-based cream cheese and yogurt. The cheesecake filling is topped with a fresh cherry layer and crumbles made with ground almonds. If you're allergic to almonds or nuts in general, it's no problem to switch out the ground almonds with other nuts or regular flour. The measurements may change slightly, so just make sure to get a crumbly texture. It's also essential to make sure that the vegan butter doesn't get too soft.
If you run into this recipe in winter, you can either use frozen cherries or just a completely different fruit. But now it's time to go to the kitchen and preheat the oven!
Vegan Chocolate-Cherry Muffins with Cheesecake Filling
12 muffins
30 minutes (+30 minutes baking time)
Ingredients
For the chocolate dough:
180 g (1.5 cup) flour type 405
45 g (0.25 cup) sugar
45 g (1.66 oz) chocolate chips
25 g (0.25 cup) unsweetened cocoa powder
8 g (1.5 tsp) baking powder
0.5 tsp baking soda
90 g (0.75 stick) vegan butter
180 ml (0.75 cup) plant-based milk
100 g (0.5 cup) apple sauce
salt
For the cheesecake filling:
150 g (5.33 oz) vegan cream cheese (almond based)
75 g (2.66 oz) vegan skyr
20 g (1.5 tbsp) sugar
10 g (1 tbsp) cornstarch
2 tsp lemon juice
1 lemon (zest)
For the crumble:
75 g (0.75 cup) ground almonds
45 g (0.5 stick) cold vegan butter
45 g (0.25 cup) sugar
25 g (0.25 cup) flour type 405
15 g (0.5 oz) unsweetened cocoa powder
0.5 tsp salt
Also:
approx. 300 g (10.66 oz) cherries
vegan butter for greasing
Instructions
Start by washing the cherries, then remove the stems and pits, and quarter them. Preheat your oven to 180°C/350°F (circulating air).

For the chocolate dough, mix flour, sugar, chocolate chips, cocoa powder, baking powder, baking soda, and a pinch of salt in a large bowl. Then melt vegan butter and add it with plant-based milk and apple sauce and mix everything well with a hand mixer or a whisk.

For the cheesecake filling, add vegan cream cheese, vegan curd, sugar, cornstarch, lemon juice, and lemon zest to a bowl and stir until smooth. Add more lemon zest to taste.

For the crumble, add ground almonds, cold vegan butter, sugar, flour, cocoa powder, and salt to a bowl and knead to combine, until you get a crumbly dough. Make sure that the butter is not too warm as otherwise, the crumble won't get crisp during baking.
Tip: If the vegan butter becomes too warm during kneading and the dough thus too soft, refrigerate the dough for approx. 10-15 minutes and only use it afterwards.
Grease a muffin tin with vegan butter. First, fill about 1.5 tablespoons of chocolate dough into each mold, then add some of the cheesecake filling on top and cover it with cherries. Finally, sprinkle a thick layer of crumbles on top.

Bake the muffins for approx. 30 minutes at 180°C/350°F (circulating air). Let them cool down briefly before removing them from the molds.
More Vegan Brunch Recipes