Vegan Chickpea Curry (Chana Masala)
This recipe is released right in the middle of Veganuary. Some of you were extremely well-prepared for the month. You went grocery shopping ahead and created long lists of recipes to try out. Others tackle this month more spontaneously, which sounds very relaxing first, but often leads to the question of "What am I eating tonight?" right after work when you're on the way back home. Once you have an idea, you might need to go grocery shopping, then you cook longer than expected, and in the end, you're eating at 8 or 9pm. Doesn't sound so tempting, does it? This situation calls for a recipe that's quick and easy, and only requires simple ingredients that you might already have at home.
You've probably seen today's curry called Chana Masala on a menu at an Indian restaurant, but lucky you – you can also cook it yourself in 30 minutes. I love this dish not only because it's so flavorful and uncomplicated, but also because it's perfect for meal prep. Just cook the double amount, eat it for lunch tomorrow or the day after tomorrow, or freeze the curry in an airtight container. This way, you will be delighted about this genius idea when you'll find yourself again on the way home worrying about a simple and quick dinner.
We use canned whole tomatoes in this recipe because it's just not possible in Germany to get fresh tomatoes that taste like anything in January. However, we only use the whole tomatoes and let them drain in a sieve first, in order to not water down the Chana Masala. Of course, there's no need to throw away the liquid, though. You can just add it to your next tomato sauce or blend it with pan-fried onion and garlic, season it, and add some plant-based cream to cook the quickest tomato soup.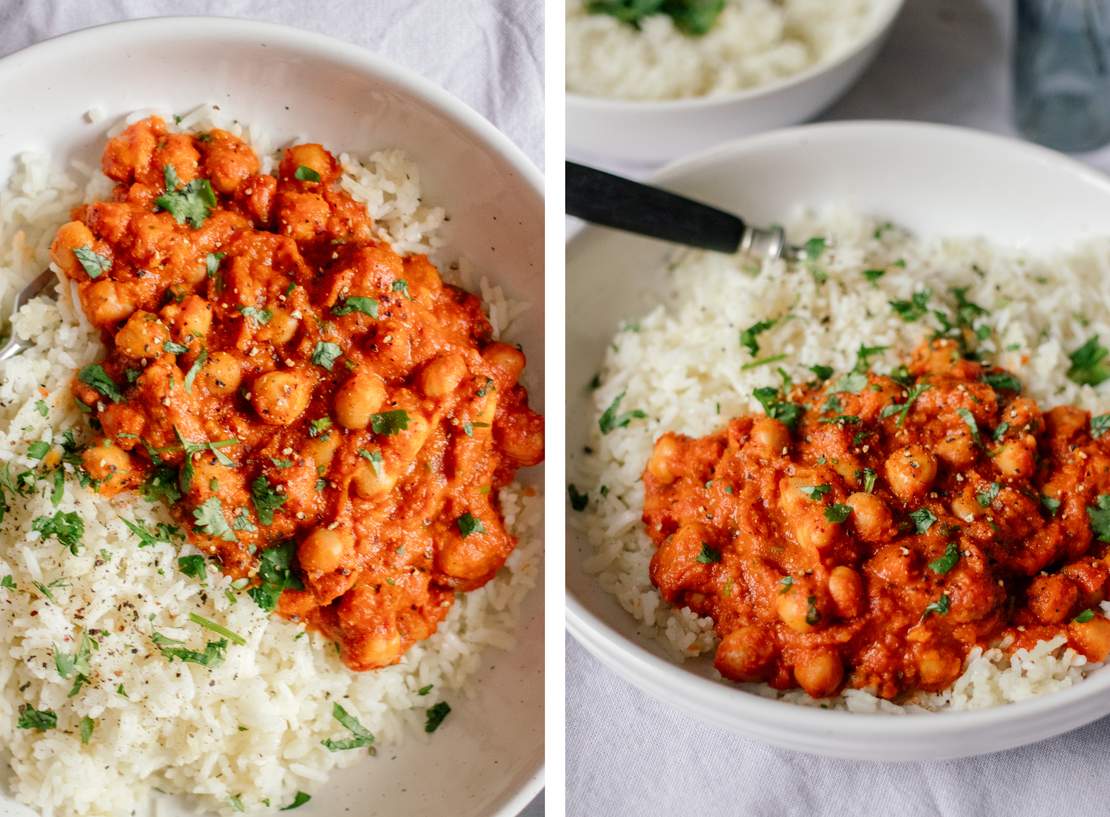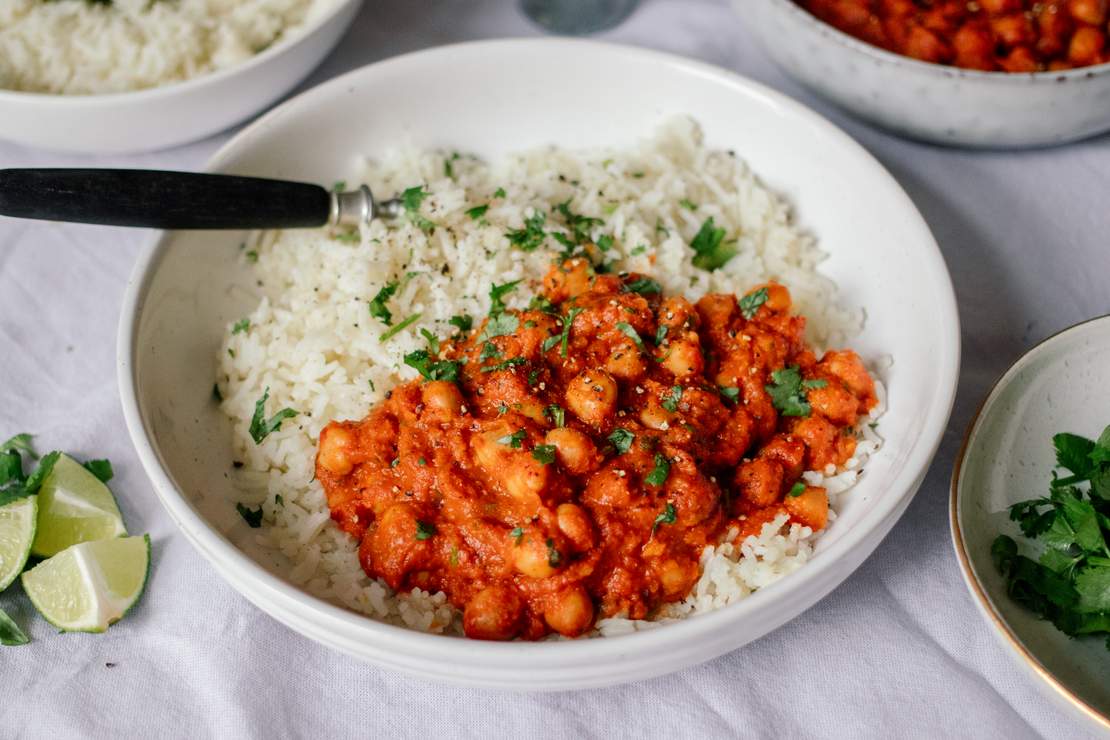 Vegan Chickpea Curry (Chana Masala)
Ingredients
400 g (14 oz) canned chickpeas
2 onions
25 g (1 oz) ginger
2 garlic cloves
1 green chili
800 g (28 oz) canned whole tomatoes
1 tbsp coconut oil
1 tsp garam masala
1 tsp coriander
0.5 tsp ground turmeric
0.25 tsp ground cinnamon
1 bay leaf
150 ml (0.66 cups) vegetable broth (or water)
salt
pepper
cilantro for serving
rice for serving
lime for serving
Instructions
Drain chickpeas. Peel and roughly chop onion, ginger, and garlic. It doesn't have to be finely chopped as they will be blended anyway. Drain canned whole tomatoes in a fine sieve but save the tomato juice and use it for another recipe (e.g., cook a tomato soup with it). Once drain, chop whole tomatoes. Cook rice according to package instructions.

Heat coconut oil in a large frying pan over medium-low heat and fry onions for approx. 3 minutes, or until translucent. Add ginger, garlic, and green chili and fry for 1 minute. Now, add canned tomatoes and season with salt, pepper, garam masala, coriander, turmeric, cinnamon, and bay leaf. Keep frying for approx. 10 minutes over medium heat.

Remove bay leaf, add vegetable broth or water, and use an immersion blender to mix until smooth. Transfer the blended sauce back to the frying pan. Add chickpeas and simmer for approx. 10 minutes. Add chopped cilantro and serve chickpea curry with rice and lime wedges.