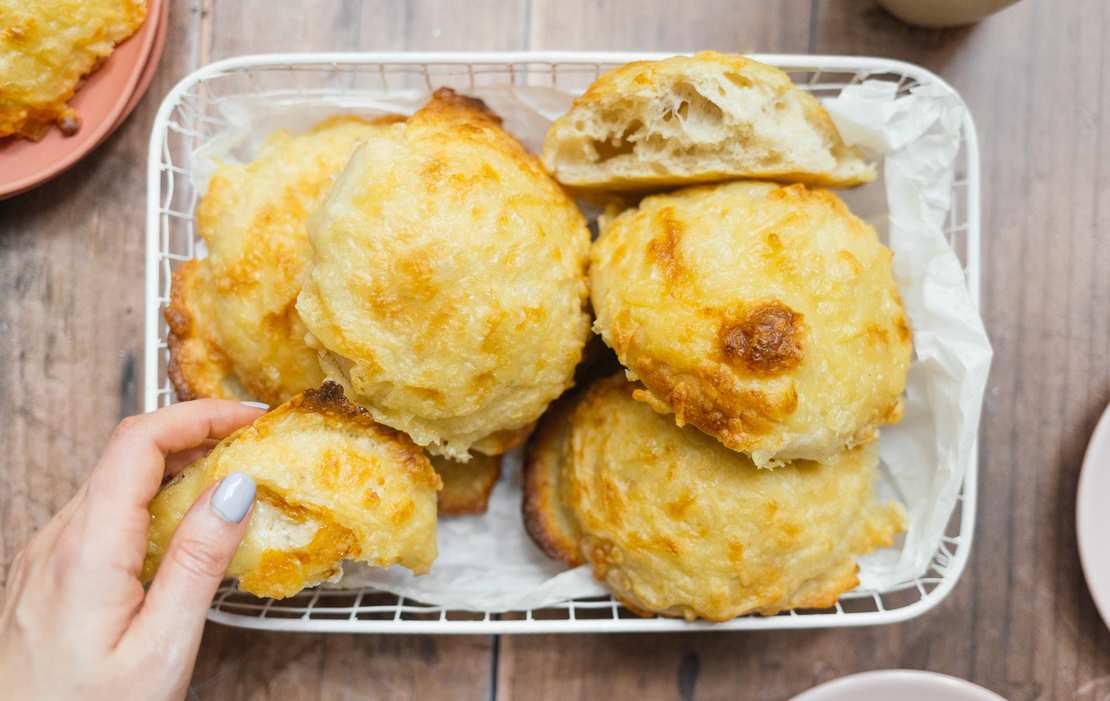 When I tested this recipe in the office, something (for me) unbelievable happened. When trying the cheese roll, Katja casually dropped that she had never tried one before – not even before she went vegan. In shock, I almost dropped everything. It made me sad that she never got to enjoy a warm, deliciously greasy cheese roll all those years. But I was also thrilled to share this important moment with her.
Where does my enormous love for (vegan) cheese rolls come from? How could you not love fluffy rolls topped with (vegan) cheese? But beyond that, I have fond memories of them. When I was still in university, I had a very early lecture once a week, so I had to get up very early. On the way to the building, there was a bakery that opened exactly when I passed it. I could not resist the smell of freshly baked cheese rolls and always grabbed one. By the time I got to the lecture, the paper bag was very greasy – that's how fresh the roll was. It made my day.
A few months later, I even worked at a bakery and was allowed to make the cheese rolls myself. Even as a child, I loved them, especially the slightly crispy layer of melted cheese on the edges of the roll. To achieve this, you should use lots of cheese, which I was not allowed to do in the bakery. Instead, I was supposed to use as little cheese as possible. But what happens if you use too little? The roll turns out too dry and the cheese is barely noticeable – every cheese roll connoisseur's nightmare.
Today, I make the rules. I can decide how much plant-based cheese I want to use AND I can distribute some extra cheese to create the crispy edges. The recipe itself is really easy. You prepare a yeast dough, shape it into buns, sprinkle the whole thing and off they go into the oven. Two things that were especially important to me when testing the recipe:
Work with a soft yeast dough: Adding the flour gradually and keeping the dough as soft as possible is better. Later, flour is added repeatedly when rolling and shaping, which can make the rolls very firm – but we want to achieve the ultimate fluffiness.

Water in the oven: An oven-proof bowl filled with a little water ensures enough moisture in the oven during baking. The water vapor will keep your rolls from getting too dry. If you have an oven with a built-in steam function – congratulations! However, the heatproof (!) bowl with water works great too.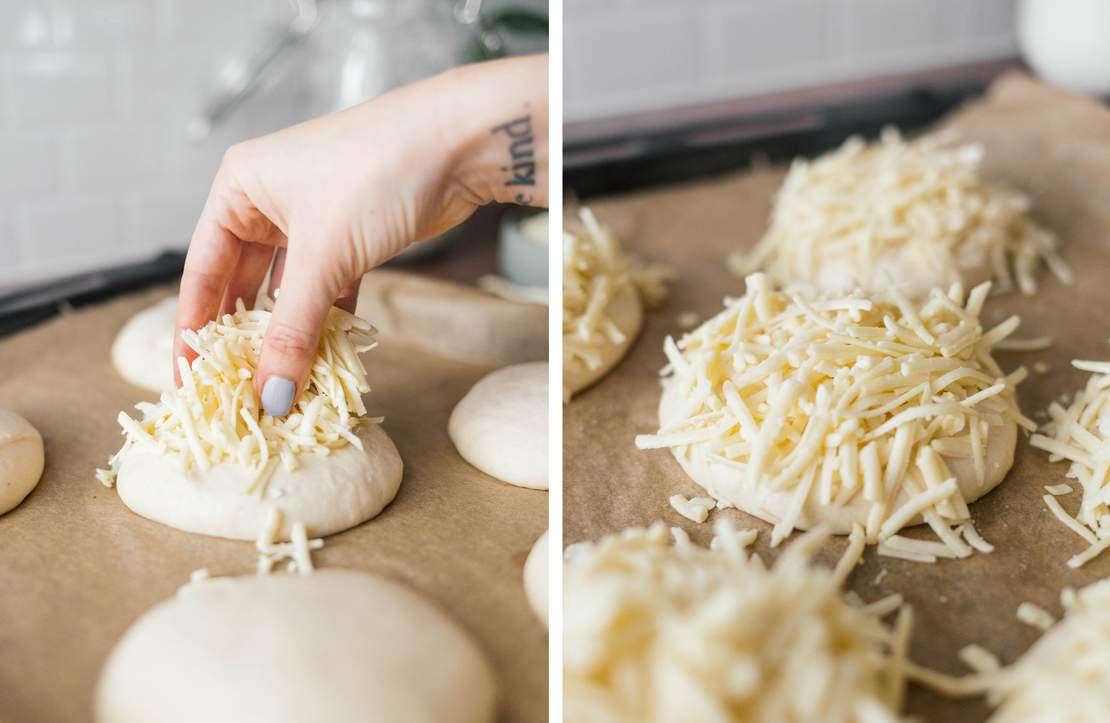 Vegan Cheese Crust Rolls
6 rolls
20 minutes (+ approx. 80 minutes resting time + 20 minutes baking time)
Ingredients
250 g (2 cups) wheat flour (type 550)
150 g (1.25 cups) spelt flour (type 630)
5 g (1.75 tsp) dry yeast
1 tsp salt
300 ml (1.25 cups) lukewarm water
1 tsp sugar
200–300 g (0.5–0.66 lb) plant-based shredded cheese
water
vegetable oil
Instructions
For the dough, add wheat and spelt flour, dry yeast, salt and sugar to the bowl of a food processor. Then gradually add lukewarm water and knead everything for several minutes until a smooth dough forms.
Tip: You may need more or less water. Therefore, add it little by little. The dough should be quite soft since more flour will be added later. Otherwise, the rolls can turn out dry.
Cover the dough with a clean, damp kitchen towel and let it rise either for 1–2 hours at room temperature or overnight in the refrigerator until it has about doubled in volume.

Then divide the dough into 6 equal portions on a floured work surface and form rolls. Place the rolls on a baking sheet lined with parchment paper and let them rise again at room temperature for about 20 minutes.

Preheat the oven to 220–230 °C / 400–450 °F (convection heat). Chop the shredded cheese, so the pieces are even smaller and mix it with a small dash of water and vegetable oil. After the rolls have risen again, top them with the plant-based cheese.