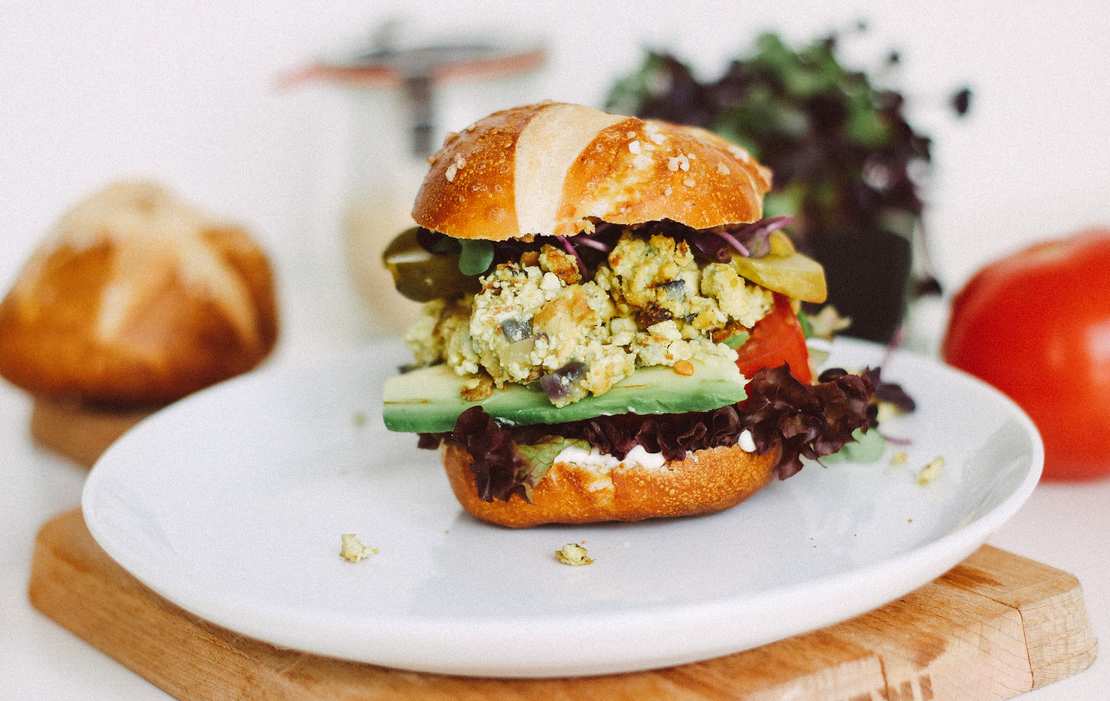 Good morning scrambled tofu, pretzel rolls & avocados. We are definitely proponent of a hearty breakfast in the morning. Jams, chocolate spreads and all the other sweet things are rare guests in the morning and waiting for bad times in the back of our fridges. On the contrary there is scrambled tofu, that always makes us happy. We showed you our favorite recipe for scrambled tofu in our breakfast week last year, we attached it also in this article, so you can check it asap. So good you can turn scrambled tofu with some veggies and vegan sour cream into a Breakfast Burger. Everyone will love this burger, for sure!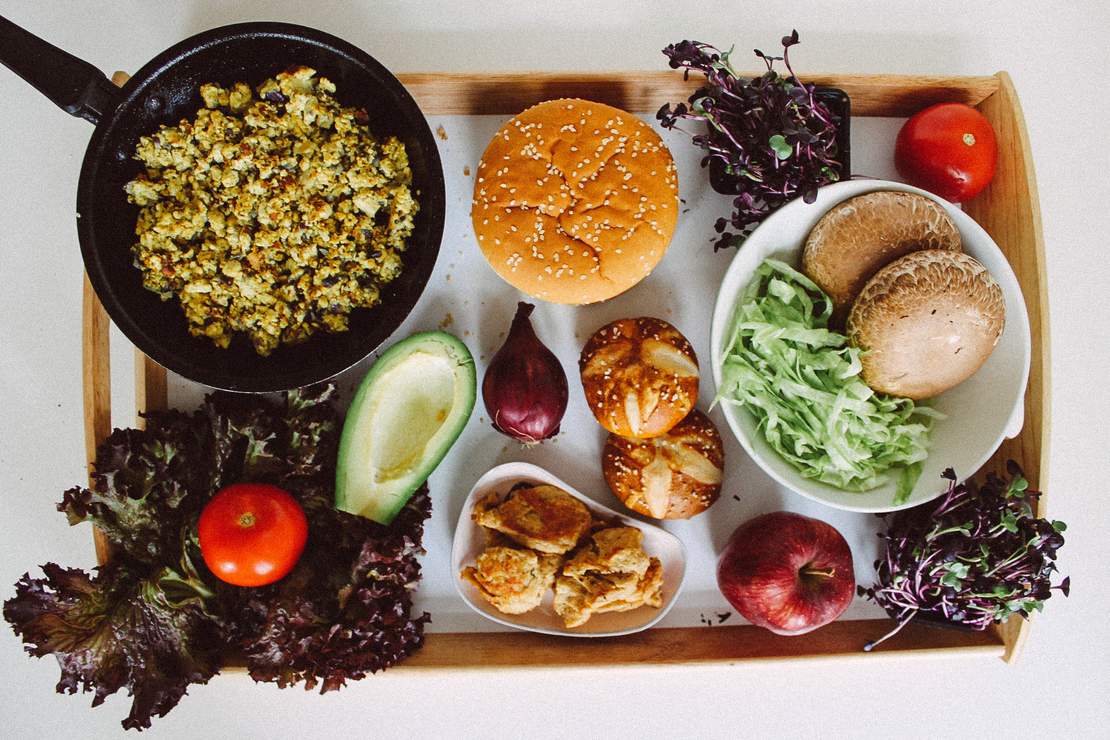 Vegan Breakfast Burger
Ingredients
4 pretzel rolls
1 portion scrambled tofu (recipe on our blog)
3 handful lolla rosso salad
3 tbsp cress
1 avocado
2 tomatoes
4 small pickles
4 tbsp vegan sour cream (recipe on our blog)
4 tsp sweet mustard
Instructions
Prepare your scrambled tofu like instructed on our blog.
Wash and tear salad and wash and slice tomatoes.
Wash cress, peel and slice avocado and don't forget your pickles.
Mix your sour cream like instructed on our blog. You will need 1 tbsp. sour cream per burger minimum.
So let's build your burger: Slice pretzel rolls, spread with sour cream and sweet mustard and add salad, scrambled tofu, tomatoes, avocados, pickles and cress. That's it!
Vegan Scrambled Tofu
Ingredients
400 g (14 oz) plain tofu
25 g (3 tbsp) chickpea flour
125 ml (0.5 cup) plant-based milk
2 tbsp nutritional yeast
0.5 tsp turmeric
0.5 tsp paprika
0.5 tsp kala namak salt
1 red onion
1 bell pepper
salt & pepper
garden cress for serving
vegan butter or vegetable oil for frying
Instructions
Add chickpea flour and plant-based milk to a bowl and stir to combine. Crumble tofu with your hands and add to the flour-milk mixture. Now add nutritional yeast, turmeric, paprika, and kala namak. Season with salt and pepper, then stir to combine.

Peel and finely dice red onion, then also dice bell pepper.

Heat vegan butter in a frying pan and fry onion for approx. 3 minutes until translucent. Add bell pepper and keep frying for approx. 3-4 minutes, or until softened. Now add the tofu mixture and fry for approx. 10 minutes, or until browned and warmed. Serve with fresh garden cress and enjoy for breakfast!
*This is an affiliate link.
More Vegan Brunch Recipes