Vegan Breakfast Bagel with Avocado-Vegg Salad
I often don't have breakfast (yes, I know, it's the most important meal of the day), but if I eat in the morning, I kind of celebrate it. A simple slice of bread with jam? Nah, I rather search my kitchen for some ingredients that will crown my breakfast and doing so I can always count on cress or sprouts that turn every dish into a fancy looking and healthier meal. So here's a reminder to you and myself: Always grow some cress or sprouts in your kitchen!
Today they'll crown a breakfast bagel with vegan egg salad. Maybe you already know our first recipe for vegan egg salad, but we made a few smaller adjustments. Since not everyone has vegan mayonnaise in the fridge, we'll use the fat of a mashed avocado instead that will also make this breakfast more nutritious.
But, at least for us, it's still essential to use the black salt kala namak when it comes to vegan egg dishes. It can even be found in some supermarkets, and we highly recommend adding it to your pantry. Since even a small amount is enough to provide an egg-like taste (and smell), the package will remain a loyal friend by your side for several months.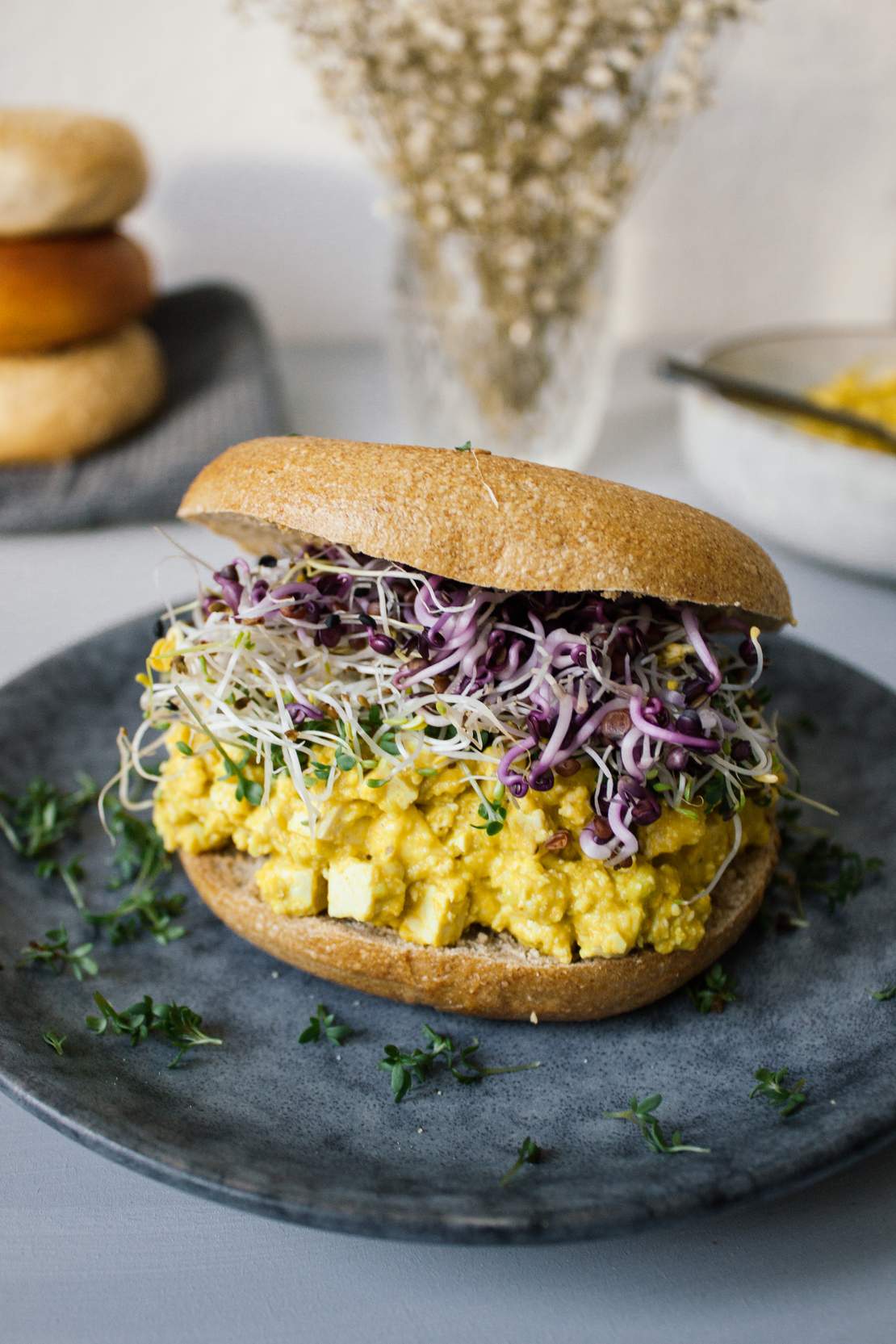 Vegan Breakfast Bagel with Avocado-Vegg Salad
Ingredients
2 bagels
1 avocado
200 g (7 oz) firm tofu
1 tsp ground turmeric
2 tbsp mustard
0.5 tbsp lemon juice
0.5 tsp kala namak
cress for serving
sprouts for serving
salt
pepper
Instructions
Finely dice half of the tofu and add to a bowl. Season with ground turmeric and stir to combine to dye it yellow-orange.
Crumble remaining tofu with your hands. Half and pit avocado, then mash the pulp with a fork.
Add diced tofu, crumbled tofu, mustard, lemon juice and kala namak to a bigger bowl and stir to combine. Add avocado pulp and season generously with salt and pepper to taste. If desired, add more kala namak.
Halve bagels, toast them, and top with avocado vegg salad, cress, and sprouts.
More Vegan Brunch Recipes