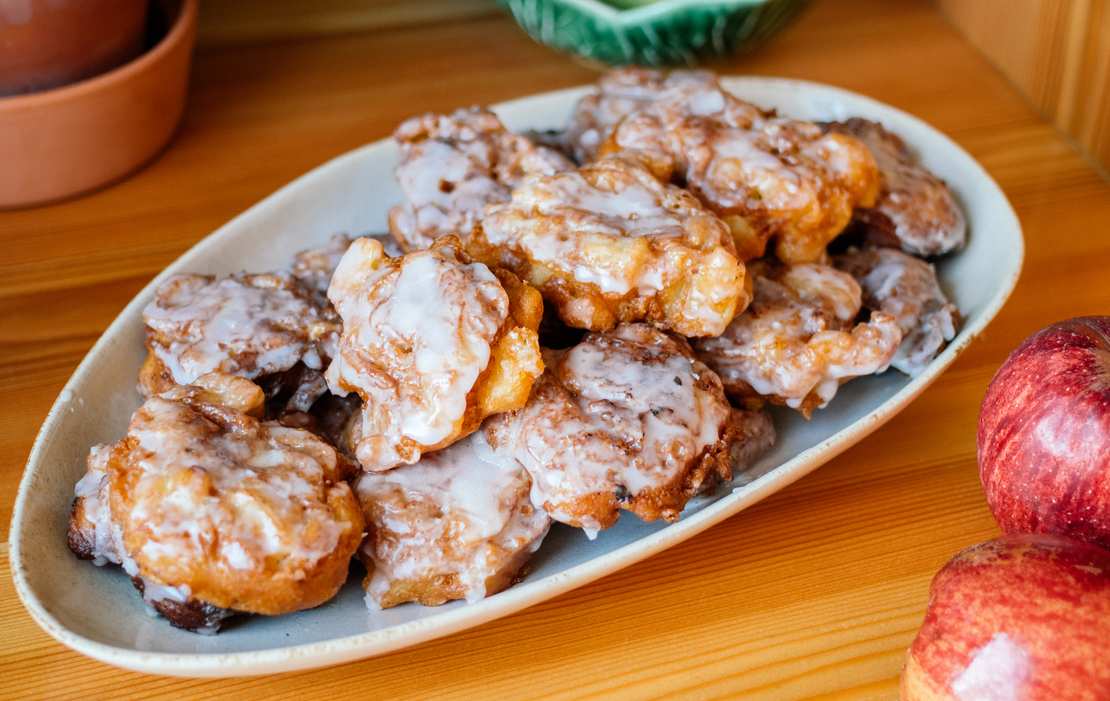 Although apples are the most popular fruit in Germany, I would say that they are still underestimated – and I don't exclude myself from that. Whether you buy them in supermarkets or farmer's markets, you always see several varieties of apples, but I usually just grab any apples from Germany but don't give it a second thought. And yet there are thousands of different apples varieties. Some are sweet, some sour, some are already ripe in summer, some only ripe in winter, some are especially juicy, and almost all of them have such beautiful names as "Rebella" or "Jakob Fischer". I would actually like to know a little more about apples and therefore added it directly on my New Years resolution list.
For today's recipe, I used Boskop apples – at least I remember that. They are a bit sourish and therefore a great fit in contrast to the sweet dough of our fritters. These fritters are super easy and quickly made. You only have to mix dry ingredients (flour, sugar, salt, baking powder, ground cinnamon, and ginger) and liquid ingredients (vegetable milk, melted vegan butter, vanilla extract, and apple sauce) separately, then stir to combine everything, and add cut apples. The batter is then deep-fried until the fritters are crispy and dark brown on the outside but still juicy on the inside.
The spices: Apples and cinnamon are an absolute dream team, but I also added ground ginger, which fits great as well. If you want to experiment even more, you can add cloves, nutmeg, or cardamom.
Apple sauce: One of my latest "discoveries" is unsweetened apple sauce, which I never really had on my radar until now. Of course, sweetened apple sauce tastes great, but I've often struggled to eat a whole jar of it. However, the natural sweetness of the apples is already quite enough for this recipe, so give it a try if you find it.
Deep-frying: I usually like to deep-fry all kinds of things until they are golden brown, but I would make an exception for this recipe because the darker the apple fritters get, the crispier they are. So feel free to fry them in the hot fat a little longer – but of course, you don't want them to burn.
The icing: I decided to go with a simple icing, which is seasoned with some cinnamon. You can adjust the consistency to your taste – if you prefer it a bit thicker, you can even drizzle it on the apple fritters. And if you don't like icing at all, you could also toss the warm fritters in a mix of sugar and cinnamon.
The next day: Since we're often asked whether our baked pastries still taste good the next day, I did the test right away. With these crispy apple fritters, I recommend eating them directly while they are still freshly deep-fried. The next day they are still delicious, but already much softer.
Vegan Apple Fritters
approx. 20 fritters
50 minutes
Ingredients
For the apple fritters:
4 apples
1 lemon (juice)
250 g (2 cups) flour
40 g (3 tbsp) cane sugar
0.5 tsp salt
8 g (1.5 tsp) baking powder
1 tsp ground cinnamon
1 tsp ground ginger
200 ml (0.75 cups) plant-based milk
2 tbsp (40 g) vegan butter melted
2 tsp vanilla extract
125 ml (0.5 cup) apple sauce
For the icing:
200 g (1.66 cups) icing sugar
1 tsp cinnamon
2 tsp lemon juice
water or plant-based milk
Also:
neutral plant-based oil for frying
Instructions
Peel, core, and cut apples into bite-sized cubes. They shouldn't be not too small, but not too big either. Add some fresh lemon juice and set the apples aside.

Combine flour, sugar, salt, baking powder, ground cinnamon, and ground ginger in a bowl.

In a second bowl, mix plant-based milk, melted vegan butter, vanilla extract, and apple sauce.

Add the liquid mixture to the flour mixture and stir to combine, then fold in the diced apples.

Heat plant-based oil in a deep frying pan or saucepan until it reaches approx. 180°C/355°F. To test if the fat is hot enough, you can carefully hold a wooden skewer into the oil – if small bubbles form around it, it's hot enough. For each apple fritter, carefully add a heaped tablespoon of the batter into the hot oil and deep-fry them from both sides until thex are least golden brown – you can even deep-fry them a bit darker if you like them to be crispier. Only add 3-5 apple fritters to the frying pan or pot at a time, so the fat doesn't cool down too much. Then remove the fritters from the hot oil and let them drain and cool down on paper towels.

For the icing, mix icing sugar with cinnamon, then stir in lemon juice, and add enough water or plant-based milk until you get a thick glaze. Either dip the cooled apple fritters directly into the icing or drizzle them with it. Alternatively, you can coat them with a mix of cinnamon and sugar.
More Vegan Brunch Recipes